The Randalls traded high-powered City life in London for the sun-soaked Dordogne to transform a derelict paper mill into a lovely home, reports Greg Cook
It's becoming an established fact that the particular type of sunshine found radiating in the Dordogne has a truly befuddling effect on the most pragmatic part of the British sensibility. Recent evidence to support this case can be provided by Rebecca Randall, 44, a criminal barrister from London, and her husband Greg, 53, a former oil broker in the City, who is now retired.
Search properties in the dordogne
While looking for a potential new home in the region in 2016, the couple's local estate agent, La Porte Property in Monpazier, directed them to Fontalbe, a "characterful property" that turned out to be a large, abandoned 17th-century paper mill crumbling into the bottom of a small valley just outside the village of Saint-Avit-Sénieur, 20km southeast of Bergerac.
Having stated in their search parameters that they were happy to undertake "a little painting and decorating, but definitely no major renovation", the couple visited the dilapidated building one drizzly afternoon and dismissed it out of hand.
Later the same evening, however, after, as Rebecca, recalls, "a glass too many" of the local prune liqueur, conversation turned to the fabulous potential of such a property, should anyone be brave or foolhardy enough to embark on such a project.
Deciding to give the building a second look to fully satisfy their curiosity before moving on, they returned to the mill the next morning.
Birds trilled in the treetops, the little river babbled past the mill's edge, the warm spring sunshine shone upon their faces and reflected from the mellow old walls of the mill; and in that moment the couple were on their way to becoming the owners of 6,000m2 of derelict stonework sitting in 16 acres of overgrown grounds surrounded by woodland.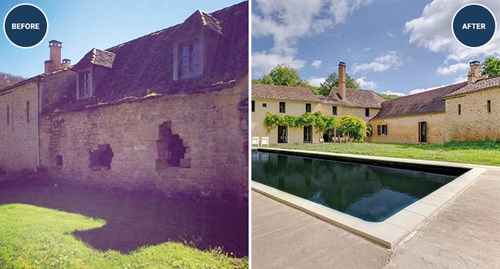 The enduring appeal of the Dordogne
If you imagine there's a good reason why the Dordogne has been beguiling Brits seeking French property you'd be wrong; in fact, as Greg and Rebecca will confirm, there are at least three.
This seductive trinity begins with some of the country's most idyllic scenery, generously scattered within ten of the places designated as Les Plus Beaux Villages de France, not to mention stunning medieval architecture, impressive Roman remains and limestone caverns adorned with some of the world's most important prehistoric cave paintings.
Then there's the climate. The Dordogne benefits from cool winters and long, hot summers with temperatures from the start of May to the end of September averaging 25°C. While the UK generally makes do with fewer than 1,500 hours of sunshine annually, this part of France enjoys about 2,000.
Last but by no means least, the region produces some of France's most delicious food, from truffles to chocolate, walnuts to strawberries, not to mention a plethora of superb cheese and wine.
"I'm relieved and delighted to say that we've been heartily welcomed by the community here and Fontalbe finally did us a favour, in so much as being recognised as 'the mad English couple at the mill' certainly helped break the ice," Rebecca says.
"We can both put our hands on our hearts and say we wouldn't want to be anywhere else. The countryside is sublime and the surrounding villages and towns are picture-perfect, with some of the best produce at market we've ever tasted and some local restaurants where we've enjoyed some of the best meals we've ever eaten.
"Another big factor for us choosing this region was that, although it appears incredibly rural, this is probably one of the easiest areas of France to get to from the UK, with Ryanair and Easyjet both operating regular routes from Bergerac or Toulouse."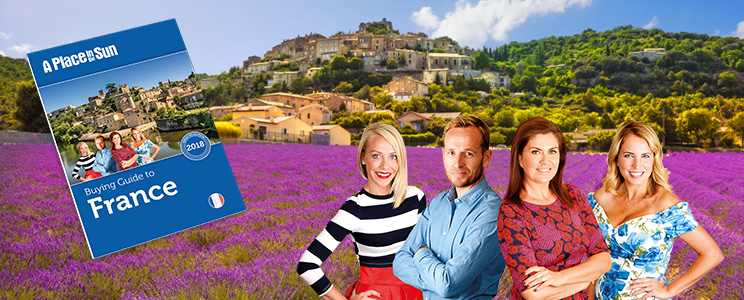 DOWNLOAD YOUR FRENCH PROPERTY GUIDE HERE
Bruised by Brexit
By September 2016, the UK's decision to leave the European Union had come and gone, and despite reeling from the shock Rebecca and Greg found themselves in possession of a building in France with no internal walls and few weight-bearing floors, let alone bathrooms or a kitchen.
"We literally wept over Brexit," recalls Rebecca, "but once we recovered we decided that as much as it had been a democratic decision we were going to exercise our own freedom of choice to follow our dream regardless.
"Unsurprisingly, one of the biggest impacts to date has been the fall in the value of the pound against the euro, which certainly made the renovation more expensive, especially in a country where building materials, whether it's timber or paint, can already cost up to a third more than the UK."
It also meant that the couple decided to sell their four-bedroom property in Islington, in north London.
"We were always going to have to do some sort of letting here to eventually recoup the sizeable cost of renovation," explains Rebecca, "and in fact we're currently renting the whole property and living here around that, returning to the UK when it's booked.
"Our biggest pending concern is the terms in which we'll be able to visit and return to France once we're non-EU nationals visiting a country in the Schengen zone. Right now, we're seriously talking about applying for French residency once this property has paid for some of itself.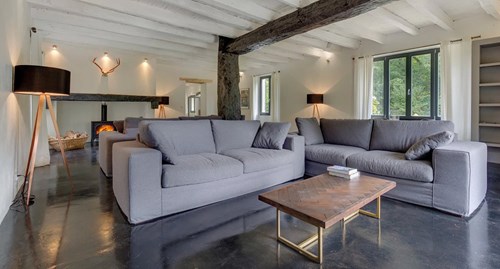 "Whatever happens, we'll adjust and soldier on – we're way too invested now," Rebecca says. "But fortunately, since making the property available for holiday lets last year we've had a really positive response and are already heading to around 50 per cent booking. We're currently charging €4,750 to €5,500 per week between early and late summer, which for a place that now has its own pool and now sleeps up to 12 people in luxury"
Riding out the renovation
The high-spec kitchen, gleaming en-suites and beautifully restored original features that comprise the extensive refurbishment create an experience that couldn't be farther from the one endured by the couple when they embarked on the huge project.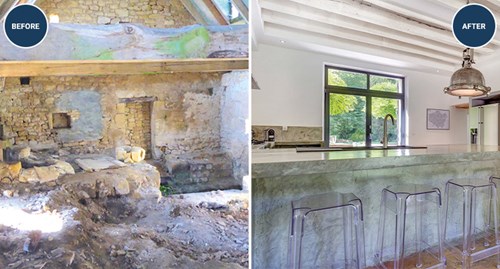 "It's probably been for the best that we had no real concept at the start of the scale of the project we were taking on," says Rebecca, "but not everything was against us. We found an amazing architectural designer, Joris Van Grinsven, and an equally wonderful team of builders who lived here on-site and worked tirelessly for months on end to bring Fontalbe back to life.
"When Joris, a man not noted for emotional outbursts, first arrived here to look around he actually let out a squeal of delight. Obviously, he got the job right then. "I dread to think what the rest of our friends and family said out of earshot having come here when we'd just made the purchase, but I can make a good guess," she adds.
Regardless of anyone's misgivings, the couple had gone all in. They continued to work in London, spending everything they earned on the project, until selling their British home. Rebecca now commutes to London when she has taken on a case.
"We bought a caravan and towed it down here to live on-site, all of which is an experience I never want to repeat," she says vehemently
"I tried to persuade myself that it would be a Swallows and Amazons-style adventure, but in the depths of winter it was simply grim. Greg is 6ft 4ins. The toilet/shower cubicle wasn't."
On the other side of the caravan door, the battle with Fontalbe was in full swing. This grande dame of a building, woken from slumber, had decided to behave in equal parts like an irascible old lady and a petulant child.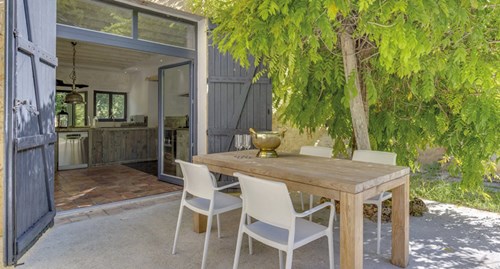 "For many months, a perpetually drained bank account and sleepless nights became the norm," says Rebecca. "It felt like every time we set foot here there was another cheque to write, for another unforeseen eventuality. No job, however seemingly easy or straightforward, went to plan. Even the smallest task, something you think will take ten minutes, turned into an epic struggle with concrete, mud and machinery, ending in swearing, sighing and cut fingers. And wine.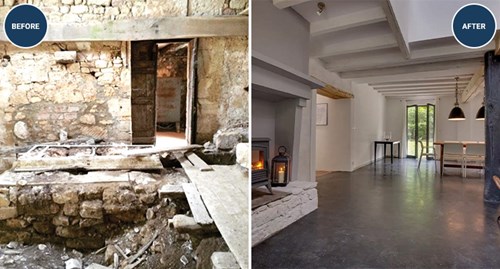 "A particularly special moment came when Greg shot backwards after drilling through cables cunningly hidden behind render. That was after he'd fallen through rotting floorboards into a well that was hidden beneath the kitchen. Another memorable episode occurred when we had to have two new septic tanks dug in.
"You know it's not going to be good when your usually unflappable builder announces 'une grande problème'. It transpires that in one of the mill's earlier incarnations it had become a trout farm, and what we'd innocently assumed would be our main lawn was actually an area above a subterranean honeycomb of giant holding tanks for fish.
"By the time our workmen had subtly established exactly what lay beneath with a pneumatic drill, it looked like the grounds had been attacked by a giant, psychotic mole."
Despite setbacks and challenges, large, small, anticipated and surreally unexpected, the 17th-century mill has gradually succumbed to its change of purpose and its new lease of life it is a joy to behold. It has six en-suite bedrooms and a separate one-bedroom apartment.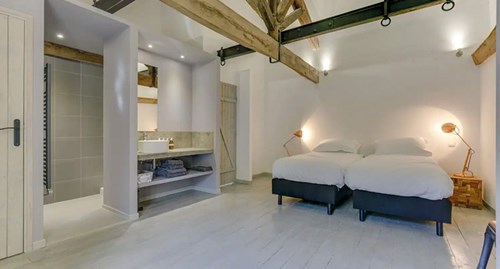 With the assistance of their inspirational designer Joris and a dedicated building team, the transformation Rebecca and Greg have wrought upon this vast stone building is spectacular, even if it's impossible to resist the observation that this building has, indeed, put them through the mill.
"The result has been worth it and the sense of achievement is huge," Rebecca says. "And as time passes, the worst bits mellow to become amusing anecdotes, but safe to say that we've quite literally put blood, sweat and tears into this place and we'll be holding on to it whatever happens."
Find properties for sale in france
To find out more, visit www.fontalbe.com