Justine Assal of InvestUSA360 provides a snapshot to the Sunshine State outside the theme parks and big golf resorts.
Florida is a large and diverse state and a massive tourism magnet. Last year (2018) it attracted a mind-boggling 126 million tourists and set a record in the process – the figure was up 7 per cent on the previous year. To put this into context, 40 million would be a record for the UK if visitors reached this level (they didn't quite hit this in 2018).
But not everyone who visits Florida is there for the bright lights of Miami or for the myriad attractions of Orlando, whether the latest theme park, shopping mall or to try the golfing. No, some of those millions of tourists or home owners yearn for sleepy towns where time moves a bit slower and the rhythm keeps pace with nature. There are still many hidden spots throughout Florida and although their residents prefer to keep them this way, they are also very welcoming to new residents who often leave behind busy business lives and quickly fall into the local pace, whether it is for a winter escape or as a year-round resident.
Remember that Florida is a peninsula and therefore surrounded by water on three sides. The west coast is on the Gulf of Mexico and boasts calm, brilliant blue waters and soft, sugary sand. There are no waves (except during big storms) on this coast and there are little beach towns dotted from the north by Pensacola all the way down past Alligator Alley to Naples and further south to the keys. A few places are worth flagging up.
Download our free guide to buying a property in Florida below

DOWNLOAD OUR FREE FLORIDA PROPERTY GUIDE HERE
Hudson and Aripeka, north of Tampa
Denise Assersohn, a realtor originally from London, lives in Hudson, Florida with her husband Bert and two dogs. Hudson (population: 12,000) is in Pasco County, north of Clearwater and Tampa on the Gulf Coast.
She says that "the biggest decision we often make each day is whose boat to have sunset happy hour on." Denise has lived in Hudson for seven years after living in Orlando for 35 years: "We just love the feel of our little town, everyone is friendly and life is really enjoyable here and surprisingly affordable."
According to Denise, it is still quite possible to find property on the canals minutes from the Gulf for less than $300,000 (£250k) and direct gulf access beginning in the $600,000's (£500k plus). "Hudson is incredible value for money unlike some other towns that have become popular in recent years like Sarasota and Naples but prices are definitely creeping up quite quickly now so it will not stay this way for long." Next door to Hudson is even sleepier Aripeka with vast amounts of sea marshes and the occasional house dotted on stilts among the reeds. Located on both sides of Hammock Creek, a small tidal inlet to the Gulf of Mexico, Aripeka is a quaint village from another time and nobody is in any rush to change that. You can buy a three-bedroom house for less than $200,000 (£165k).
Tarpon Springs: "Greek" Florida?
Head south towards Tampa along the Gulf coast and about 20 minutes north of Clearwater is a charming little town called Tarpon Springs that feels far more like you are on the coast of Corfu than in Florida. In the early 1900s the natural sponge beds were discovered in the Anclote River off the Gulf and an influx of Greek immigrant divers came to establish the town and this industry. Today, the city (with 25,000 inhabitants) has a decidedly Greek feel to it and boasts delicious restaurants, bakeries, strong coffee and shops that sell natural sponges and olive oil soaps. Homes in the area are in the mid $300,000s (around £289k) to over a million dollars for waterfront properties.
Siesta Key: best beach in the USA?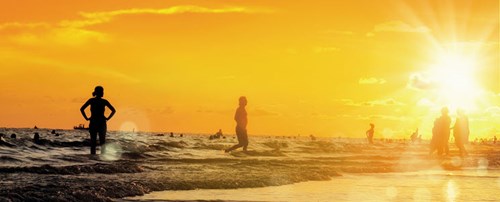 OK, so this one isn't exactly off the beaten track but still not as popular with British buyers as it deserves to be. Siesta Key is a popular key (island) in Sarasota County that is voted America's top beach almost every year due to its sugary white sand and very rustic, natural feel. Siesta Key is not somewhere that you can find high-rise condos and fancy restaurants, in fact many residents don't bother with much more than shorts and flip-flops and prefer it to stay this way.
The natives are a friendly group, so much so that Andy and Jayne Appleyard picked up from Yorkshire, England and moved to a waterfront home on Siesta Key with their two sons who go to the local high school and now live in their own laid-back slice of heaven: "Living on the water and by the beach outweighs the hassle of being on the road, it's like being in paradise," says Jayne, who runs the Gallery Salon and Spa on the key. Small houses can be found on Siesta Key from the $400,000s (around £330k) and waterfront above $1m (£826k).
The West Coast has many such cities, towns and beaches along the entire stretch of the state, each with its own personality and some more populated than others, some pricier than others but all exuding their own natural charm and beauty. One thing that they all share are the most beautiful sunrises and sunsets, arguably on the planet. It's really hard to go wrong no matter where you end up and much like Denise, life moves a bit slower and sunset happy hour isn't hard to find.
In the centre of Florida, while landlocked in between both coasts, most cities and towns will be about an hour or so away from either the east or the west one. In addition to the coasts, throughout the state there are lakes dotted everywhere so waterfront options are even more plentiful, plus there's the 'Intracoastal' waterway that means you can navigate all the way between Boston in the northeast of the US, to the Florida Keys in the far south.
Winter Park: Orlando's genteel neighbor?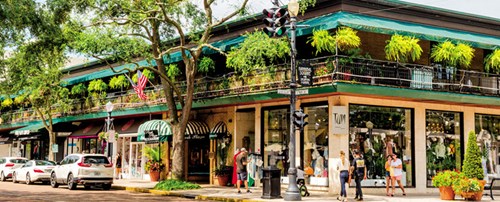 Winter Park is a quaint neighbor of Orlando known for its oak-canopied brick streets. The main promenade, Park Avenue, is home to historic Rollins College, many good schools, café trottoirs and boutique shops. The Winter Park chain of lakes is home to beautiful mansions and although Winter Park is pricier than its Orlando neighbor, those who live there don't tend to leave. Prices for non-waterfront begin in the $400,000 (£330k) range and go up into the millions for frontage on a waterski lake.
Ocala: horsepower
A city in Central Florida about an hour north of Orlando, Ocala is officially called 'The horse capital of the world'. Ocala is known for all things equestrian and has produced more than its fair share of champions. With world class horse training, local horse farms, and equestrian events, Ocala is home to more horses than anywhere else in the country. It isn't only horses though as Ocala is also home to Silver Springs State Park with its sparkling clear water along with an additional 600 lakes, rivers, and springs. With lush vegetation, plenty of wildlife, and no shortage of water sports, hiking, and outdoor activities, Ocala is a nature lover's paradise. Horse farms and ranches can be purchased from the $700,0000s (£579k) to several million dollars and waterfront (freshwater) from the $300,000s (£248k).
Crystal River: great for watersports
Located two hours north from Tampa Bay, the town of Crystal River is part of Florida's Nature Coast incorporating one of Florida's purest spring fed watersystems. Crystal River and neighboring Homosassa River are home to one of the largest populations of the state's endangered manatees who love the consistent water temperatures. The homes on these rivers are still quite affordable beginning in the high $200,00s (around £166k) range. Kayaking, paddleboarding, and snorkeling the springs of Florida are something not to be missed and if you find yourself lost in such a place, it's questionable whether you might really want to be found.
Micanopy: off the beaten track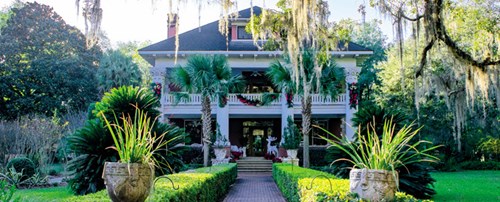 South of Orlando and not far from Gainesville, Micanopy is a slice of yesteryear as though untouched by time. A glass of lemonade on the front porch after a morning out horse riding is just the right speed for this sleepy town originally founded as a frontier trading post in 1821. Now on the historic registry, Micanopy has a thriving antique district and plenty of available land for horse lovers. Property ranges from raw land at less than $100,000 to equestrian ranches into the millions.
Heading to the east coast of Florida puts you right on the Atlantic Ocean and home to world famous Miami Beach and year round surfing. Again, the coastline is vast and the drive along A1A will take you winding along tourist corridors like Daytona Beach and into some smaller towns that like to hide and remain off the map.
St. Augustine, Ponte Vedra: old-time favourites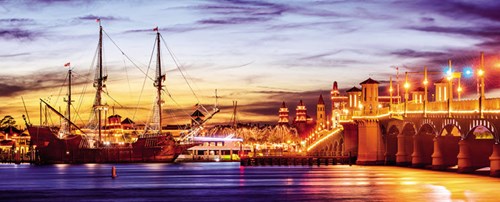 Anyone seeking the fountain of youth need go no further than St. Augustine on the northeast coast. Founded in 1565 by Spanish explorers, it is the oldest continuously inhabited European established city within the borders of the continental US. Home to Castillo de San Marcos, a 17th-century Spanish stone fortress with views of the St. Augustine Inlet, the legendary Fountain of Youth, Flagler College, Spanish colonial architecture, and gorgeous beaches, there is always much to do and see in St. Augustine. Property begins in the mid $300,000s (around £289k) and goes into the millions for beachfront.
Fernandina Beach: island life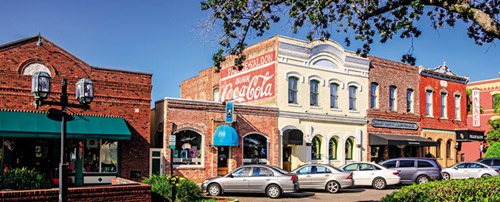 Fernandina Beach is located on Amelia Island, which is just north of Jacksonville on the northeast coast. With 13 miles of beautiful beaches, abundant native wildlife, and pristine waters, this barrier island has long been a beloved destination for visitors and residents alike. Fernandina Beach boasts pristine beaches and a historic architectural grace that makes it popular for walking tours and carriage rides. It is home to Florida's oldest continuously operated drinking establishment, The Palace Saloon, and of course the beach and watersports lovers will never run out of things to do. Non-beachfront homes can be found from about $300,000 (£248k) and beachfront from the millions.
So many options – how to choose?
So how does one go about buying a holiday home in sleepy "old Florida"? Generally a decision such as this comes from stumbling upon a little piece of paradise whilst on a holiday. Take some time to explore the towns above but don't stop there as the entire state is comprised of little towns, each with its own personality. This is truly about taking time to find what fits for you, perhaps rent a house for a while before committing to a purchase.
Florida offers all the benefits of a slow and simple beach or waterfront life that you might expect in another country or an island but also boasts the benefits and safety of US property law, convenience of accessibility, and not to mention generally English-speaking natives.
A bit of research will take you a long way but you do need to take the time to really feel the town and then find a local expert who you can trust to guide you. In the USA, this is a local realtor, one who you feel comfortable with, knows the area and type of home you are looking for very well and one who is accustomed to working with International buyers.
The last point is quite important as there are some specifics areas of expertise that international buyers need including a mortgage broker who specializes in foreign national mortgages, that is unless you are paying cash. Finding a team of professionals to guide you begins with the realtor so take your time and find somebody that you feel comfortable and confident with. As a side note, the realtor will work for you but usually is paid commission by the seller, not the buyer.
Add 4-6% for closing costs, insurance, and other start up spends and this is the money that you will roughly need to purchase your Florida holiday home. To help offset expenses, you can also check if the home is in an area that allows short term or vacation rentals so that you can rent it whilst not using the home yourself. This varies from town to town.
The best advice is to go and explore, get lost, and don't be found until you are ready. Rent for a while, get used to the local life, then use a licensed realtor and experienced professional team to make the dream come true. Just don't be surprised if you add iced tea, grits, and fried catfish to your menu, it happens!