Bob and Diane Kirkwood moved from Weybridge in Surrey to southwest France and created an off-grid, eco-friendly holiday experience that's now winning awards, reports Greg Clark.
Proudly emblazoned along the flanks of Bob Kirkwood's huge, army-green Sovamag TC10 (a kind of French Land Rover on steroids) is the logo for Covertcabin, the award-winning ecotourism business he's been running with his wife Diane in this wild and dramatic region of southwest France for the past decade.
Covertcabin couldn't be more aptly named. The three wooden chalet-lodges built and designed by the couple are all perfectly hidden in such sublimely lush green surroundings that the "vert" in covert pretty much counts twice. Each is at the point where tumbling walls of emerald leaves mingle with the rushes and fat lily pads on the edge of an absinthe-coloured lake so quiet you can hear each ripple.
Before they moved to this extraordinary pocket of France at the start of the millennium, Bob and Diane lived an hour outside London in the heart of southeast England's bustling commuter-belt. Diane worked as a restaurant chef while Bob busied himself as a joiner. Today they live pretty much an hour from anywhere, in the stunning heart of the Périgord-Limousin regional natural park.
Spanning more than 1,800 km² of the Dordogne and Haute-Vienne departments, this area is not so much a beautiful slice of countryside as an authentic wilderness brimming with wildlife.
Among the dramatic granite outcrops and limestone cliffs that define much of this landscape nest 110 species of bird, from black kites riding the high thermals overhead to kingfishers skimming the clear, fast-running rivers that lattice the region. Forty species of mammal, including wild boar and deer, inhabit the park and its moorlands, woodlands and meadows host 25 known species of orchid.
Unsurprisingly this historic abundance attracted the arrival of man as an early settler and for anyone cosying up in one of the Kirkwoods' off-grid wooden cocoons it is comforting to bear in mind that, even though the phone may be out of charge tomorrow, humans have been living here happily since the lower palaeolithic period (which ended 200,000 years ago).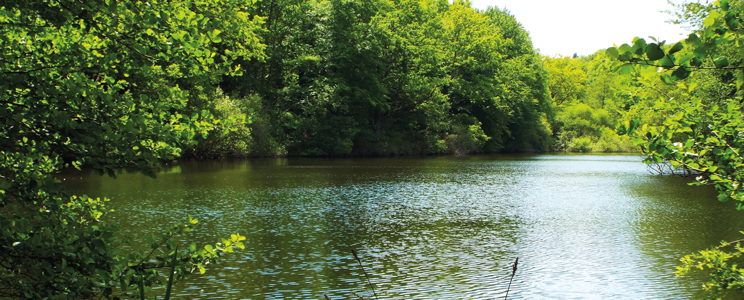 However, as charmingly down-to-earth as these cabin dwellings are, it's fair to say you'll find considerably more home comforts within each than in a Stone Age cave. Solar panels provide electric lighting (although most visitors prefer the night-time glow of candles and hurricane lamps), wood-burning stoves give off elemental warmth and Bob's own ingeniously designed water-heating system, curling around their metal flu, ensure the luxury of a hot shower. Meanwhile, composting toilets take care of the "bare necessities".
All these facilities have been tweaked and refined to provide simple, reliable comfort, much as Diane and Bob have done with their own lives since arriving here 18 years ago. "We'd never been to this part of France before until we got invited here back in 2000 by the friend of a friend," says Bob.
"Back then, property was still ridiculously cheap over most of France, but in places this far off the beaten track you could still virtually buy a place with your credit card."
Change of plan
The couple, both 53, may not have purchased a new life on their Visa cards there and then, but they did go back and put their UK home on the market, returning to France as soon as it was sold to buy the rustic stone farmhouse they live in today.
"Our initial plan was to make our living renovating interesting local properties and selling them on, which is something we'd had a bit of experience with back in the UK." Bob recalls. "However, although we began our lives here by accomplishing the first part of this plan with relative ease, we quickly realised that once we'd resold a property nearly all the modest profit we factored in was sucked back out by the massive capital gains tax bills that France used to levy; and even though we were never doing this to make a killing, it soon became apparent we'd be struggling to make a living."
Fortunately an unorthodox stroll Bob and Diane took in 2004, some 500 metres from their doorstep, was about to provide an unexpected solution.
"We used to take our cat for walks down this pretty, leafy lane near our house," says Bob. "We loved the tree-lined tunnel that, halfway down, opened out to reveal a tiny lake in the woods, alive with fish, frogs and dragonflies. By chance, we knew the elderly owner and during a conversation, it became evident that he no longer had any interest in it. A price was agreed and a few months later we became the new owners."
Download our essential French property guide below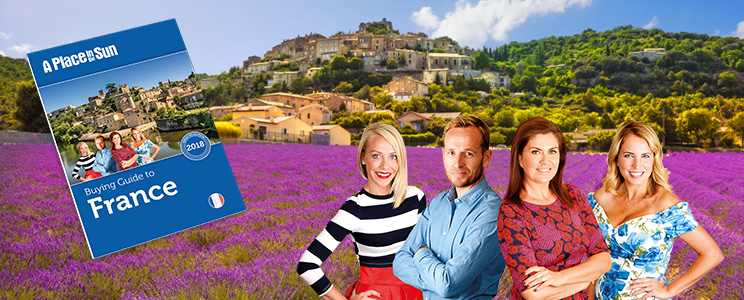 download your french property guide here
Cabin conversion
For a price in the region of €10,000, the little lake came with just over six acres of woodland, but owing to a severe storm a couple of years previously it had become an impenetrable mess of fallen trees and brambles. Initially daunted by this tangle of overgrowth, the couple turned their attention to the area around the lake and the block-built "bunker" sitting on its edge.
"The bunker wasn't really that, of course, it was just a functional building made of concrete blocks, which had been used by old Pierre, the previous owner, as somewhere to sit around in with a few mates drinking a few bottles of red wine after a day's hunting," Bob continues. "I can't remember whose idea it was to convert it into a cabin but once it had taken hold we just couldn't wait to  get started." 
Having made the decision, the couple realised they also now owned the bulk of the material resources they needed to transform the "bunker" into a far more aesthetically pleasing cabin, in the form of the fallen trees scattered through their newly bought six acres of woodland. 
"Better yet, the woods turned out to be a mixture of oak and chestnut, which is pretty much a perfect combination for timber building. Oak provides strength and durability while chestnut is pliable and versatile," explains Bob. 
Over the ensuing months, Bob applied his joinery skills with relish to the task at hand and before long the couple's first cabin, complete with jetty, was born. Today another two cabins also enjoy their own secluded spots along the lakeshore.
Each comes with its own pontoon and raft (also made by Bob) which is spacious enough to carry a couple of cushions and a picnic basket, making it the ideal means to drift lazily out onto the water to cast a line for catfish, while sipping on a glass of something cool. 
Thanks to the fact that Bob provided all the labour while the land offered up nearly all the raw materials, the cabins were built for a cost estimated at under £1,000 apiece.
Over the past decade, the holiday market for properties set in splendid isolation and boasting superlative eco-credentials has grown exponentially, which only goes to demonstrate how far ahead of the curve Bob and Diane were, thanks to a combination of serendipity, imagination and the right skill set.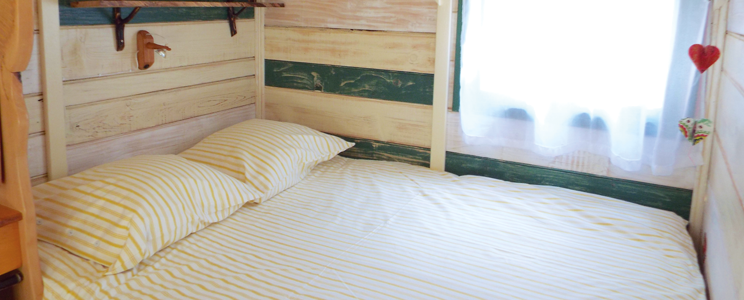 In 2014 Covertcabin received the "squeaky green" award from Sawday's, the travel company.
Cabins can be booked for between £71 and £89 in mid-season, with one cabin sleeping up to four adults and the others two apiece. Thanks to their eco-design, they have almost zero running costs, bar the provision of clean linen and occasional general maintenance, allowing the couple to live comfortably on the figure of around £50,000 which they make annually from their enterprise, based on about 22 weeks' occupancy.
Green gratification
Today the Kirkwoods' lake, hidden away up a dirt track by the side of a crumbling 12th-century château, has three individual cabins, each beautifully cloistered within the shrouds of nature, providing an authentic experience of off-grid living, yet with enough cleverly contrived mod cons to stop anyone leaving with the belief that eco-living is all about suffering to the sound of drums in a muddy tepee. Guests tend to come from the UK, Ireland and France
Gratifying as this may be, it's the effect that this special location and its facilities (or lack thereof) have on their guests that still brings Bob and Diane the greatest pleasure.
"I can remember one lady who suddenly discovered she couldn't use her electric hair straighteners [due to a lack of electric sockets] and panicked because her husband had never seen her with curly hair," Bob recalls. "Fortunately he liked it."
"I've also been told there's a tree you can climb to the top of to get a bit of a mobile signal," he continues while gazing into the acres of dense green canopy. "The problem is," he grins, "I can't remember which one..."