If you have been looking to buy a place in the sun this year, you will have no doubt seen the price of the Euro and therefore property prices fluctuating in recent months. Now that we have secured an extension of up to 6 months before leaving the EU, what's in store for exchange rates, and how can you plan ahead in uncertain times?
Exchange rates have steadied
The 'flextension' to the Brexit deadline has been 'priced in' to exchange rates for a couple of weeks now, so in fact, we have seen relatively little movement since the announcement on Tuesday, compared to the volatility seen since October when Theresa May first came back from Brussels with her doomed withdrawal agreement. Against the Euro, rates have settled down well above the average of the last 12 months, providing good value for those looking to buy Euros to make an overseas purchase. 
What might happen next?
There are still several possible scenarios that might unfold over the coming weeks and months. As unlikely as it seems, Mrs May's deal (or an amended version) might yet pass through Parliament, giving businesses some much-needed stability and certainty, which would likely send the Pound higher. However, if the Westminster impasse leads to either a General Election, a new Prime Minister, or the re-emergence of a 'no-deal' possibility, sterling would be likely to fall back quite significantly. 
The greatest of these risks for the Pound would seem to be the possibility of Theresa May resigning, with her own MPs already briefing against her, and the potential of her replacement being a hard-line Brexiteer.
At the same time, economic data releases continue to influence exchange rates, and any sign of the UK's economy suffering at the hands of the uncertainty of the winter could also send exchange rates lower again.
Is it a good time to buy now?
With rates currently around 5% better than last summer, a £150,000 property is still £6,000 cheaper than if you had been buying 8 months ago- so despite all the negativity in the press around Brexit, it certainly doesn't look like a bad market for those buying property abroad.
If you are concerned about the coming months, and falling exchange rates potentially stretching your budget too far, you can talk to a currency broker such as our own team at A Place in the Sun Currency, who can offer you fixed exchange rates in advance, with a forward contract, as well as guidance to help you through the Brexit muddle. A forward contract is a popular way to secure your property price in Pounds sterling, at the time of putting down your deposit; so there will be no nasty surprises should the exchange rate move against you between agreeing on the sale and your completion payment.
A currency broker will also often save you a small fortune compared to using your high street bank for all your international payments, and by using an FCA regulated specialist in overseas property payments such as A Place in the Sun Currency you can ensure your money is handled securely and by experts.
With some buyers currently delaying their purchases, it is also something of a buyer's market in Europe currently, helping you to negotiate; add to that, exchange rates holding up better than you might expect, and in fact, there is an opportunity to buy now at good value, and without exchange rate risk.
Download our free guide to understanding currency exchange below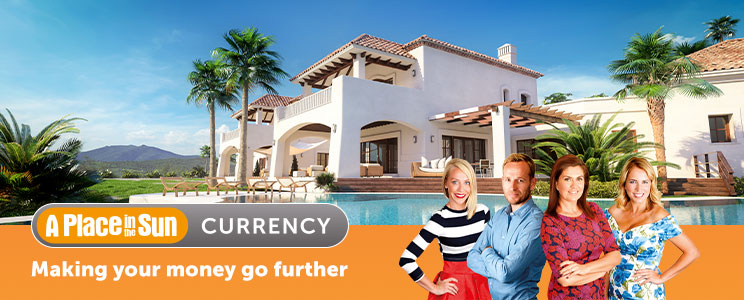 DOWNLOAD YOUR FREE CURRENCY GUIDE HERE
To find out more about how A Place in the Sun Currency can help, visit our website here or call one of our helpful staff on 0800 622 6522 (Monday to Friday).