And just like that, the first A Place in the Sun Live exhibition of 2019 concludes at the Manchester Central Convention Complex, with yet another three days of overseas property action taking place in the North-West.
Over the weekend, we welcomed just under 5,000 individuals through the doors who were looking for guidance on how, what and where to purchase a property overseas, all with different budgets and preferences.
Fortunately for them, we had plenty of exhibitors in attendance representing a host of countries, including Spain, France, Portugal, Italy, Cyprus, USA and Turkey, ready and waiting to answer their queries. This included estate agents, legal, tax, currency and removals specialists, meaning that our guests left fully informed and ready to plan ahead.
In addition to speaking to exhibitors directly, we also had a range of seminars, Q&As and panel discussions taking place on The Hub and French Village which provided information on the buying processes in Spain, France, Portugal and Florida. We also debuted a new session, Know Your Costas, which drew in hundreds of visitors each day looking to purchase on Spain's coastline.
Our Meet the Buyers talk also returned to where it all began last year, where Paul and Gill Clarke from Stockport shared their buying experiences after appearing on the TV show in 2015 with Jonnie Irwin. They spoke about their audition at our Manchester show four years ago, their time filming in Spain and how life has been for them post-purchase.
And of course, our celebrity guests Jasmine Harman, Jonnie Irwin, Laura Hamilton and Amanda Lamb were on hand to meet and greet our attendees and offer their expertise both on and off stage. They too joined us on The Hub, signed magazines and took a visit to our fun Wall of Fame area, as did Chris Gribben (below) who scooped a £50 John Lewis voucher for uploading this winning photo on social media.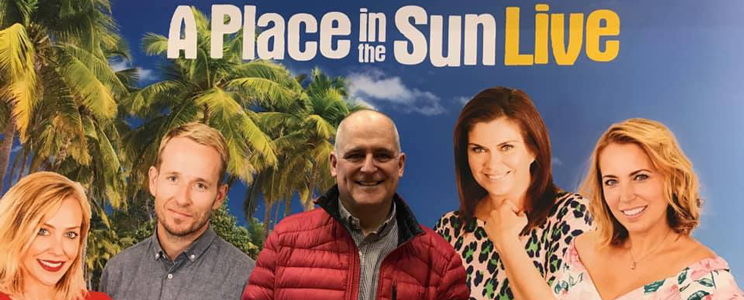 With our Manchester exhibition finished for another year, we now focus our attention towards A Place in the Sun Live at Olympia London between 10th - 12th May. Join us in the capital for our flagship event, where you can purchase your tickets below.
Take a look at our official highlights video for Manchester here:
Get your free tickets for our London exhibition below