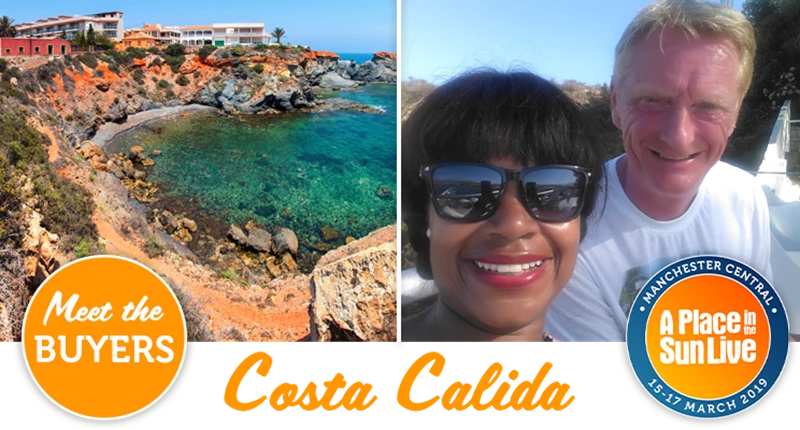 We frequently get asked how life is getting on for our TV house hunters after appearing on the programme. Did they end up purchasing? How did they find the filming process? How and when did they get shortlisted and was it long before they were chosen? What was it like filming with a certain TV presenter? 
We try to cover as many case studies as we can in our quarterly magazine and on aplaceinthesun.com, as well as invite previous individuals to speak at our A Place in the Sun Live exhibitions throughout the year in our popular 'Meet the Buyers' programme.
And we're delighted to be inviting a new couple to our upcoming event at Manchester Central between March 15th - 17th 2019.
Paul and Gill Clarke from Stockport were fortunate enough to appear on the TV show with our very own Jonnie Irwin in 2015, who was hoping to find them a two-bedroom in Spain's Costa Calida region. Like many of you, they had big dreams of owning their dream Spanish holiday property since meeting one another, and finally somewhere to call home for good once they retired.
This is where A Place in the Sun helped. It was by watching the hit television series and attending our Manchester exhibition that they managed to pluck up the courage to follow their overseas property dreams.
On Saturday 16th March the happy couple will be returning to where it all began for them four years ago. They'll be reunited with Jonnie Irwin as they all reminisce about their previous time together and discuss how life has been for them post-purchase. This will be taking place on The Hub theatre at 12:45 pm.
If you're considering joining us for 'Meet the Buyers' on Saturday, feel free to ask them questions and get real-life insights into purchasing a property abroad.
And if you can't make it on Saturday, that's fine, we'll have many other seminars, Q&As and panel discussions taking place on the Friday and Sunday too. In addition to this, you'll be able to personally meet our TV presenters, Jasmine Harman, Jonnie Irwin, Laura Hamilton and Amanda Lamb, pose for photos and have your free magazine signed.
For the full timetable, click here.
Click below to purchase your tickets for A Place in the Sun Live!