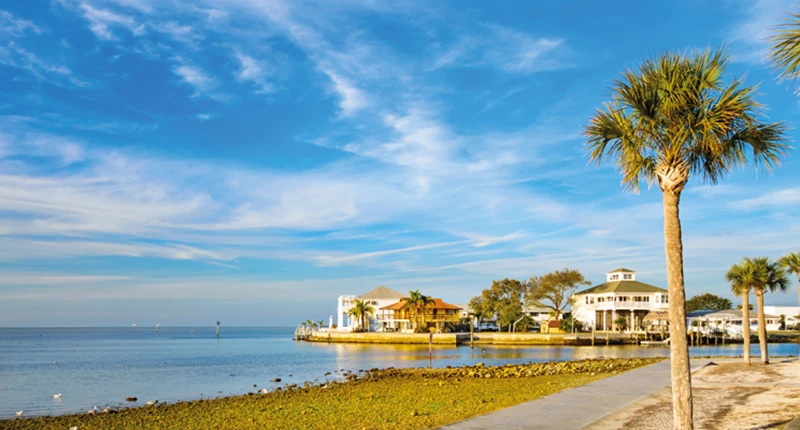 If you have ever considered escaping the winter months to stay in sunny Florida, you certainly are not alone. Justine Assall from the property information hub, InvestUSA360.com gives us an update on all things stateside.
During the months between September and March, Florida is a haven for snowbirds from around the world with pleasant weather, a laid-back lifestyle, relatively low cost of living, a common language (sort of), and relative ease in direct travel.
It's no surprise then that many retired, semi-retired, and remote-working Brits and Northern Europeans pack their cases with shorts, flip flops and sunhat to bask in the sun and leave their coats and cares behind (and save on hefty winter fuel bills back at home, to boot).
The love affair between Brits and Florida isn't new by any means. Approximately 1.4 million British holidaymakers visited the state in 2017 with Metro Orlando and Sarasota being two top destinations.
Florida boasts over 128 clear, sunny days per year and many more partially sunny days (as anyone can attest to in rainy season when the heavens open for two hours with torrential storms and then the sun pops back out as if on cue) and with winter having the most glorious, ambient temperatures, it's easy to see why Florida remains a top destination to visit whether for a week or a winter.
Undoubtedly, families love to come and purchase holiday homes but we are specifically looking at how to spend the winter months in Florida and therefore are focusing on retirees, semi-retired, and those with flexible schedules who can work from a laptop in the sun who may be interested in purchasing a villa and combining a bit of real estate savvy with their lifestyle goals of living in the sun.
Whether for a two-week holiday or to escape the British winter in an extended stay, Florida Realtors Association reports that $1.5 billion (£1.16 billion) of Florida real estate was snatched up by British buyers last year, so let's look at where to buy, how to go about it, and what to know if you intend to buy a home for extended stays.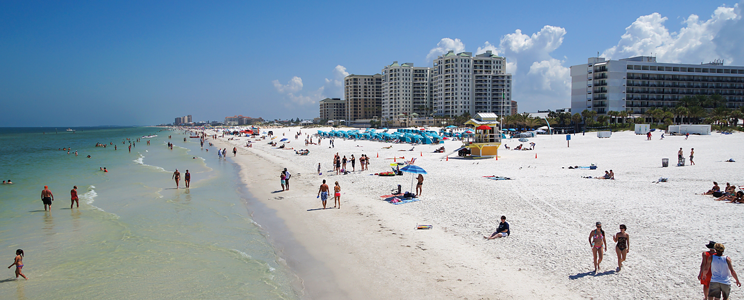 Where to buy a property in Florida?
Central Florida (Orlando, Kissimmee, Clermont, Davenport) is always a popular place as many British buyers purchase holiday homes after perhaps staying in an Orlando area villa and realizing that the cost to purchase a property is still often within budget – with resort condos ranging between $140,000-$380,000 and a 3000+ square foot luxury detached villa with a private pool and all the bells and whistles for somewhere between $300,000-$500,000. 
This suits snowbirds very well as the flexibility of having a Disney area villa not only allows for extended family to come and enjoy the home but also affords owners the option to help offset costs by placing the villa in a short-term rental programme (as a fully furnished holiday home) to other holidaymakers when not enjoying it themselves.
Many other cities in central Florida like Winter Park – a quaint arts and culture-filled city, just north of Orlando known for its oak tree canopied main street shopping district, café trottoirs (pavement cafes), museums, and lakefront mansions – are terrific options if you are not considering renting out as a short-term rental. Another popular option for Florida living is by the beach and because Florida is a peninsula surrounded by water, options are plentiful and based on your taste and budget. Beachfront towns and cities divide between the West Coast (of Florida) which is on the Gulf of Mexico and home to many quaint laid-back towns and cities with powdery white sandy beaches and calm blue water (not many waves).
The prices vary from city to city and therefore not practical to list although most snowbirds look at cities from New Port Richey – a sleepy gulf beach and riverfront town close to Tampa and Sarasota has great shopping and restaurants but retains a small town feel,  a vibe popular with many snowbirds – heading south to Naples and the further south you go, the higher the prices.  The east coast is on the Atlantic where the sand is beautiful but not as fine as the west coast and of course, you have waves.
The east coast is slightly less expensive than the west coast, with the exception of world-famous Miami. There are many options on both coasts including riverfront and on the intra-coastal waterway that can be more affordable options than direct beachfront and just as fantastic.
What type of Florida property to buy?
Next to decide is what property type suits your lifestyle: be it a detached villa with a private pool, a resort style condominium (or condo-hotel) with a community pool and various amenities or perhaps in between with a townhouse or semi-detached property. 
All three property types are available in most areas but decide upon the city first and then one type might make more sense than the others due to budget or upkeep. A detached or semi-detached villa will likely have a garage as depending upon the amount of time you intend to stay,  it might be worth purchasing a car.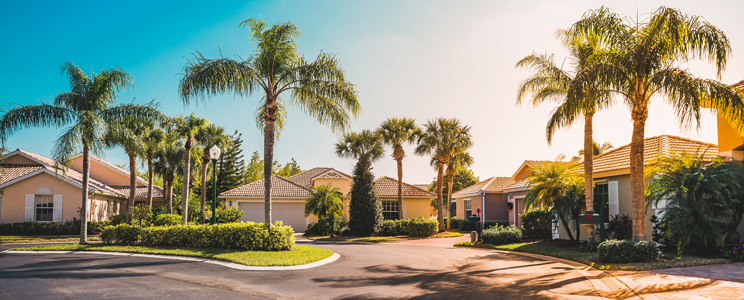 It should be noted that not all cities and communities allow for short-term rental (less than six months usually and in some areas less than one month) so if you need this rental income to help offset bills,  keep this in mind. You can always do a long-term rental but then you cannot enjoy the property yourself. In most resort areas, there are management companies that can advise on both options and assist with the booking of the home. 
How long can I stay in Florida for?
If you are considering spending between one and three months in Florida each year in your new home, usually the standard 90 days per visit visa waiver (ESTA) will suffice. Should you be thinking of escaping the winter for longer periods, it would be advisable to have a consultation with an immigration attorney up front to ensure that you are clear on the rules and understand what is required for such extended stays. 
One more consideration when purchasing property in the USA is that you will be required to fi le income taxes each year, just as any American would.
If you are simply purchasing a holiday villa and renting it when you aren't there, it is a simple form and you should ask your realtor to introduce you to a tax specialist that is accustomed to fi ling tax returns for non-US residents. 
It will cost a few hundred dollars per year and just part of the running costs of a home and is nothing to be alarmed by. If you are intending to spend extended periods of time in the US (six months per year), then it is advisable to meet with a Certifi ed Public Accountant to determine how best to structure your stay to ensure that you don't accidentally enter a higher tax bracket.
All in all, the process is simple, life is never more than an hour from a beach, and property values have been improving for the past few years with market indicators pointing in the right direction. It will not take long before you consider flip flops to be formal wear and sunscreen to be a well-thought-out alternative to coats and jumpers.
Five things to consider if buying a holiday home in Florida
1) Find a licensed Realtor
Estate agents must be licensed to work in the USA and they are paid by the seller upon closing, not by the buyer. Don't be mistaken though, they work for you and should be an invaluable source of information. All realtors have access to the same properties in their area, thanks to a cooperative multi-listing platform (MLS) that all homes are listed when up for sale. This means that you only need one Realtor and will be served better if you take time and find one that you are comfortable with – one who is extremely knowledgeable about the area is used to working with international buyers and responds to you in a timely manner.
2) If you need a mortgage, request to be introduced to a mortgage lender who specialises in international borrower deals
Mortgages are available for international borrowers from 50%-75% loan to value, depending on the property type, region, and the borrower profile. Generally, two years of income, two months' proof of deposit funds,  and two bank references will be required.  It is a very particular and detailed process these days so it makes sense to check up front and see what you qualify for.
Download our free guide to buying a property in Florida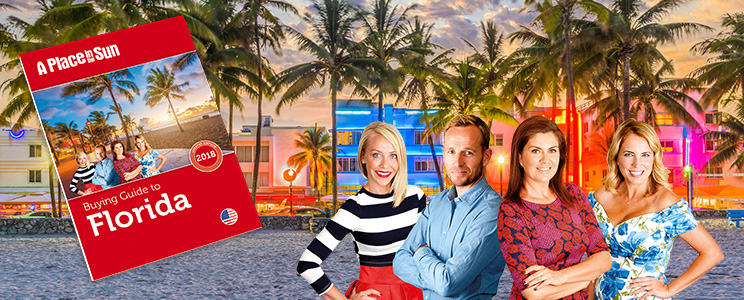 download your free Florida buying guide
3) Allow for the process 45-60 days from the point of contract to reach closing (possibly longer with a mortgage)
Once you decide upon a property, your realtor will complete a standard contract and submit it to the seller's realtor. If and when you come to terms, the contract will require a deposit of $1000-$5000 with both buyer and sellers signing and initiating each page. The standard contracts usually allow time periods for inspections, financing contingencies, appraisals (valuations)  and other clearly stated protection clauses for both the buyer and seller. When the property is due to close, a title company (who has solicitors working behind the scenes) will prepare the documents. It is very organized and your realtor will walk you through. You do not have to hire a solicitor as the process and forms are standardized but you are welcome to if you feel more comfortable. Usually being present for the closing is easier but it can be done by post.
4) Interview management companies at the start of the process
Your realtor should introduce two or three different companies who specialize in the type of property and the area in which you are purchasing. Their job will include booking the home with rentals (if you intend to rent) and maintenance and repairs. These days, most will off er digital access to bookings and other pertinent information on your home. They will be part of your on-going team as you need eyes and ears on the ground.
5) Remember why you are purchasing this and keep focused
If you are buying a property primarily as a holiday home, remember that income can be used to off set the ongoing costs but should not be relied upon to purchase a home otherwise out of your budget. You are buying it to relax in, not to create more stress!