Our property hunter (who used to work for George Harrison) is seeking a winter sun escape with a budget of £120k in Fuerteventura. 
Colin and Christine Harris have decided that frequent trips to Fuerteventura will make the UK's grey winter months more bearable during their retirement.
The Reading couple's grand plan is to buy a bolt-hole on the second largest island in the Canaries and decamp there as often as possible when the mercury starts to drop back home.
"We really don't like the cold and we've reached a point in our lives when it makes sense to have somewhere warm to visit in the winter months," said Colin, aged 69. "Not least, it would help my back, which gives me grief. We're big fans of the A Place in the Sun TV series and always feel inspired when we see people house-hunting on the show. Well, now it's our turn to fulfil our dream. We've been contemplating buying for about 18 months now."
Colin was retired from British Rail a few years ago after suffering a back injury. Before working on the railways, he worked for George Harrison, as part of the gardening team that managed the late Beatle's 33-acre estate in Henley-in-Thames. He still does odd bits of casual gardening work.
Meanwhile, 64-year-old Christine is manageress at a bakery in Henley on-Thames and a year or so off retirement. "She gets quite a lot of time off and has flexibility in the hours she works," adds Colin. 
So why Fuerteventura? The couple, who have a son and daughter and two grandchildren, have holidayed there twice in recent years, although Christine has been a total of three times. Another big fan is their daughter (pictured left with the couple), who has enjoyed five holidays on the island. Getting to Fuerteventura is relatively simple for the Harrises, thanks to the direct train from Reading to Gatwick Airport, from where they can catch a direct flight (4 hours 20 mins).
"We've only been to Caleta de Fuste but it ticks all the boxes," continues Colin. "The climate is lovely in the winter, there are lots of other English people - which we like, and everything, including the beach, bars and shops, is very accessible. Plus, it's only 10-15 minutes' transfer from the airport. So far, we've stayed in the Hotel Geranios right on the beachfront and love it. But we'll certainly consider other resorts.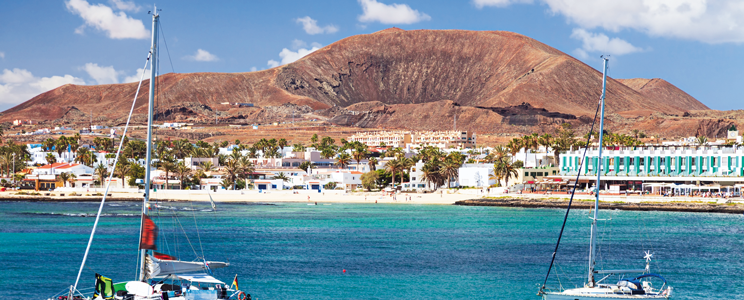 The couple are in the fortunate position of being cash buyers. They recently sold an investment property in the UK for £112,000 and intend to put the proceeds towards their purchase in Fuerteventura. With no mortgage to service, they won't need to rent to holidaymakers and will keep their property for their own and their family's use. 
The couple's wish-list revolves around convenience. "We want a lock-up-and-leave with low running costs and within walking distance of everything," said Colin. "Somewhere new would be nice, or just somewhere in good condition that needs little or nothing doing to it. And I don't want to be walking up too many stairs."
With less than a year to go before Brexit is meant to happen, could there be a danger of Colin and Christine getting cold feet about buying in Europe? Apparently not. "Brexit is something I never ever think about," Colin confirmed. "It either comes or it doesn't. For me, life is too short to worry about those sorts of things."
A Lawyer's overview to buying in the Canaries
Sales of properties in the Canaries grew by 10.7 per cent in 2017 with a total of 65,676 properties being sold. Amongst these, we are seeing a trend of more off-plan and new properties being built and sold across all of the islands.
Before searching for properties consider if you are buying to live in or to rent out? If you wish to let to generate an income, then find out if the property has a touristic licence already or if this could be obtained. Without a licence, you will not be able to rent out the property. If you do wish to rent the property, then it is likely the development where your property is located will have a property management company who handle booking enquiries, offer key holding, cleaning and maintenance services. Any income generated will be subject to tax in the Canaries, payable quarterly and will also have to be declared in your home country.

DOWNLOAD YOUR FREE SPAIN GUIDE HERE
The buying process is the same in the Canaries as the rest of Spain in that there will be an offer, some negotiation and once a price has been agreed and legal enquiries completed satisfactorily, contracts can be exchanged.
For off-plan purchasers, all developers by law have to provide bank guarantees protecting all monies paid. These bank guarantees are returned to the developer at completion after the property has been signed off by the Town Hall.
If you are buying a resale property with some land, it is advisable to carry out a survey to ensure the land registry and actual measurements of the land you are buying match up. Also, for beachfront properties, we would recommend contacting the authorities to ascertain the property was built with planning permission correctly issued by the Town Hall and does not infringe any coastal or local planning laws.
Property transfer tax which is payable on the purchase of resale properties is 6.5 per cent in the Canaries, while for new properties you will pay seven per cent (IGIC/VAT) plus one per cent stamp duty. Overall, budget up to 12 per cent on top of the purchase price to cover all taxes and notary, land registry and legal fees, and you are likely to have some change when the property is registered in your name!
If you move to the Canaries to live, then you can register with the local authorities and this will entitle you to a 50 per cent discount on flights to and from the Islands. Life in the Canaries is relaxed, warm most of the year and the pace of life can be slow. What are you waiting for!