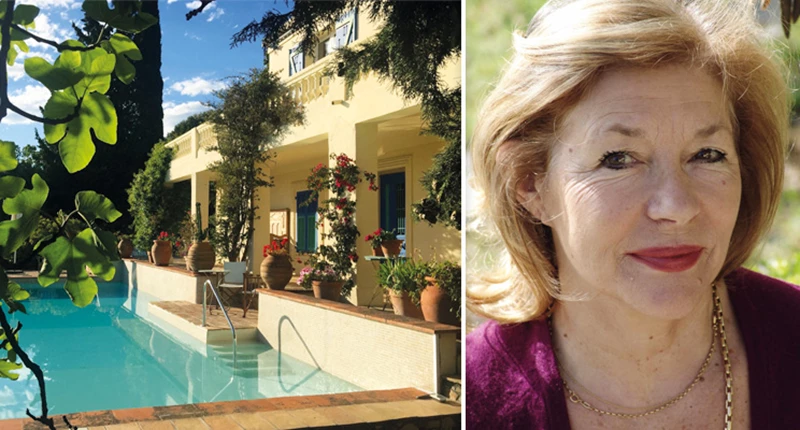 The former actress-turned-writer and olive oil farmer, Carol Drinkwater talks to Angela Sara West about her life in the sun-baked hills behind Cannes.
On discovering an abandoned olive farm nearly 30 years ago, the British actress Carol Drinkwater, 69, realised a dream she had long been seeking - a home by the sea. She had scoured the world for the perfect property for almost a decade when her road to romance and adventure on the French Riviera began.
Well known for her role as Helen Herriot in the BBC series All Creatures Great and Small, this award-winning actress fell in love with a Frenchman in Australia. Together they bought and restored a derelict house and olive farm near the villages of Mougins and Le Cannet. Their experiences inspired her bestselling books, detailing the trials and triumphs of renovating their rundown property into a productive Provençal farm producing award-winning organic olive oil.
So how did it all begin? A true love story from the start, TV and film producer Michel, 68, proposed on their first date. "I didn't immediately accept, but slowly, our relationship grew," explains London-born Carol. "A few months later, he invited me to Cannes, where he was working at a television festival. While he worked, I took myself off house hunting and found Appassionata (an Italian musical term meaning 'with passion'), our abandoned olive farm."
Acquiring their early 20th-century farm was fraught with difficulties, due to finances coupled with frustrating French bureaucracy. "The process was drawn out, taking almost a year to actually buy it. We couldn't afford to pay for all the land, so we agreed to buy it in two payments over five years. This meant changing the land cadastre (records) at the local planning office and it seemed to take forever!"
Three times higher than their budget, she says the sum they paid in 1984 was substantial for what was tantamount to 'a ruin sitting in a fragrant jungle'.  "It crippled us. We borrowed from all sources to gather the deposit. On several occasions, over two decades, we almost lost the place because we were struggling to meet the payments."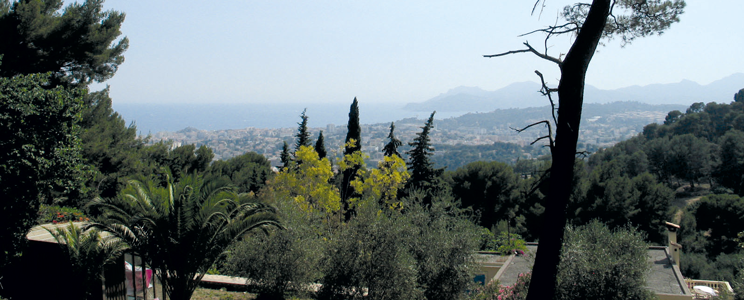 But finances weren't their only problem: "The vendors were Belgians living in Brussels and weren't French taxpayers. They had purchased the estate for one of their daughters who never lived there. The property had been rented out for a number of years, leading to a series of tax investigations into the entire Belgian family, their inheritance contracts etc.  We had to wait while the state and lawyers settled all queries before the sale could be finalised and signed."
In 1988, the pair were married in the South Pacific's Cook Islands, making Carol a doting stepmother to Michel's twin daughters. In between family and work commitments, the couple has dedicated themselves to the relentless, often backbreaking task of renovating their rundown property and olive farm, gradually nursing it back to life. "The work's rigorous and very physical. Professional labour's very expensive down our way, meaning we've engaged in it ourselves and been very 'hands on' with the transformations. It's therefore taken much longer, but that's been a bonus in a way, because we've not made rash decisions, plus the house and land became so familiar to us, we've almost been able to read what's needed."
Surrounded by vineyards, on a hillside fringed with drystone walls overlooking the beautiful bay of Cannes, the ten acres of grounds now boast over 300 ancient and junior olive trees, some up to 400 years-old, along with lemon, orange, cherry, almond and fig trees. The house is cream-coloured and balustraded, with several very expansive terraces.
"It's actually quite simple and basic but has light and airy living spaces with high ceilings. For the olives and laundry, we've built a little house in one of the old groves." There's also a beautiful Art Deco pool and Carol has transformed the garage and abutting stables into one great space with a shower room. "And, possibly, an editing suite or library with a bed for summer guests. I like to remain flexible while at work on books [a total of 20 so far] or buildings!"
Paying the bills with bestselling books
In her quest to make their olive farm pay its way, Carol documented her experiences with wit and sensuality in a series of best-selling books. Six memoirs, including The Olive Season and The Olive Farm, recount tales of run-ins with wild boars and challenges such as forest fires and leaking sewage, against a backdrop of vivid descriptions of French rural characters, countryside, customs and cuisine. "The land has now been entirely fenced in so the boars are a thing of the past… or until they work out how to break in!" she laughs. They also recently lost 14 of their honeybee colonies and Carol actively campaigns to save bees, which are being killed by a combination of pesticides, loss of habitat and, more recently, a predator from China, the Asian Hornet: "I've been shouting about this for almost 14 years!"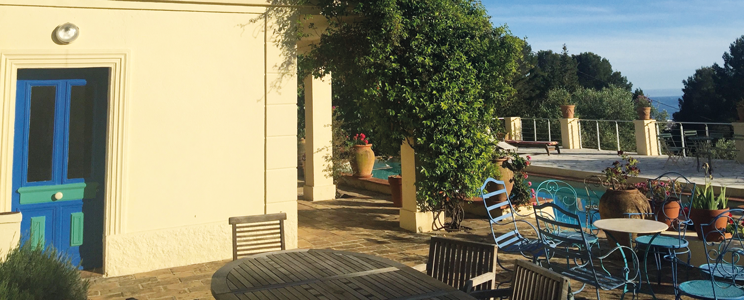 Another challenge was the long, drawn-out process of acquiring the AOC (Appellation d'Origine Controllée), the benchmark in France for top-quality comestible produce. "I hadn't expected to undergo so many land and tree inspections. It took five years for our farm and olive oil to be recognised and how proud we were when we were finally given the news! It's shown me that if a French product carries this appellation, then you can be absolutely sure that what you are purchasing has been rigorously controlled and is of the highest standard. We're one of only two farms owned by foreigners in the entire Alpes-Maritimes region to carry this award. Not bad for an actress and writer!"
The couple pick by hand and all work is performed manually. Their technique of organic oil production yields far smaller harvests than from treated trees but results in totally natural liquid gold. "In conventional farming, the fruits are coated with a pesticide that repels the olive fly. We don't spray; we work with non-chemical, but less effective, methods, meaning some fruits can be infested and rot. However, most importantly, our lives contain no harmful poisons. We've decided that less is better and more wholesome. Our oil is really wonderful and absolutely natural."
Around four years ago, they acquired the strip of land bordering the lane to the west of the house, which they'd been after for over 20 years. "We've planted sapling olive trees onto these terraces and are creating a small almond grove in memory of my mother, who loved pale pink.
When the almonds blossom in February, it will be a swathe of light pink and she will look down upon it from heaven and smile." Along with olive farming, Carol has many pastimes at Appassionata: "I like to swim, read in the garden, walk the land, look after the plants and stare at the sea. The pair eats out infrequently. "We grow our own food and enjoy the quiet, private time the place affords us, so our two kitchens are my favourite restaurants. I cannot describe how delicious our avocados are! Guests are bowled over by their creaminess. We eat plenty of raw food: salads and garden fruits. We grow herbs, tomatoes, courgettes and a variety of citrus fruits… grapefruit, clementines, blood oranges, bitter orange for marmalade - all fresh and chemical-free."
They also shop at the market behind the old port in Cannes or buy fresh produce from farmers' markets further inland. "The produce in the markets is exceptional. There are excellent fish and cheese shops and butchers close by. Where we live provides all we need to live the Mediterranean diet."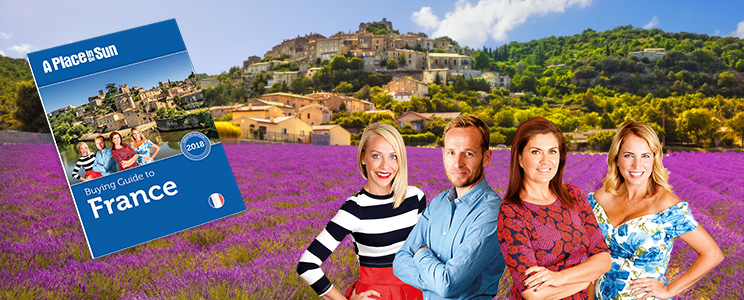 download your free guide to buying a property in France
On special occasions, Carol and Michel dine at La Colombe d'Or restaurant in St Paul de Vence. "It's in a tiny hotel in a remarkable position at the entrance to the village, with views across valleys and pine groves and one of the finest collections of twentieth-century artworks."
Just a boule's throw away from star-studded Cannes, Carol and Michel choose to stay away from the celebrity hobnobbing the glitzy town's famous for, but during the film festival, they throw parties and meet friends in the business for social evenings and film screenings. "We host big summer parties lasting several days and friends, particularly from my showbiz life, fly in to stay and party, enjoying the tranquillity and privacy of living on our olive farm. Otherwise, our lives are quiet here."
Carol finds inspiration along the Côte d'Azur and beyond. "My outings tend to be work-related; I visit places I write about. I also go to the Camargue and walk the magnificent beaches at least once a year because I find it a very peaceful, healing place." She visited vineyards to learn about les vendanges (grape harvests) and the whole wine-making process whilst writing her novel The Forgotten Summer.
"I spent most of my time in the Var, which is renowned for its rosé wines. The fabulous wine estate imagined in my book is famous for its rosés, so I visited several wineries close to Bandol and spoke at length with the estate owners - and drank, and purchased, many cartons of wine! It was great fun."
Her favourite wine? 'I'm very fond of Pouilly-Fuisse (or Mersault, but I cannot afford it!) Michel loves the local rosé wines, which I tend to drink in summer." 
Her love for olives saw her travel solo around the Mediterranean for 17 months, discovering the Mediterranean roots of the sacred tree and the history of the Mediterranean itself, along with its language and traditions. She has also worked with UNESCO to help found an Olive Heritage Trail around the Mediterranean Basin to honour the tree's heritage. This inspired her best-selling books The Olive Route and The Olive Tree, which, in turn, inspired five fascinating films.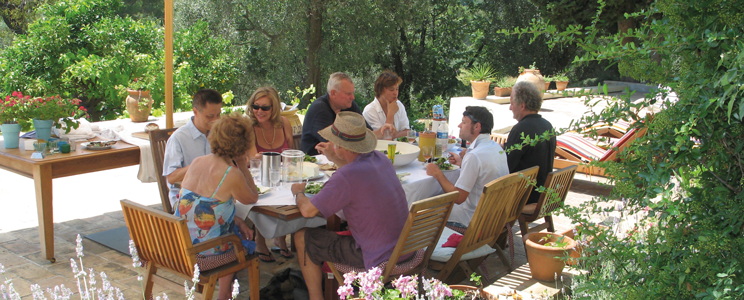 Buying a home in the area
Any tips for readers considering buying in France? "If you're dreaming of it, then make the leap. Even if it doesn't work out, then at least know you've tried. If you're after the south, unless funds are very plentiful, look inland. There are still some very lovely regions where prices aren't astronomical. High in the Var, there are lovely spots with acres of olive groves and even an organic village or two."
Mougins is a sought-after area of the Alpes-Maritimes, and property prices reflect this. You can buy a small villa from around €600,000 or a larger property for €800,000 plus. Prices drop in the less popular areas, and further inland from the sea. The property market in the south is still much slower than in the capital, Paris, where the pair have also lived and Carol's time there inspired many of her books.  "I LOVE Paris and make frequent trips there. It's where The Forgotten Summer's main character, Jane, falls in love for the first time." Carol's new novel, The Lost Girl, is also partly set in Paris. "The modern story's set over the weekend of the city's November 2015 terrorist attacks. The other half of the story's set in the perfume villages near Grasse soon after World War Two. I hope the book is a magical tale born out of loss."
Her perfect day in Provence? "It's my home. I live on the lip of the Mediterranean coast. My days are about waking up to the sun, that special Med light, the sight of the sea, brilliantly coloured flowers and olive trees, silvery and elegant.
"I potter to my den, switch on my computer and begin to prepare my mind for a long day at my desk. I have several book contracts to honour. In the evenings we light the barbecue in summer or a log fire in winter, open a bottle of wine, jazz playing on the stereo."
Life on Carol's olive farm sounds absolutely idyllic. Are there any downsides to life in Provence? "It can be so beautiful that it seduces me away from my desk.  I need to have a steely discipline to keep working! But it's been a love story in every sense of the word… a true labour of love and three decades of adventures!"