Husband and wife, Mark and Ingrid, have always had intentions of one day moving to France for its warmer climate and laid-back culture. Below they share with us how they personally found the buying process, and how they've adjusted to the French way of life whilst living in Cannes!
"My Wife Ingrid and I have always wanted to move to France. Ingrid, who was born German, worked in the Hotel & hospitality industry in many countries of the world including France. I trained as a chef in England and later, went on to work in the digital marketing industry.

Moving to France was a challenge we both wanted and although not at retirement age, we believed that both our skill sets would be transferable to France. It had to be the south as we wanted to live in a warmer, drier climate than that of the UK. In 2015 we decided to start to look in the south of France with a target area of Toulouse, Bordeaux and the Provence region.

After our first inspection visit looking for a French property, we fell in love with Cannes. The cosmopolitan culture and the buzz captured our imagination and that was then the place. The first problem was the cost of property, very expensive and varied within the different parts of Cannes.

After a few disappointments and three visits, hunting for a place we found our dream apartment. It needed some work but we were ready for that and transformed it into our new home over the first six months. The apartment is a four-minute walk from the sea and all essential living facilities - supermarkets, bakery, butcher, bank etc. We are also on a bus route to the city centre if needed, but we usually walk or take the bicycles.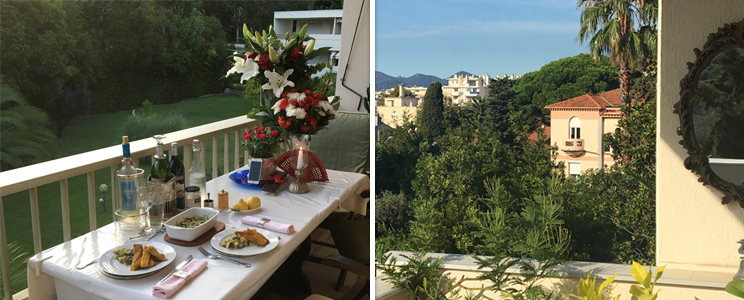 The apartment is only one bedroom but has a balcony on three sides all but the north side so we can catch the sun all day long. It is very spacious and perfect for the two of us. As there is so much local accommodation friends and family have a vast choice of price and location. We spend most of the time outside. Last year we ate brunch on our south balcony on New Year's Day (above).

The south of France is not the same as the north. There is not much English spoken except in the restaurants and tourist places. Fortunately, Ingrid speaks French, so everything was much easier for us. Local knowledge of the area is very important. As with any move, research is key. We have bought for the future - not up on a hill, we have a lift and are close to shops. If we did not have a car we would be fine!

Cannes also offered us a huge change in lifestyle with over 700 eating establishments and nearly as many hotels! Cannes is a truly international destination that hosts some of the best shopping in the world not to mention the very busy congress program with the Film Festival & Cannes Lions. There is always something going on and our life here is now very interesting.

Advise for anyone wanting to move to the South of France would be to join one of the many expat networking groups on the internet first and then connect with people online. I would also try to learn as much French as you can before you arrive. Although shopping and daily life can be easy to get by, administration, taxes, health and the like are all done in French. There is help with language from the Pole Emploi for foreigners, but again to get the help you need to communicate in French. We have both started businesses in Cannes as Auto-Entrepreneurs.

We used A Place In The Sun online to look for potential places and also went to an exhibition in London where we gained plenty of good advice.
To sum up our experience living in Cannes so far, we would have to say… exciting, warm & cosmopolitan!"
search for a property for sale in Cannes
...or download our free guide to buying a property in France