Our latest Five Minute Focus takes you on a journey to one of South America's most up-and-coming hot spots for overseas property, Panama! Read below to find out more about the country's property market, and what buying a property in Panama is offering British expats.
Where is Panama?
Many people are asking, where is Panama? The truth is there is a spotlight on Panama due to investment opportunities and for being such a prime location for retirees and expats. Panama is located in Central America, with Costa Rica to the west, and Colombia to the east. In less than two hours you can get from the Caribbean Ocean in the north to the Pacific Ocean that runs along the southern coast of Panama. The country is the connecting link between North and South America and home to the Panama Canal, which connects the Atlantic and Pacific Oceans.
Hats off to the economy?
Panama benefits from its strategic location on the world map and the ongoing boom in globalization. Panama has a stable government with pro-business and pro-foreign investor policies. Its economy runs on the dollar and depends on the Panama Canal, logistics, banking, and tourism. The expansion of the Panama Canal opened in 2016, allowing even larger ships to pass through and special benefits for foreign retirees attract many visitors and potential residents to the country. Panama's GDP in the last decade has ranged between 4.5%-12.2% and is projected to rise to 6.2%.
Living in Panama
Since the French began work on the original canal in 1903, the Panamanians have become accustomed to welcoming expats, investors, and retirees alike. Panamanians are very friendly and have a positive attitude towards foreigners. Panama has some of the most open immigration policies in Latin America. English is widely spoken, the medical services and facilities are excellent including a John's Hopkins Hospital; a high standard of living is available at a reasonable cost, and the nightlife is fantastic.
Panama is also consistently listed among the safest countries in Latin America. Unemployment is low, and options for an affordable cost of living allow petty crime rates to stay down. The cost of labour is low in Panama – around $20 a day (prices quoted in US dollars) for a gardener or housekeeper.
Activities within diverse natural beauty
Panama is a country of natural beauty, and few countries can rival Panama's variety and value. It has charming mountain cities lined by rainforests and coffee plantations, the laid-back Caribbean and Pacific beach towns, and a metropolitan first-world capital city that has a national park within its limits and modern conveniences at your fingertips. For the adventurer, Panama is absolute paradise with its mountains, waterfalls, beaches, jungle, and natural hot springs, all within hours of each other.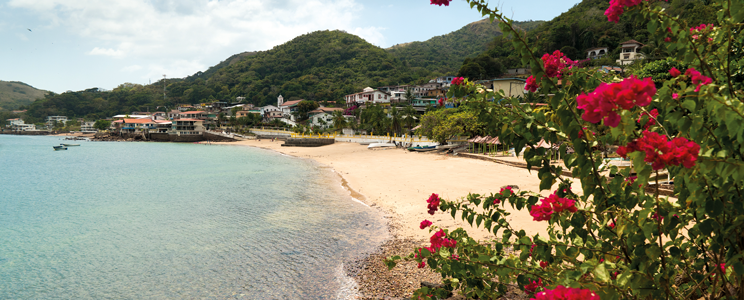 Great infrastructure, improving transportation
The $5.4 billion expansion of the Panama Canal effectively doubles the canal's capacity by adding a new set of locks to accommodate many of the world's largest cargo vessels. The Panama Metro Railway Project, Central America's first rapid transit system, is underway with a $2.2 billion project. When completed, the railway expects to carry 30,000 - 45,000 people per hour, making commuting easier. Tocumen International Airport, officially dubbed the "hub of the Americas", is expanding by two new terminals.
The $800 million Terminal 2 project is expected to be completed in 2017, and soon after work will begin on a third terminal. The airport currently handles more than 13.4 million passengers a year and is expected to grow to 20 million in the next few years. The expansion is part of a plan to include a new runway and direct metro connection to the city.
Tax-friendly regime and residency scheme
The Panama Friendly Nations Program, passed in 2012, offers one of the easiest ways to obtain permanent residency and can lead to a second passport. The Pensionado program allows the retiree significant discounts on everyday purchases, such as 50% discount on entertainment, 25% off on restaurants and airline tickets and 10% off prescriptions.
Whether you need an off shore company, you're a frequent traveller, or you want a second home in Panama, there are endless options. Panama also has a territorial tax system exempting all of your income earned outside of Panama. This zero taxation policy of foreign income applies to resident individuals in Panama and Panamanian companies.
Panama real estate market
In Panama, foreigners can buy new or resale properties but tend to prefer modern homes. Many expats depend on My Panama Vacation Realty to access the five-star turnkey investment and lifestyle properties with developer financing in both Panama City and the neighbouring Pacific Gold Coast Beaches. Demand is especially high for strategically located properties in rapidly growing areas to take advantage of forced appreciation and offering high rental returns from tourism and multi-national organizations that have set up regional offices in Panama.
The focus is on locations that give the best opportunities to take advantage of Panama City's continued growth. Evie Brooks, investment educator and real estate trainer,  has access to new promos that are not available to the general public, pre-launch specials and turnkey program that addresses everything from Property Management to furnishings. 
Search for homes for sale in Panama below