Richard and Amy are moving to the Algarve from Cumbria with their son James, 7, after falling in love with Portugal. Amy Grace reports here on their well-laid preparations for such a life-changing move.
Our seven-year-old son's favourite T-shirt says  "I need Vitamin Sea" in big, bright colours. It sums up how we all feel after six years of living in the North of England and, after four years of holidaying in Portugal's Algarve, the climate, stunning coastal scenery and year-round colour of flowers convinced us to make the leap and live there full time.
We simply feel at our best out there. The story of our move to the Central Algarve this summer is one of multiple research visits, extensive networking and job-searching, and a lot of creative thinking. Friends say we're being brave and doing what everyone secretly wants to do but we don't feel it's down to courage; our research has made us confident that we are moving somewhere to enhance our family life and - with us both only in our early forties - to give us new career opportunities.
Richard's office is on the shores of Lake Windermere and mine is at Sedbergh School, a Hogwarts-style boarding school in the Yorkshire Dales; cricket and netball rather than Quidditch though. Though no strangers to living in beauty spots, family holidays to the Algarve (or just 'Algarve' as it should be – the 'Al' means 'the') over the last four years have seen us find it increasingly harder to limit our visits to once a year.
Because we have a young family, and couldn't afford to keep flying back and forth, it was a key part of our plan to make this an opportunity to build a new future in a location we would all thrive in. We weren't looking at relocating to just anywhere; we knew the area as a holiday destination from spending time in Alvor, near Portimao, with my parents each year, and we have always spent time going off the beaten track, finding hilltop villages and remote little restaurants.
Researching location is key
We both love to discover new places and as we wanted to know as much as we could about the whole country we have spent time in Lisbon and the coast and countryside around there, and we had a long weekend in Porto. We did consider applying for jobs in the North but opted for the familiarity of the Algarve for James, and the consistently good weather was a big pull for us. We've been out five times this year during different seasons, and most days have averaged at around 18° C even in January and February.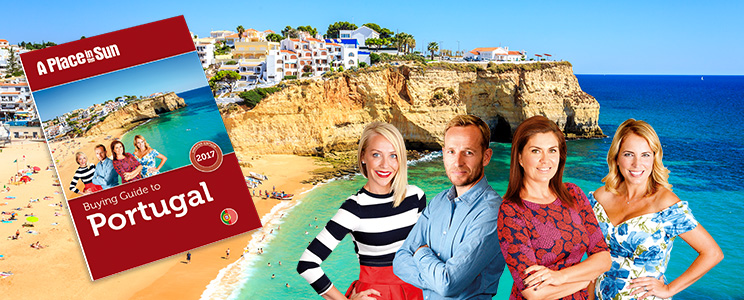 DOWNLOAD OUR FREE GUIDE TO BUYING AND LIVING IN PORTUGAL
Something that sets Portugal apart from other European countries for us both is that the people are so outward looking; like England, it has an ancient maritime history with explorers or 'conquistadors' who navigated unchartered territory all over the world and brought back new tastes, spices, fruits and animals to Europe.
You can tell this heritage shapes modern day Portugal and its people, and it has definitely been one of the big attractions for us. Another is the constant vivid colour everywhere you go. Even in the blistering heat of mid-summer, there is plenty of green and in the middle of January, you'll still see beautiful bright coloured flowers and fruit growing.
What sort of Algarve property? 
In England, we have spent the last five years renovating a 17th-century former inn, which we are now renting to friends. Richard is drawn to old tumble-down buildings like a magnet and for much of the time we've been visiting the Algarve, has been intrigued by a crumbling 19th-century hotel in the hilltop spa settlement of Caldas de Monchique.
For a while, we did consider buying it by raising cash through crowd-funding (it was for sale for €530,000), re-opening it as a boutique hostel with café, deli and nature garden; we had a great deal of hope of realising this dream for a few months.  We met with architects, engineers and consultants who work on grant applications for the 'Portugal 2020' (portugal2020.pt/ Portal2020) scheme.
Through this, with  a 20% deposit up front, you can apply to for funds to restore buildings and set up businesses that will bring new tourism markets into the country; we had support from the Secretary of State for Tourism and were passionate about it but had to pull out when we realised that even getting an architect's plan agreed by the town council would have cost €26,000 alone, plus €5,000 for the Portugal 2020 bid.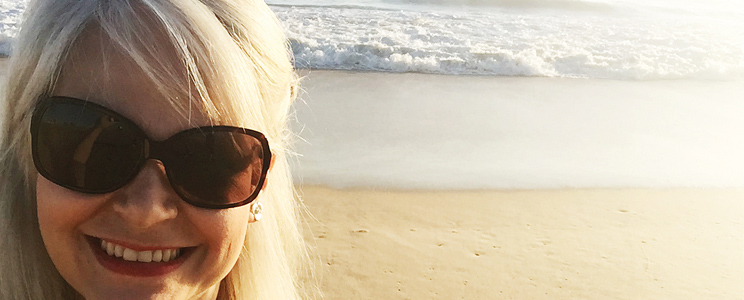 The lesson we learnt was to not feel pressured by time and to do all the due diligence in your own time. However, we had also done a huge amount of research and networking and had garnered a great deal of support from the local Chamber of Commerce and council. What we walked away with was hugely valuable; contacts, knowledge about the potential in the area and, most significantly on a personal level, the certainty that we wanted to live there. We are impressed with Portugal's commitment to regeneration, eco-friendly businesses and to protect the natural habitat so are still exploring ideas for that.
Because we are both creatives and I am also a qualified teacher, we had a good chance of finding work but one of our aims was to keep our careers moving forwards as well as improving our lifestyle. I will be working at the Nobel International School Algarve, near Lagoa.
Choosing schooling
On our research trips, we visited other schools and we liked that Nobel has a British curriculum with British teachers for core subjects, and then also European teachers but all English speaking. James' education was a really important point not to compromise on and, having visited a few smaller schools in the area we were very impressed with this particular school; it felt very friendly and welcoming, growing in size, predominantly British children but also children from Australia, Canada, Holland, Sweden and Switzerland.
A lot of people weigh up the choice of going for a Portuguese primary school but at this school, James will get to meet and play with local children attending the national section of the school, and he will learn Portuguese as a second language.  We visited some schools that are run by private individuals but they seemed poorly resourced. The school is also part of a global group, with school exchanges possible for staff and children.
Trying before we buy
Having found a job for me, the next challenge was to find somewhere to rent for medium to long term. Most people rent villas out for the winter months or for the hottest time of year and anything over two bedrooms was coming in at an average of about €1,200 per month – a villa with a pool and three bedrooms will cost at least €1,700.  We looked through Booking.com, HomeAway, Airbnb and contacted lots of hosts to see if they would consider a long term let; very few were interested. The AngloInfo.com website was also a port of call but very few of the websites had more than a handful of properties and few of the owners responded.
Our next step would have been to try some agencies but a moment of inspiration struck as I remembered a vineyard we had visited on previous holidays and on contacting them, we were lucky that  a family had just given notice on their three-bedroom long-term let – we managed to strike a deal for a lower rent by paying a lump sum up front and to keep to our budget of less than €1,000 per month.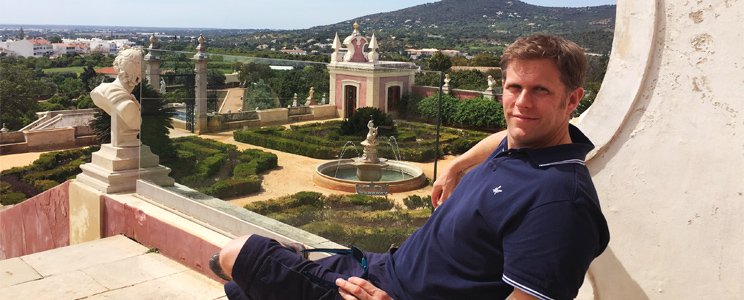 We hope that this will leave us enough spare cash to enjoy a café com Leite and pastel de nata (white coffee and Portuguese custard tarts), enjoying the new life we have created for ourselves. We are embracing the opportunity to learn Portuguese and have signed up to lessons with a well-known author of Portuguese language books, Sue Tyson-Ward. Through her, we've already learnt so much about Portuguese culture and etiquette and, apparently, James is a budding little linguist!
What next - with Brexit?
How Brexit will impact on our future in Portugal, we don't know. It certainly didn't put us off moving and, if anything gave us extra motivation to make the move.  We hope that by moving now we may still have some hope of protection from new legislation and we are reassured that the Portuguese want to invest in the bond they share with the British, which is one of the oldest agreements between countries in Europe.
We are reassured that Portugal is apparently one of the top ten safest countries in the world to live in, it is peaceful and has good business links with the UK.