Whether you're looking to buy a holiday home or retire in the stunning country of France, there are a number of key lifestyle factors to consider before you commit to a French property. We touch on the climate, language, cost of living and culture below, and highlight more factors in our free downloadable buying guide at the bottom of the page.
Climate and seasonality
There are three types of climates in France: oceanic, continental and Mediterranean. The oceanic climate is typical of western France including Bordeaux and is perhaps most similar to Britain in that there is plenty of rainfall, and summer temperatures are not especially high. The east and centre have a continental climate with less rainfall and higher temperatures, but not as warm as the south.
On the other end of the spectrum, the south of France, including Nice (except the Alps) is hotter and sees less rainfall. In this sense, it is closer to Spain or Greece and is better for those who are seeking more sunshine. Even here, however, average summer temperatures reach only 24°C, and so the heat is far from unbearable. The main question is whether a climate more similar to or further removed from that of the UK is preferable; temperatures are not usually uncomfortably high and only very low in winter in the Alpine areas.
Language
According to a recent report, 39% of people in France speak English, which is the second-most spoken language in the country. However, this does not necessarily mean that having little or indeed no grasp of the language will enable seamless integration into French culture. It is probably best to have at least a reasonable grasp of the language if you're planning to stay for a long time.
However, the popular myth that the French frown upon attempts to converse with them in English is now not true. Most are happy to make an effort in English, usually having at least a basic knowledge due to the increasing global demand for English speakers. There are some regional dialects, such as Occitan, Breton, Corsican and Basque, although the French government has traditionally taken a strong stance in proclaiming French to be the sole official language of the nation. Speakers of these languages, however, will almost always speak French anyway.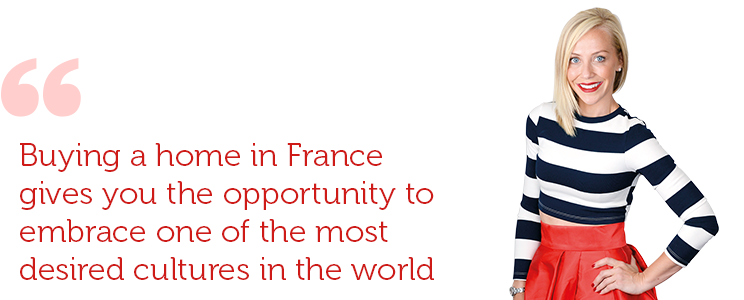 Cost of living in France
The cost of living in France is distributed differently to in the UK, and so a factor that should be considered. Costs tend to be highest in urban areas such as Paris and Marseille, decreasing further into the countryside. However, the high quality of living means that many people might be willing to overlook this. Household utilities are not especially expensive, aside from air conditioning in some parts of the south, which sees high temperatures in summer. In general, overall costs can depend significantly on the lifestyle led by residents.
For example, basic supplies such as food and clothes can range drastically in price, so annual expenditure may be affected by choices made in this area. Also, leisure choices are often relatively expensive, with gym memberships, for example, being more costly that they might be in the UK. The cost of living in France is similar to in the UK, yet costs may be higher or lower in different areas so it is best to be prepared for what you will encounter.
Culture and community
France's culture shares a good deal with the UK, and so life in any area of the country is unlikely to be particularly shocking. Indeed, there are some areas of France where the British expat population is quite high, although not to the same degree as parts of Spain. This can make it easier to settle into life here, yet for some, it might not represent a complete and genuine immersion into the French lifestyle and culture.
Generally, it is best to be open-minded when moving to France, as a greater understanding of the typical French lifestyle will make living far more pleasurable and rewarding. Location is also something that should be taken into account. Living in larger cities will throw up different challenges to areas in the countryside; in the latter, the laid-back way of life may suit some, but others may struggle to come to terms with the lack of activities on offer. Communities in France, as in the UK, will vary, so it is best to throw yourself into your new life and enjoy things as they come. 
Find out more about living in France by downloading our free guide