Husband and wife Ed and Judith have been living in the Caribbean full-time now for 10 years. After initially purchasing a property on a timeshare scheme, the pair then decided to build their own dream property which they could finally call "home". You can hear all about their experiences island living below.
"My wife Judith and I currently reside on the Caribbean island of St. Maarten, a small, independent country within the Kingdom of the Netherlands.  The island is divided almost equally in half – French and Dutch – with the French part a Collectivite`of France.  We live on the Dutch side and eat on the French!
We have been living there full-time since 2007 but our connection to the island goes back more than thirty-years when we honeymooned on the island in a time-share condominium I had purchased when I was living in America.
I am American and Judith is English.  Despite her cynicism about the time share concept, I convinced her we should buy more time.  For the next 15 years, we enjoyed fantastic summer holidays as we grew to know and love the island. Over the years our plans gradually evolved from buying a holiday condominium to buying a house where we would spend half the year to eventually having a house built which we would call home.
In 2001 we purchased a two-bed condo and a fabulous plot of land, high on a hillside overlooking the sea and the sunset.  Deiter Shaede of Sunshine Properties was superb in securing these properties and his son, Jonathan, who succeeded him,  is now in the process of helping us sell our home.
During the next four years, we went through four architects until we found the man who was simpatico with our vision, Carl Abbott. We began working with him in 2005 and finalised the plans in the Spring of 2006.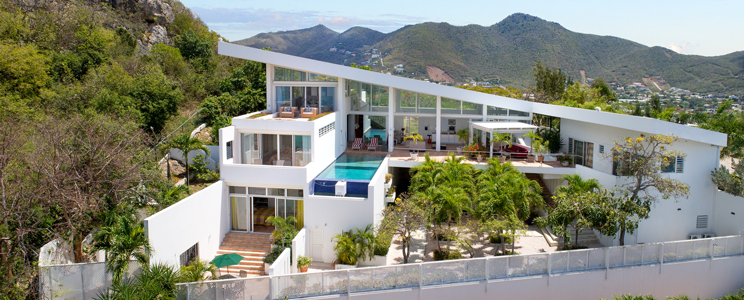 We paid for a comprehensive quote from a local contractor and building commenced in the Spring of 2006 and was completed in early January 2007, just three months over schedule – a miracle for the Caribbean!
Why Leave Home?
Pulling up roots that have been resting comfortably for fifty years or more is a frightening prospect, so why do it.  Moving into a new environment helps brush away the cobwebs of complacency that have spread over your comfort zone.  Facing new challenges, making important, life-altering decisions, reviving the spirit of adventure one had as a younger person all make you come alive again and see life in a brand new and exciting perspective.
Why St. Maarten?
We had visited other islands and none could compare with the special buzz the island generates. On the practical side, the average temperature year-round is 86 degrees Fahrenheit with about 300 days of sunshine.  The tax regime is friendly to pensioners – approximately 12 percent income tax - and there is no real estate or capital gains tax.  Also, the restaurants, food and wine are equal to or better than any four-star establishment in London.  When we return to England, we fly Air France via Paris.  One can also fly BA or Virgin via Antigua.
We have had 10 marvellous years in St. Maarten but have decided to move for three main reasons – Chloe, Rory and most recently Hugo, our fast growing grandchildren.  Already we have missed numerous milestones in their young lives so we will be swapping the 12-hour flight from the island for a three-hour journey from Malta to be on-hand more often.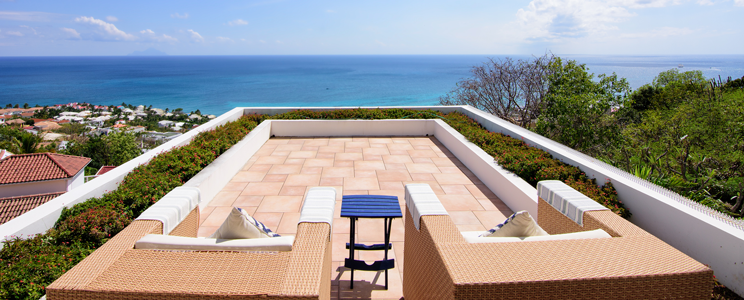 What have we learned?
Most importantly look before you leap.  We had visited St. Marten for ten years before we decided to deepen our commitment.  Do not base a major life-changing decision on one or two enjoyable holidays.  If possible rent in the location for a month or so a few times during the year.  Get to know the place, the people and the basic mechanics of day-to-day living.  What are the healthcare facilities like?  What can be treated there and for what will I need to return to England?  What are the formalities for becoming an official resident if desired?
If you decide to make the move, locate a good GP early on as well as a dentist and other specialists, according to your needs. 
On the social front, Judith and I are self-sufficient and non-joiners.  We have managed to develop a circle of good friends just by informal socializing.  However, in most places, there are organized groups that can help you integrate if you so wish.
Finally, we would suggest that whatever your plan is, look to the future, ten years or so ahead. Our grandchildren are a good case in point.  They were inevitable and if we had really thought about it, we probably would have chosen Malta from the beginning.  Hindsight is always 20-20.
I hope this will help anyone who cares to read our story.  Judith and I have had a marvellous life so far and soon we will be beginning another chapter. 
Our experience to date? Stimulating, challenging and fun!"