It's been a successful TV series, with the number of property hunters buying a home on the programme up from 40 to 60 per cent. So what did they buy? In part two of this feature, Liz Rowlinson catches up with five very happy new owners.
"I bought a £47K home in Spain and finally realised my dream"
Anne Hunt from Warrington, Cheshire, had for years dreamt of buying a place in Spain. In 2015 she semi-retired from her job as a pensions and risk benefits manager and in September she bought a two-bed property in Algorfa, Costa Blanca, after appearing on the Winter Sun TV series, with Danni Menzies. Here the 62-year-old tells us how.
"Because I spoke some Spanish I had for years been travelling a lot around Spain and exploring. I began thinking of the area around Alicante as it's an easy commute from Manchester Airport - there are loads of flights to Alicante and Murcia - and I like the fact there are still Spain and I kept a Facebook diary so my friends could follow my travels. Looking back I think it was quite brave, and I called it 'Around Spain in 80 Days'.
I stayed in the Costa "I had a budget of £50k and wanted a two-bed apartment with a roof terrace, great views and my preferred location was Villamartin. However I knew finding somewhere there on my budget would be tricky. I liked Algorfa, a village inland that is 75 per cent Spanish and seasons - I find it too hot in the Canaries or Costa de Sol. I did a road trip for research, driving alone through Blanca's Villamartin for two months and really liked it. a good cultural experience, a place that is not dead during winter like some tourist resorts. The place I was shown on the show and ended up buying was a two-bed property built 11 years ago that needed a revamp. The vendors were from Cheshire too! It was a good size - 65 sq m with a large roof terrace - in a gated community of about 50 apartments called Cecilia.
My agent was Algorfa Real Estate (algorfarealestate.com). It cost €54,500 - which was £47,000 at the time - and then my buying costs were over 12 per cent - I would actually recommend shopping around for the conveyancing - my buying costs could have been nearly 16 per cent. I also used a currency broker, which I would really recommend - it meant I was able to have my funds ready and make an off er straightaway. The exchange rate moved so much at the time when I put in my off er that the difference in a couple of days was £800.
"Back when it was built in 2005 it was worth around €135,000 so I think it was a good time to buy but prices are already going up in the past six months. I completed in September and after refurbishing it I am going to let friends and family use it - my daughter is expecting her second baby soon."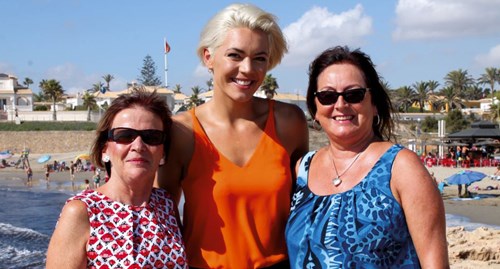 "We were getting nowhere with our search in Aruba until the TV team helped us"
Dentist Michelle Naik and retired entrepreneur Marshal Sutherland from Sheffield fell in love with the Caribbean island of Aruba three years ago. With a budget of £130,000 and the help of Scarlette Douglas they found their ideal holiday home. Here Michelle tells us all about it. 
"Three years ago we ended a holiday in Jamaica - where Marshal's parents are from - by popping into the tiny island of Aruba off the coast of Venezuela. Our first impression was not promising, but luckily things changed, says Michelle. 
"After green and tropical Jamaica we arrived in dry and desert-like Aruba and thought 'what on earth have we done?'. We went right back to the airport but because there were no flights straightaway we had to stay. In two days we completely changed our mind and grew to love it. 
There's simply so much to do there, there's great infrastructure, it's English-speaking [although a Dutch colony], safe, and it's easy to get about there," she enthuses. "It's a mix of high-rise hotels next to shacks, national parks, golf and beaches."  The couple had been researching to buy a home in Jamaica but realised homes in Aruba were more affordable than popular areas of Jamaica such as Montego Bay.
They headed to the Manchester A Place in the Sun Live! exhibition to look for a property there. There wasn't one so they did a screen test and then headed out to Aruba in May 2016 with a budget of £130,000 for a 'two-bed apartment 20 minutes from the coast'. 
"The researchers presented us with a great selection of properties - a real cross-section of what was on offer. We ended up buying the one-bed property a 10-minute walk from the coast in Wacamaya, a small condo complex near Palm Beach and the high-rise hotel area. It's a tropical little oasis - our little piece of Jamaica in Aruba! - and we completed the purchase in July after an easy buying process," says Michelle.
"The sales  for the property was Niek de Munck Mortier of Re/Max Realtors Aruba [remax-arubarealestate.com], and we are renting it out through a nice couple from Derbyshire - Matt and Anna Smillie at arubavillavacationhomes.com.  "The rentals are going really well. American and Canadian snowbirds like to rent homes in Aruba over the winter and we are charging $800-1,200 per week. We intend to spend four months there every summer, maybe even six. 
"We certainly couldn't have done it without the programme - we were inquiring about properties online and nobody was responding so we were getting nowhere. We realised that we had to be out there and had to be getting to know local  s because things were getting snapped up really quickly."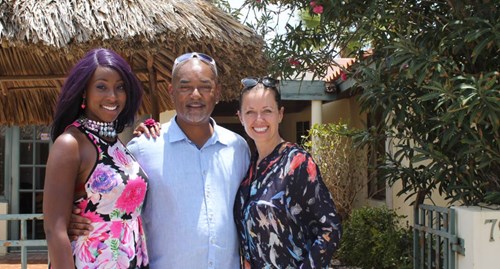 "Jasmine gave great advice to help me find a home in Crete"
After visiting Crete for 15 years music therapist Sarah Hadley wanted to buy a place there. She took along to filming her best friend Sue Williams (pictured left) when she went on the programme looking for a property with £150,000 with the help of Jasmine. Here she tells her tale.
"After looking for a property for a year I decided to go on the programme to get some good advice. I'd been on holiday to Crete with my sister and niece and fell in love with the place," says Sarah, 55. "I lived in a one-bed fl at in Caterham [Surrey], and thought I might upsize there but instead I started looking online "When I went 15 properties and the two most important things I wanted was course of the filming. "Between when I started looking in 2015 and when I completed - Brexit vote day! - there was a huge variation in the value of the pound:euro - it had dropped considerably from the 1.44 rate of summer 2015.
However I remortgaged my UK home and knew I would need to rent out my Cretan home for around 90 days a year, after taking financial advice at home. So the house couldn't be in the middle of nowhere, but somewhere convenient. In the end I bought somewhere 40 minutes from Chania airport - one of the properties on the programme - in Vamos, north-west Crete. It was a two-bed villa with a pool and half an acre of land for £142,000, through Minoan Properties (minoan-properties.com).
"The previous owner had left some great furniture and I have been getting it ready to rent out. The programme was great - the Greek researchers came up with some properties that I hadn't found and I certainly wouldn't have bought without them. Jasmine was also really good - she was so objective about which home to choose and she gave me some really useful advice. Off screen too, she was a great sounding board. "More importantly, it has had a significant impact on my life and am going to be spending so much more time with friends and family. It will be a whole if you want something enough, go for it."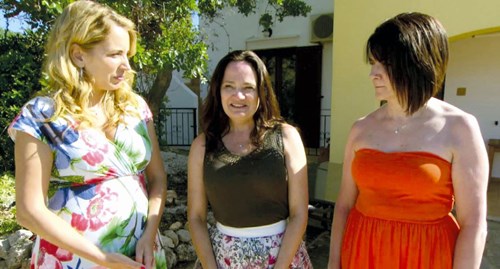 "A seven-bed villa near Disney for £249,000 - I still haven't stopped grinning"
Natalie and Andy Ray, both 50, met 13 years ago and have six children between them (pictured right). The whole family love holidays in Florida and it was a natural step to buy a home there. Here Natalie, a chief financial officer from Rutland, describes their love affair with Disney.
It is true to say that the Ray family adore the theme parks of central Orlando. They have been going on holiday since the children were young - they were aged between 0 and 9 years back then, including two sets of twins, and they have their own rituals of going to certain parks on certain days each holiday, with a fondness for going to the Disney Springs resort on the fi rst day of every trip. They even had their honeymoon there four years ago (and took all the children).
"Florida was the cheapest option for family holiday - three of them [under 2] fl ew free," explains Natalie. "We have tried other places but we just prefer Orlando, it feels like we are coming home!" Well they do have a home there now, thanks to the A Place in the Sun TV programme. So how did it happen? "We went to the Birmingham exhibition and took the girls [the children are now aged 13 to 21] and did a screen test for a bit of a giggle. I was hungover at the time and I thought I was rubbish and didn't expect to hear back. But a year later we got the call.
In the meantime we had saved more funds - we wanted a home in Florida we could leave to the kids as our UK home won't split six ways!" says Natalie. Initially they had a budget of $350,000 but that diminished with the exchange N rate drop so they went out fi lming with a budget of £280,000 - they would get a mortgage and were waiting for the off er to be approved before fl ying out in November. Their wishlist? The 34747 zip code - in Kissimmee, three miles from Disney World - with at least four bedrooms and a pool.
They ended up buying a seven-bed resale home with 6.5 baths in that zipcode for $305,000 - £249,000 at the time - one of the properties on the TV show. It is in the development of Acadia Estates and the agent was Magda Danos at JC Penny realty.com. "We could have bought three of the properties we were shown, the team were amazing," says Natalie, who says they completed the purchase on 28th December. "I also liked one in Reunion [a popular residential development nearby] but that four-bed property wasn't in a rental programme and we do need to rent it out to cover costs so we bought one with that in mind.
"We have found a lovely property manager - Graham Mcentee at floridapropertyservices.com - and we are using the 'spare' money in our budget to improve the pool and the landscaping. During 2018 we will charge around $300 per night for the property [find it on deluxeorlandovilla.com]. "We are going to celebrate Andy's 50th there this spring - it is all so exciting that I still have a painful jaw from grinning too much!"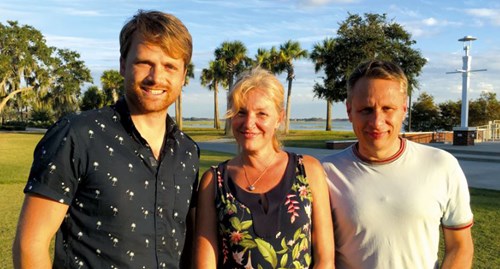 "Going on the programme was a life-changing experience"
When Ginny Lunn's partner Maggie passed away in 2015 she decided to buy a second home from which to escape her north London property when she wished. She appeared on Home or Away? choosing between Dorset and the Costa Tropical in Spain. She bought a three-bed property for £150,000 that she saw on the programme.
"When my partner died [in our fl at] I came into unexpected money but also needed to reassess things," says Ginny, 54, the chief executive of a charity. "Maggie and I had always talked about Spain yet I loved getting away to the coastal path in Dorset. I considered the Costa Tropical as somewhere close to Malaga but I really did put all my faith in the TV researchers.
People say don't make big decisions straightaway [after a death] and I didn't really have the energy to look myself at the time, so I put my trust in A Place in the Sun! and my sister [pictured right] came along to help." "I was slightly tempted by a luxury lodge in Dorset but it was twice the price of a property in Spain and Jasmine [on the Home team] was really practical about assessing the pros and cons - would it be open all the year round (no) and looking at the fi gures. It was quite emotional in Dorset for me but when we got to Spain my mood lifted and it just felt right. I could have bought any of the properties there. "I wanted three beds, two baths, a safe lock-and-go property with a terrace, within walking distance of bars and restaurants.
The location of the one I bought was Marina Playa. It is in a small complex fi ve minutes from the beach, and it was at €190,000 - £150,000 at the time. Luckily I had taken my nephew's advice and frozen the exchange rate by using a currency broker. The estate agent - Cumbre Villas, me sort out a bank, NIE number, redoration etc. I bought it at the end of September and plan to go every month. I can sit on my terrace and look at the sea - I spent two weeks there over Christmas and the temperature was 27 degrees sometimes.
I have set up a shared calendar amongst friends to use it, but won't rent it out - it's my haven and just want it to be enjoyed by people I know. I can't do that in London as I don't have the space. It's been a lovely experience, and has provided the best memories of 2016 - the TV company were efficient and couldn't have helped me more. Laura [Hamilton; Away team] gave me lots of useful advice on decorating it. It's been a life-changing experience for me."