As Spain sees its tourist figures reach new highs, there has, in one sense, never been a better time to rent out a Spanish holiday home.
Global uncertainty is pushing people to seek the safe havens of places they know, trust and love – and Spain is one of the biggest beneficiaries. Tourist numbers hit nearly 75 million last year, a 10 per cent increase on 2015. The Balearics came out top as the most-visited destination, but Andalucia enjoyed the biggest growth in numbers, with most foreign visitors there from the UK.
The growing trend for holidaying with friends or extended family – and the relative space, flexibility and value for money that a home offers – leads many holidaymakers to choose this option over a hotel.
From the owner's point of view, renting out a holiday home is not always as straightforward as it might seem. There is the occasional horror story, which can apply to any country: the owners turn up to find another family on their sofa, thanks to a dodgy agent who is pocketing the rental income, or they arrive to discover their house devoid of furnishings.
"There are always potential problems, from basic plumbing issues to double booking the property. The most important thing is that the owner, or their agent, reacts quickly to fix the issue," says Shirley Rhodes, head of rentals for Lucas Fox estate agency, which covers all the key second home areas of Spain.
Some holiday-home owners can't bear the idea of anyone else sleeping in their bed and wouldn't dream of becoming a holiday landlord. But the trend, at all price levels, is for buyers to want their holiday home to pay its way, whether they have a €5 million villa in Mallorca or a €50,000 apartment in Torrevieja.
Provided you enter the fray armed with the right information – which includes knowing your target market and understanding your legal and fiscal responsibilities – you can find that renting out your Spanish home can remove a lot of the financial headache of owning a home overseas.
Choosing the right property
So, how do you select the right property? It's your holiday home, first and foremost – not a pure investment property – so naturally it will need to be a home and location where you will want to spend holidays, or perhaps eventually to live permanently. But within your chosen area, there are factors to bear in mind.
First, think about the number or potential rental weeks you can squeeze out of a property. Ibiza's rental season is becoming longer by the year, but not all holiday coasts are year-round. "Almost all restaurants on the Costa Brava close in winter," says Rhodes.
"If you are serious about generating income," advises Louise Reynolds of Property Venture, "you should choose the Costa Blanca, which has 300 days of sunshine a year, or the Costa del Sol, which has around 320 days of sunshine and lots of golf courses, which extends the holiday season for renters from February through to November." Reynolds also recommends year-round destinations "that have it all – bars, restaurants, cultural venues, nightclubs, shopping and beaches", such as Barcelona, Valencia and Alicante.
Indeed, two cities – Barcelona and Madrid – topped holidaylettings.co.uk's list of the most-booked Spanish destinations last year, followed by the 1960s-built resorts of Benalmádena on the Costa del Sol and Tenerife's Playa de las Americas. This year, forward-thinking bookers are showing a preference for the Canaries in general, with resorts in Tenerife, Lanzarote and Fuerteventura taking up four of the five top spots.
Once you have decided whether you are a city or resort type, you will also need to establish whether you favour a new-build (probably on a managed development or resort) or a standalone, resale property. Both come with their pros and cons.
Resorts offer leisure facilities, bars, restaurants and shops, to the extent that you barely need to leave the gates. La Manga on the Mar Menor has properties booked out throughout summer among families prepared to pay high prices for the ease of having everything on tap in an English-speaking environment.
Wonderful as they are, such resorts can lack the feeling that you are actually in Spain, though. Also bear in mind the high annual resort fees (also known as service charges or community fees) that you pay as an owner – and that you will be competing with dozens of similar properties on the holiday rental market.
A non-resort property – an old village house, for example, or a more rural finca – comes with charm and character, but it can be a nightmare to deal with broken boilers and renter's panics ("Where shall I park?" or "Why can't I get hot water?") when you are 1,000 miles away.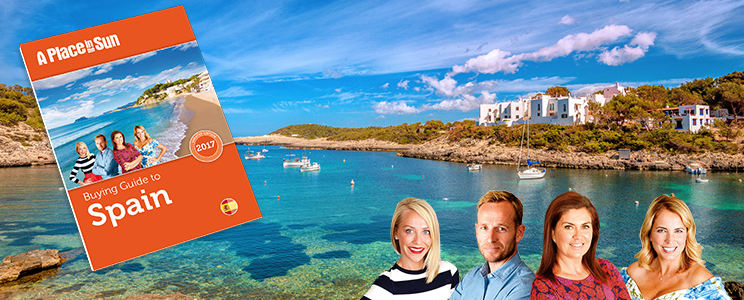 DOWNLOAD OUR FREE GUIDE TO BUYING & renting out a PROPERTY IN SPAIN
Do not underestimate the convenience of having a rental management team on tap. It can be hard to find someone reliable to deal with the regular cleaning, repairs and key handover required with a holiday rental. It took me seven years with my old Andalucian townhouse.
Resorts will have maintenance people on hand. Where my house is, in the hills within sight of Marbella, many tradespeople don't use mobile phones or email. You contact them by walking round to their house, leaving a message with whichever family member is there and hoping that you are in when they drop by. This doesn't work either when you live in a different country.
Rental management companies come with high costs, though, which you will need to factor into the all-round profitability of your holiday home. "They tend to charge fees of 20-25 per cent of rental income. They may also restrict the amount of time the owner can spend in their property during busy periods and they may refuse to rent out properties during the slow winter months," says Yulia Kozhevnikova from the overseas property broker Tranio.com.
Who are you targeting?
Knowing your audience is key to a successful holiday rental. It will determine everything from where you advertise to how you furnish the place – and prevent you from wasting time and money targeting the wrong people. Talk to local agents, survey the area (what type of foreigners are sitting in the local cafés?) and work out whether it's more The Sunday Times or Facebook that is going to snare some bookings.
The big portals – HomeAway/Owners Direct, holidaylettings/TripAdvisor and Airbnb – make the process easy, but it's not cheap. Owners either pay a percentage of each booking (beneficial if you have a smaller, cheaper property, or get relatively few inquiries) or an annual fee. You can deal with all payments online, which provides peace of mind to both sides, and you can boost your bookings with good reviews.
"Once a potential guest has contacted you, make sure that you reply promptly. The quicker you can respond, the more likely it is you will secure a booking," counsels Saskia Welman of TripAdvisor Rentals. "Be communicative and helpful to your potential guest."
Repeat business and word of mouth are perhaps the most sought-after sources of bookings, however. They cost nothing in marketing and bring in people you can trust. Alternatively, says Tim Swannie of Home Hunts, "we always recommend you speak to a reputable agency. Websites can work well, but it pays to have a professional rental agency to manage the property. They will advise on insurance, vet tenants, arrange changeovers and let you know of any specific local rules."
How to furnish your property is a balancing act between providing an attractive home from home, with all the required gadgets, and not spending a fortune. Do your best to make sure that your home has enough facilities for the amount of guests that can stay. If it sleeps six, make sure there are six plates, six chairs, etc. It needs to be a comfortable stay for all.
"Well-equipped but definitely not cluttered," is what Swannie advises. Some things are standard: a fully-fitted kitchen with the utensils and gadgets that people have at home. It was hard even to buy a kettle in Spain 15 years ago; now renters expect cafetières at the very least, if not a Nespresso machine. Without a dishwasher, satellite TV and wi-fi these days, you will lose out on bookings. Equally, families with infants expect high chairs, travel cots and stair gates (if relevant).
Bear in mind that all short-let properties see lots of wear and tear. Don't keep anything there that you don't want to lose; new DVD boxsets soon go on travels of their own. Remove the personal element; renters don't want to see photos of you. And although wall-to-wall Ikea makes everywhere look the same, there are certain benefits in knowing that you can easily pop back to the store to replace a broken chair or pick up a new set of wine glasses.
High-paying renters will expect some extras too. "That may be regular cleaning or more creative ways to provide perks without having to spend money. Some owners partner up with local yoga studios or cafés to offer discounts to their renters," says Kozhevnikova. "Another way to set yourself apart from the competition is to provide local touches, such as stocking your bathrooms with traditional Spanish products or leaving a good bottle of Spanish wine. They will leave a lasting impression."
Keep it legal
One crucial element to be aware of in Spain is the rental laws that apply in each region. Most now require properties to be licensed; the ones that don't are not where overseas buyers typically look, such as Rioja and Extremadura.
Andalucia is the latest region to introduce holiday rental licences; without one, you face a big fine, and it is a big source of disgruntlement. To qualify, the property has to fulfil certain requirements, such as having central heating and air-conditioning, which is a costly and, in some cases, impossible addition.
"The local mayor said our village couldn't cope with the amount of power needed if people started installing central heating," reports one English homeowner in Ojén, near Marbella. "Everyone will suffer. We can't afford to make these changes and rent out our home any more, which means we will no longer employ a cleaner or maintenance people and our renters, who have been coming for 30 years, will no longer be here to use the local restaurants and businesses."
Short-term rentals are a hot potato in Barcelona, too, where only properties that are already licensed can be rented out. So if you are buying with holiday rentals in mind, make sure you buy a licensed property. The local resentment towards endless streams of Airbnb renters is palpable in areas such as Barceloneta, near the beach, where apartment buildings are festooned with banners demanding the end of holiday lets.
"We would recommend looking at other districts close to the centre, such as Eixample, Poblenou and Diagonal Mar, all of which rent out well throughout the year," comments Rhodes, from Lucas Fox.
And finally there are the admin elements of having a Spanish rental property that must not be overlooked – ensuring you have adequate buildings and contents insurance, paying the correct tax (you must declare your rental income, and pay the appropriate income tax, to the Spanish tax authorities).
"You can off set mortgage interest costs and expenses as an allowable expense in the UK and Spain. You will, of course, need to document income and expenditure, as well as providing proof, by means of an HMRC certificate of tax residency in the UK and submit this to the Spanish tax office," says Reynolds of Property Venture.
To make a success of renting out a holiday home takes effort, but the returns can really be worth it. And with 75 million holidaymakers at your disposal, you will surely find some who will love your home.