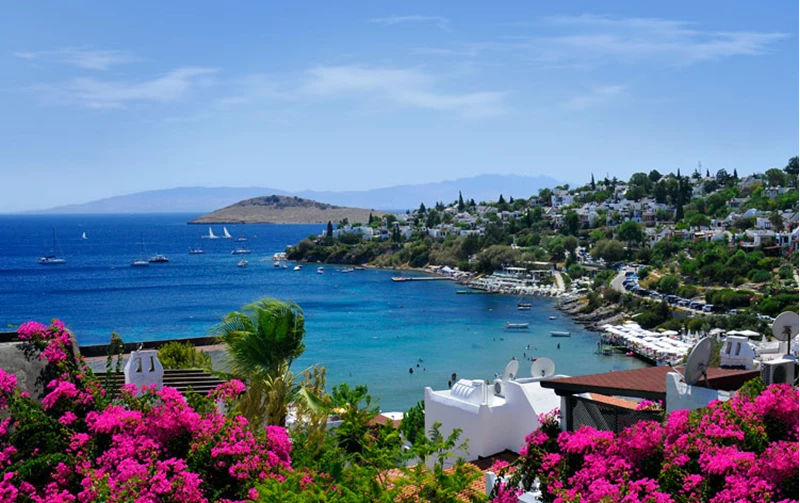 Where is it?
Bodrum and its peninsula lie in the southwest corner in the Mugla region of Turkey. It is where the Aegean meets the Mediterranean, and covers a total area of approximately 650 square miles. It is served by its own airport which was built in 2012, with services coping on average with 5 million tourists per year. The centre of Bodrum is just a 30-minute car ride away. Served by many UK airlines and airlines from around the world, Bodrum is a truly cosmopolitan resort.
Different to other resorts?
Over the past few years, Bodrum has managed to remain a hotspot for property purchases, both from international buyers and from Turkish domestic second-home buyers. Once just small fishing villages dotted around the peninsula, it is now renowned for yachting and tourism and well known around the world as a top resort. While it has expanded, the resort has retained its quaint style, with low-rise whitewashed buildings and small bays along with superyacht marinas.
Five-star hotels are scattered around the peninsula, with names such as Mandarin Oriental, Kempinski, Jumeirah Beach and Hilton to mention a few. History is on the doorstep with the castle of St Peter, the Mausoleum at Halicarnassus and the ancient Myndos Gate. 
Bodrum town – the hub
The seafront has had a facelift over the past few years, and a lot of the traffic has been directed away from it, to give tourists and residents more space for strolls during the day and in the evening. It is then that the place comes to life and is buzzing in high season when the seafront is adorned with restaurants serving Turkish and international cuisine. There are also some lovely wine bars and coffee shops, with a scattering of small local shops.
At the end of the promenade and facing the castle is the marina, which hosts yachts from around the world. You might want to spend an evening dining here, or visit the open-air bar with its lively entertainment. 
What property to buy?
Property prices cater for all budgets, ranging from £35,000 to luxury mansions at £1m. Bodrum has so many different options for whatever type of home you seek. One such is Yalikavak, with its new Palmarina: it is a prime location, with modern state-of-the- art villas from £500,000. There are many new projects under construction in this area and other high-end resorts such as Gundogan and Turkbuku.
If you have a smaller budget, two-bed apartments and villas on a small site in Yalikavak can be bought for about £100,000 with stunning seas views, on-site facilities such as two swimming pools and a small bar-restaurant. Rental income here is as you would expect at the top end of the market and there is a huge demand for private villas during the summer season. 
Best for affordability?
Another option is Gumusluk, which was once a small fishing village and retains this charm. It is one of the original settlements of Bodrum, with great sunsets, and with properties on sale for as little at £65,000. They may be slightly older and of a more traditional style. Gulluk or Tuzla are good areas for affordable property. Gulluk is a lovely fishing village close to the airport, which has stunning sea views from many of its properties. The small resort is also good for year-round living and has a local market day. There are several nice beaches and beach clubs, so there is something for everyone.
Properties here start from £45,000 for a two-bed resale apartment and new properties now start at about £50,000 for a one-bedroom apartment. Tuzla is also close by, perched on the hillside a ten-minute drive from the airport. You can find well-priced resale properties here, with two-bed apartments from as little as £45,000. They have fantastic on-site facilities and are only a half-hour drive from the centre of Bodrum.