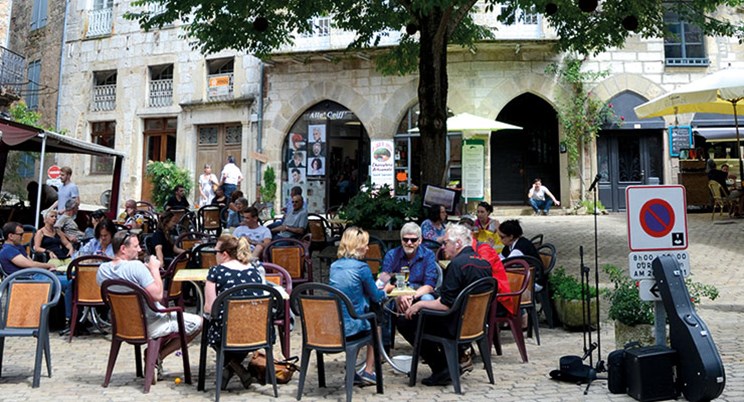 More and more British people are moving to France to establish businesses in their quest to fund a better lifestyle (any Brexit won't change that!). So what are the ideal money spinners in the French countryside?
For many years the British people you would see in France moving into the country's myriad pretty cottages and stone farmhouses were retirees with pensions to burn or holiday home owners. But increasingly, faced with high property prices and the pressures of modern life in the UK, other types of people are making the move to France as well. Brexit has brought uncertainty to many things, but the British love affair with France remains as strong as ever.
To highlight the widening demographic of relocators, research by HSBC recently revealed that 44 per cent of British expats living in France were between 35 and 54 years old – so not your average retirement age. But unlike the many older people sipping vin blanc in the sun, younger people need to earn money. And despite the fragility of the French economy many younger people have been moving to regions like the Midi-Pyrenees, lured over by affordable property, excellent schools, friendly locals and a low cost of living.
"The French around Toulouse are extremely friendly to both foreigners and also French people from other departments, which is not always the case elsewhere in France," says Natasja Kovacs of local agent Leggett Immobilier. It's also cheap to set up shop there. The average price for a detached house according to agent Sextant Properties is just €160,000 in the Midi-Pyrenees and the low price of food and petrol means you can survive here on relatively small amounts while you get a business off the ground. And despite France's reputation for bureaucracy, the government is trying to make it easier for small enterprises. It recently consolidated its popular auto/micro entrepreneur scheme (see right) into one, basic system.
"The trick with the bureaucracy here is to know which question to ask," says Sarah Meakin, who runs a vineyard and brewery in the Query region. "The officials won't tell you so you have to do your research. They're not being difficult - it's just their mentality; if you don't ask the right questions, they won't give it freely because they don't understand you need to know it." So what else should you know before starting up business in this very green neck of south-west France? We talked to five local business owners.
The Teachers

Laetitia Lacey, 38, moved to the Midi- Pyrenees five years ago from London with her French husband Colin to live in a four-bedroom detached house in two hectares of land they bought for €235,000. The reason they needed so much space was to accommodate both their growing family – they have recently had their second child – and to house students for their language school. Both she and Colin are qualified – she to teach English to the French, and he to teach French to ex-pats.
"I always wanted to live in the countryside and thought the French countryside would be more affordable and warmer then the English – which it is," she says. "We always had a plan to open a language school but I was very apprehensive about setting up a business in France. But so far it's turned out to be relatively straightforward. We are both auto-entrepreneurs, and that's been easy, although we set up before new rules came in that require certain professions to do training before they can trade, so it's a bit more difficult now – but not much."
The Fish and Chip Van

Often the key to a successful business abroad is finding that gap in the market to fi ll. What do expats miss? The recurrent themes we hear from A Place in the Sun readers are real ale, curry and fish and chips. Fifty somethings Tony Hill and wife Resa went to the Tarn-et-Garonne in 2007 and eventually settled on starting up a mobile fish and chip van to cater for the expats who live in the area. But to his surprise the French have also taken to this most English of fast foods and in some towns on a busy Saturday night he'll have up to 300 French people queueing up.
The business is such a success that his son Dan joined him three and a half years ago and his second son has just arrived to start a curry delivery service (is an English microbrewery the next step?). Tony used to be a computer programmer in the City back in London and had bought a holiday home in the bastide village of Lauzertes area before coming out. "A lot of people like me choose to be auto entrepreneurs which is easiest for tax, but means you can't put expenses like a new van through the business," says Tony.
The Gardeners

Four years ago Debbie Wilson, 45, and her husband John, 41, moved with their two children from Warwickshire to a hamlet three miles outside the town of Caylus, in Tarn-et-Garonne. They had been running a nursery and gardening business back in the UK but, after staying at a campsite in Caylus one year, they decided to sell their UK home and move their business to France, called Le Jardin des Espiemonts.
John says it took three years to re-establish their business while also integrating themselves into local society, settling their children into school and getting to grips with the bureaucracy. "The key to starting up a business for us has been to work at making local contacts and using word of mouth," says Debbie. "One couple introduced us to the growing number of French gardening enthusiasts here while the ex-pat networks such as Friends in France International have proved invaluable for work from the English," she says.
The couple say they love the superb weather, the fact that no one cares about money as much as in the UK and the strong community spirit. "Before we arrived the owner of the house enrolled our children in the local school without being asked – can you imagine that happening in the UK?" says Debbie
The Cycling Holiday Operators

In 2013, following a teaching career in Birmingham, Peter Quaiffe, 50, and his partner Natalie, 36, decided to turn their part-time passion for cycling into a business and move to France. The couple bought a 500-year-old medieval house in the riverside market town of St Antonin Noble Val in the Aveyron.
Although the property was partly refurbished when they bought it, after moving in they discovered it needed a new roof. It took over a year to fix and, although the property has been operating as a bed and breakfast for a while now, the repairs to the house and the birth of their son seven months ago mean he's just only now got around to launch the cycling business, StAntoninNobleVelo.com.
But unlike some expats here, Peter says he's found the local bureaucracy straight-forward. "Life isn't easy to navigate in France particularly if you're a newcomer starting up a business but I don't feel stressed here, because I no longer have a boss," he says."Setting up a business is easy if you speak rudimentary French - you just take yourself off to the chamber of commerce, get registered and that's it. What's difficult here is to get the structure of your business right so you don't pay more tax than you need to - something we've struggled with."
The Pool Builder

Larry Hunt and his wife Sue bought their house near the hilltop town of Puylaroque, Midi-Pyrenees, 16 years ago as a holiday home but then decided to move to France permanently a decade ago. Now in their mid-60s the couple at first looked at Spain but preferred the region around Toulouse because there are still clear seasons as well as near constant sunshine in the summer months.
"It's a very civilised place to live – crime is low, the health and social services are very good as are the local amenities," says Larry. Larry recently set up a pool construction company to supplement his retirement income, and says he found the bureaucracy difficult when setting up. "If you're thinking of coming here and running a business then keep it small - if you start employing people then it can start to get expensive and bureaucratic," he says.
What is an auto entrepreneur?
It's the most common business setup in France and is in reality a tax status rather than a legal entity. You are actually an 'Enterprise Individuelle' or sole trader who chooses to be taxed as an auto entrepreneur. Tax is levied on your turnover, which cannot exceed €32,900 (in 2016) but you cannot claim expenses against tax or charge VAT or recover it on purchases paid.
One upside is that you don't have to produce accounts, just proof of income and you pay as you go on a monthly basis. Few expats setting up business set up limited companies as they are much more complicated when paying tax and social charges for both directors and employees. But either way it's essential to get some advice before setting up your business, particularly if your French is shaky.