Dominic and Tracey Oakeshott were thinking long-term when they purchased their Spanish villa in 2014. Back then they were dreaming of family holidays and countless sunny days by the pool but did those dreams become a reality?
What was it about buying a house in Spain that appealed to you so much?
The reason we picked Spain, and Malaga in particular, is pretty straight forward - fantastic weather, good transport links to the UK and a friendly community culture. It's no accident that it's so popular with British buyers!
We have always enjoyed travelling and holidaying with our family, experiencing new places and cultures so the attraction of an overseas property had always been there. Though it took some time before it was an achievable ambition financially and professionally.
Buying abroad also gives us a potential base for a semi-permanent move in a few years or we may just continue renting it out on short and medium term lets.
How did you research and prepare for the buying process?
Buying a property is obviously a huge step – especially when it's all taking place in another country – so we spent quite a lot of time thinking about the practicalities like budget, maintenance and how often we'd be able to stay in the property. And of course we watched a lot of episodes of A Place in the Sun!
A massive help in the process was the A Place in the Sun Live show which we attended at the NEC in autumn 2014. We managed to pick up loads of really helpful tips as well as our property agent, legal representatives and currency exchange experts.
Probably one of the most important aspects of the show was the encouragement we received there, it gave us the confidence to move onto the next stage.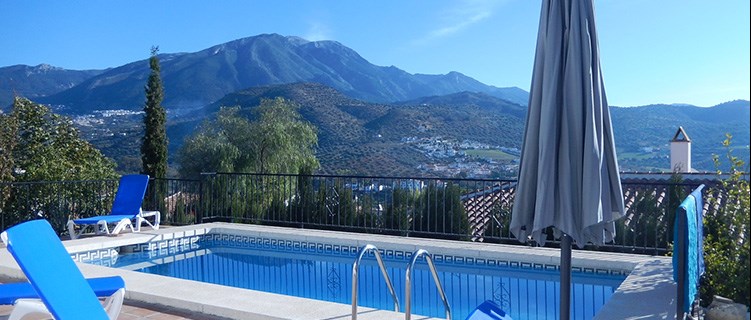 How different was the type of property you started looking for to the one you ended up with?
Very different! To begin with we were looking to buy an apartment in a community with a shared pool and other facilities. However, once we started to look properly we realised that our budget of £150,000 could go much further than we thought, meaning we could afford a private villa with its own pool and gardens. We also realised that we should look at rental value as well as how we would like to use the property.
That required a completely different approach to the one we had been expecting but it was a nice surprise.
With this in mind we viewed a number of other villas before purchasing a two bed property with a private pool for €148,000. The owner was actually a British expat who was looking to move back to the UK after 16 years so we were also able to negotiate the inclusion of the car and furniture in the deal.
What advice would you give to anyone else thinking of buying abroad?
The best tip we could ever give is make sure you find yourself a good lawyer. It can be a bit of a daunting prospect when you're faced with contracts and documents in other languages so having a lawyer you can trust is invaluable.
Another handy tip, which we stumbled across almost by accident, is to talk to people who have already bought in the area. On our viewing trip to Spain, we saw a couple (Brian and Steph) who we thought we recognised from the plane in a restaurant. After introducing ourselves, we discovered that they had bought a property in the area earlier that year, the advice they offered was really helpful. We actually ended up buying around the corner from their villa!