After over sixty visits to Spain and a dream held for 40 years, Paul and Nina Lewis finally became owners of a Spanish villa in 2014. Here Paul talks to us about their four decade journey to Alicante...
After forty years you probably want to start by telling us a bit about your property!
Definitely! We are the proud owners of a two bed villa in the Alicante area of Spain. It's in a nice location with a nice garden plus numerous bars, restaurants and the beach all within a short walk. It's our little piece of paradise.
Originally, we went out to Spain with a budget of €55,000 but after viewing the villa (it was actually the last one we saw) we knew that it was perfect for us so we increased our budget to €75,000.
The local area is a mix of British expats and Spanish so we're not being crushed under the weight of other Brits but equally there are some around if our broken attempts at Spanish get too tiring.
Currently we plan to spend around 4 weeks a year there with our children but that'll gradually increase over the next few years, with plans to retire here in 10 to 15 years.
What was so attractive about owning an overseas property?
It was my dream since my first family holiday in Majorca at about the age of 9! There was something about Spain that attracted me, I think the climate and lifestyle were probably the biggest factors, but there was an all-round good feeling that I got too.
Before we bought I kept my interest going by watching A Place in the Sun on TV - I've probably seen every episode since it started (regardless of the country featured!), and have always found it useful. In fact, I still watch it now. At the time of writing, the most recent episode featured properties around 10 miles from where we bought.
We love all the presenters; it's essential viewing in our house!
Why did you pick Alicante?
There are a few reasons that we focused our search on Alicante. My Dad actually retired to Spain and lives very close to Alicante so it made sense to be close to him.
Despite the longevity of our dream to own a home in Spain, I knew it was unlikely to ever happen until the prices dropped - that's exactly what happened after the crash in 2008. This meant we could get more for our money in somewhere like Alicante - an area we both really liked.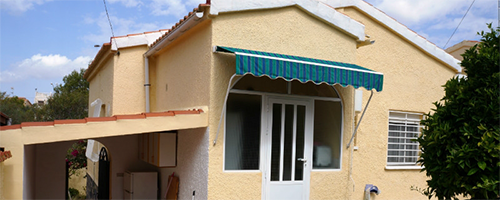 There wasn't long between viewing the house to becoming its legal owners, was there?
It was surprisingly quick but this may have been because we were cash buyers and the vendor was keen to sell. It took six weeks from first viewing to final exchange of contracts.
Our lawyer was really good and made sure to explain everything in detail which meant the process did not seem as complicated as we feared. With a UK notary, we were able to have our Spanish bank account opened and all direct debits for our utilities were set up using Power of Attorney.
We were also fortunate that there wasn't a property chain which makes everything seem a little more precarious. In fact, everything ran smoothly from start to finish.
What would you say to anyone seriously considering buying abroad?
I would advise anyone who is serious and has the funds/finance to go ahead and live their dream.
We looked at around 50 houses and the one we bought was one of the last that we viewed. Everything about it was perfect and just what we wanted.
I also have to say that A Place in the Sun has been so valuable to me in my search for my house and without it I probably would never have taken the plunge. It has offered so much valuable guidance and help in buying abroad.
What tips do you have for any future buyers?
The whole process was quite a learning curve for us but I think the main things we'd recommend are:
Go with your dream but don't overstretch your budget.
You can never really do enough area research. Also try to visit at different times of year, time of day and week to gauge what life is like there.
Try to understand all of the buying costs, taxes and running costs in advance so you are not caught out.
Don't assume just because you have a house in Spain you can rent it out all year round as the season is still quite short.
Talk to your neighbours and learn the basics of the language. I can speak some Spanish so it certainly helps.
The surrounding area is so important - check out the area thoroughly and ensure you view a number of properties before making that final decision.
Check out the price of food, drink and amenities in the local area. Also imagine yourself and your situation in 15 years' time.
Make sure that if you buy your house for the long term, how easy will it be to get around when you are retired?