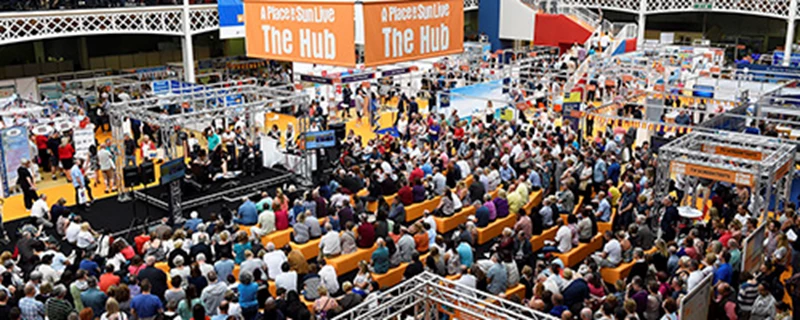 A Place in the Sun Live presents its first ever Scotland exhibition this October
Exhibitors from all over the world will discuss property, finance, tax and legal issues.
The Hub stage will include talks, interviews and signings with the popular television show's stars
A Place in the Sun Live is coming to SECC Glasgow for a two day event this October for the first time ever. The exhibition showcases overseas properties for sale and provides vital purchasing advice for those looking to purchase property abroad.
The exhibition, which already boasts three UK shows in London, Manchester and Birmingham, and a TV show of the same name, will open its doors in Scotland for the first time ever on Saturday 29th and Sunday 30th October 2016.
As well as presenting stunning overseas properties from all over the globe in favourite locations such as Spain, France, Italy, Portugal and the USA, the show's exhibitors will also cover important legal, financial, taxation and healthcare advice.
The Hub, a live stage in the heart of the exhibition, will be packed with presentations and seminars from leading overseas property experts answering visitor questions and chaired by A Place in the Sun Magazine's editor, Liz Rowlinson.
Fans of the television show will also have the chance to meet their favourite presenters throughout the weekend - they will be interviewed live at The Hub and will be available for magazine signings and photo opportunities.
Plus, for the first time in Scotland, visitors will have the chance to take a screen test to potentially appear on a future series of A Place in the Sun the television show.
Andy Bridge, Managing Director, A Place in the Sun Ltd comments:
"We've had A Place in the Sun Live exhibitions in London and Birmingham since 2005, last year we added Manchester as the overseas property market improved and the next logical step - based on the number of visitors to aplaceinthesun.com - was to come to Scotland. The SECC is a top-quality venue and we're excited about meeting a Scottish audience."
Angela Smith, Business Development Manager at SECC added:
"We're thrilled to welcome this brand new exhibition to The SECC Glasgow. It's a known fact that the Scots love their holidays and sunshine and this show will give them the advice and opportunity to realise the dream of owning their very own place in the sun."