A world away from Istanbul or the Syrian border, the south-west coast has much to offer all types of buyer.
Bargain house-hunters unfazed by the unrest on Turkey's eastern border are spoilt for choice in 2016, with beach properties in resorts along the country's western coast available from below £50,000.
Turkey's appeal right now lies not only in its affordable homes and weak currency but also the efforts being made by resorts to improve their infrastructure, adding marinas, five-star hotels and better roads.
Meanwhile, new air routes are making it easier to get there. Last summer, BA added routes to Dalaman and Bodrum from Gatwick, and easyJet services to Antalya and Bodrum from Luton, and Dalaman from Manchester.
So if your heart is set on a home in Turkey, here's a quick guide to its main resorts.
Altinkum - Good for affordable apartments
Cheerful, family friendly Altinkum is the beach district of the more traditional town of Didim. Its focal point is its long sandy beach and promenade, and more recently the new marina development. As well as second homeowners, it also attracts expat retirees, thanks to its great value property and low cost of living.
Prices typically start at £40,000 to £60,000 for a resale apartment, most being on managed complexes with on-site facilities. Properties close to the beach and the main Ataturk Boulevard with all its amenities are popular, but the Third Beach area which includes the new marina and a five-star hotel complex is a new hot spot.
"We sold a two-bedroom apartment at the fully serviced Royal Marina complex to a lady from Edinburgh for £42,000 last year," said Jayne Schofield. "She had stayed there on holiday in 2014 and liked it so much she decided to buy. We let it successfully for her during 2015."
Added Andy Cowles at Turkish Home Office: "Our last three British buyers were couples with £40,000 budgets who each wanted a holiday pad to enjoy with their families and friends. The Mayfair complex has been very popular with Brits - it's well maintained and most properties sold have been key-ready, fully furnished resales."
Meanwhile, 15 kilometres from Altinkum is rising star Akbuk, a smaller, quieter resort that is attracting five-star spa complexes. Deemed a more affordable alternative to the Bodrum Peninsula, detached villas typically cost from £130,000, with many buyers buying a plot and choosing their villa design. One option is the new Akbuk Pine Village, a small complex of apartments, townhouses and villas.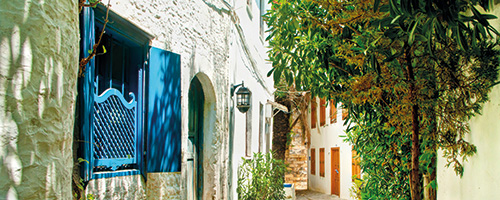 Bodrum Peninsula - The trendy place to go
A collection of chic boutique resorts, with Bodrum town the jewel in the crown, the Bodrum Peninsula is Turkey's answer to France's Côte d'Azur. It's where Kate Moss joined Sadie Frost to celebrate the latter's 50th birthday last year. Prices on the Peninsula are noticeably higher - and visitors more international - than most other Turkish resorts.
Complementing Bodrum town, with its marina, world-class restaurants and fashionable night spots, are the resorts of Yalikavak, with its award-winning Palmarina marina, unspoilt Gundogan set amongst the citrus groves, Turgurtreis, also with a marina, and Gumusluk.
"On the Bodrum Peninsula, and in particular Yalikavak, prices can reach into the multi-millions of pounds for a luxury villa," said Julian Walker at Spot Blue International Property. "It's hard not to have a stunning sea view there. The international jet set and wealthy Turks from Istanbul head to Bodrum - it's a hip place to be seen aboard a superyacht."
For a two-bedroom apartment on a sought after complex in a Bodrum resort expect to pay £80,000-plus, although properties further inland are available for £50,000-£60,000. Detached villas start cheaper, but £250,000-plus should just about get you a smart three-bedroom property with to-die-for views, a private pool and short walk to the seafront.
Recent clients of agency Property Turkey have included a Manchester family who bought a contemporary, four-bedroom, three-bathroom villa in Yalikavak for circa £320,000, fully furnished. A lettable second home, it's on a small, gated complex just 500 metres from the sea, with a private heated pool.
Marmaris - Magnet for retirees
These days Marmaris offers more than just its buzzing nightlife and bustling beachfront for the younger crowd - its quieter suburbs and marina area are attracting older homeowners, including retirees.
"In the last year I've noticed a growing trend for UK clients to retire here," said Adnan Ozcolak at Turkish Real Estate. "Our recent sales include a small villa in the Beldibi suburb, sold for around £83,000 to a British person who intends to come out for four to six months a year before retiring here, as well as a seven-bedroom villa in the Armutalan suburb, sold for around £130,000 to British retirees moving out in 2016."
Investment is being made to improve access to the resort too. The highway between Marmaris and Dalaman Airport has been upgraded to dual carriageway, cutting transfer times by 20 minutes to 70 minutes.
"Perhaps the biggest news is a new ski centre 149 kilometres north-east of Marmaris, in the town of Nikfer," continued Adnan Ozcolak. "Anticipated winter tourism should increase the value of investment in Marmaris."
Currently, typical resale apartments in Marmaris are selling for £55,000-£60,000, new units for £80,000-£100,000. Older villas are commanding £135,000-£170,000, while brand new or off-plan villas can be up to £250,000.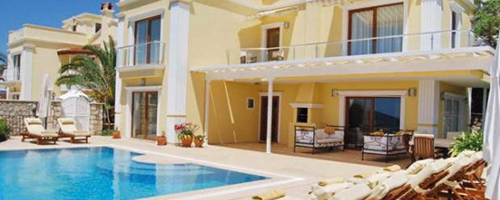 Dalyan - Wonderfully undeveloped
Surrounded by unspoilt protected countryside, Dalyan's riverside location makes it one of Turkey's calmest and most scenic resorts, where building is strictly controlled. Head slightly off the beaten track here, and your money goes even further.
"In recent years, more and more expats and discerning investors have moved to villages such as Okcular and Kemaliye," said Debbie Kipling at agency Sunray Property. "They are literally five minutes' drive from the town centre but land prices are half of what they are in Dalyan itself."
Resale prices in Dalyan vary considerably, as there are no large complexes and so no two properties are the same. Typical apartments range from £40,000 to £65,000, townhouses £75,000 to £100,000 and villas can be anything upwards of £90,000. A three or four-bed detached villa on a private plot with pool is achievable for £150,000.
"Our most recent sales to Brits were to two couples who purchased neighbouring detached houses with private pools in central Dalyan, paying a total of £300,000," added Debbie Kipling.
"They bought primarily for investment purposes but also for their own use as they frequently holiday together. When not using the properties themselves, they rent them to holidaymakers. Neighbouring properties always prove popular for rentals for extended families or larger groups."
Fethiye area - Lively, rustic or lagoon living
A new indoor shopping mall, an aqua park in Ovacik and completion of the coastal promenade between the town centre and Calis are some of the recent developments that add to the experience of owning in Fethiye. The council has also invested in new roads and put all power cables underground.
While the town of Fethiye, with its marina, market and vibrant year-round life, is preferred by resident expats, the small resorts of Ovacik and Hisaronu, five minutes from Olu Deniz lagoon, are more popular with buyers who enjoy the beach and night life, as is the Calis area of Fethiye. For a more peaceful, rustic existence, head inland to verdant Uzumlu, where it's not uncommon to buy a plot and self-build.
"In Ovacik, apartments are from £50,000, and villas from £89,000 up to £230,000 for a more luxury property," said Gail Gurses at Keyholders Fethiye. "In Fethiye itself, you can purchase beautiful apartments overlooking the marina for less than £100,000, while in Calis, good holiday apartments can be purchased from £60,000.
A villa in Uzumlu can be purchased from £85,000 right up to the more luxurious model at around £270,000. We recently sold an end of terrace, three-bed villa in Uzumlu to a British couple for £82,000 - they plan to retire there in the near future."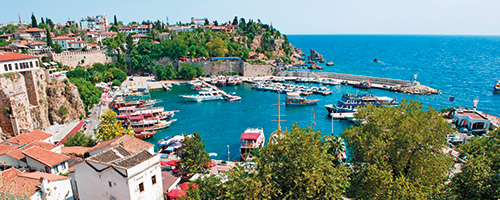 Kalkan - Upmarket and boutique
Stylish Kalkan, known for its hillside location and charming old town, is making progress with the redevelopment of its harbour area after a fire destroyed a large part of it at the end of 2014. This re-build is part of a local and national government plan and is due to finish this summer.
"Although it was initially a disaster, it's actually means that the area is much improved," says Bridget Karaaslan of local agent 2blacklions.com. "The new restaurants are being built in stone in a modern style, it is already looking very chic. The Old Town has been re-cobbled in granite, and is also much better than it was."
The resort has for years been more exclusive than package tourism. The trend is now for high quality self-catering accommodation, and boutique hotels, such as the new Likya Pavilion. Kalkan's typical tourists are older, reasonably well-off, upmarket couples, or groups of couples. They enjoy good food and eating out, and they love the stunning scenery and the laid back, friendly nature of the resort.
For resales, today's buyers are typically paying up to £90,000 for an apartment, up to £150,000 for a townhouse with a private pool and up to £175,000 for a villa, according to Jane Nizamoglu at Alternatif Property.
"New apartments are commanding up to £150,000, new townhouses with a pool up to £175,000 and new villas up to £350,000," she says.
Bridget Karaaslan adds that there are some great deals in the "sticky" middle market (£200k-300k), or even the upper end, where villas up to £800k are not moving. "It's obviously been a challenging time for Turkey as a whole, but if you want to get a good deal, this year is the time to get it," she says. "If you love Kalkan and are in it for the long term, buy now."
Antalya to Alanya - Keep an eye on Kargicak
Antalya Airport, gateway to Turkey's Mediterranean resorts, recorded it's highest ever number of passengers in a single day last July - indicative of this area's popularity.
The area attracts northern Europeans as much as Brits, especially as the number of flights to the lesser-known Gazipasa Airport east of Alanya, a city-cum-beach resort, is increasing.
"Alanya is very cosmopolitan with Scandinavian, Russian, British and Irish buyers," said Bill Baird at Terra Real Estate.
"In recent years, Alanya has definitely benefited from Gazipasa, mainly serviced by Scandinavian carriers during the high season, as well as Istanbul flights by Turkish Airlines and Pegasus." Road access is improving too, as a new highway linking Alanya with the towns east of the city, including Kargicak is planned.
Alanya, with its colourful centre, ancient old town, and high-rise beach promenade as far as Mahmutlar remains the region's key tourism hub.
Meanwhile, smaller and quieter Side, popular with Germans and Britons, suits couples and young families, and Belek is the centre of golf in Turkey.
Property in Alanya starts at around £30,000 for a typical studio apartment, while villas can be anything between £110,000 and £750,000. Mortgages of up to 60 per cent LTV, over 15 years and at around 7 per cent APR are available foreign buyers.
Typical of current UK buyers, Terra Real Estate recently sold a one-bedroom apartment on the Crown City development in Avsallar, a village west of Alanya, for €53,000 (excluding taxes and costs).
"With lots of on-site leisure facilities, it came with an annual maintenance fee of just €480, which is amazingly cost efficient," said Bill Baird, who tips the east side of Alanya for future buyers.
"Kargicak is an area to watch. It already attracts Brits due to its elevated position in the hills and the views are helped by the local planning laws, which restrict construction to low levels. Kargicak will soon host two new golf courses, built by the local municipality near to the Riviera Imperial Development, in front of which a public water park is also planned."