We meet a couple who have not been put off by the problems on Turkey's borders.
Waves of excitement rippled through Izmir on Turkey's west coast in November - it emerged that Hollywood golden couple 'Brangelina' have bought a $2.6-million beachside home there. In fact, Brad and Angelina's purchase was welcomed nationally and came at a good time. The news broke just as Turkey's popular AKP party won back a majority in the general election, the combination of events injecting some needed confidence into the country's property market.
Sandwiched between Europe and the crisis-ridden Middle East, Turkey has lost some of its shine among British property-buyers in 2015. However, while it's hard to ignore the country's border with Syria and largely Islamic nation, those that know Turkey well believe there's nothing to fear purchasing in the west of the country.
"People at work did ask if we weren't worried buying in Turkey, given the situation in Syria," said Kevan Paradine, who bought a Turkish property with partner Lynda Catling. "But the distance between the problems in the east and the resorts in the west, like Dalyan where we bought, is huge - it's like comparing two different countries. We've always been aware of the political situation and were very comfortable buying when we did. We've never seen any signs of the problems when we've been out there."
Kevan and Lynda, who live in Cranfield in Bedfordshire, completed on their semi-detached villa on 31st December 2014. They discovered Dalyan four years ago, having enjoyed holidays in different resorts in Turkey for a number of years previously.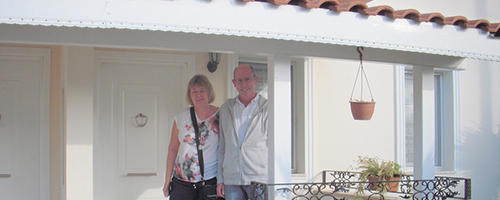 "Immediately it felt different to other places we'd been to in Turkey," said Kevan. "Dalyan is really a working town that caters for tourists, with low-rise development and just a few hotels. So its way of life is very Turkish, with an innocent family feel about it, which we like."
Nestled in a river delta, Dalyan is still a busy fishing and farming hub. Much of the surrounding countryside, dotted with cotton fields and fruit groves, is a designated conservation area, meaning there are tight building restrictions in the town, including on the height of property. A 40-minute boat trip downstream, where the Dalyan River meets the sea, is Iztuzu beach, a protected turtle breeding sanctuary also known as Turtle beach.
The area has history too - facing Dalyan across the river is the ancient city of Kaunos with its Rock Tombs. Meanwhile, upstream is Lake Koycegiz, with its beaches, as well as thermal springs at Sultaniyeand the popular Dalyan mud baths.
Easily won over by the area, by 2014 Kevan and Lynda had decided to buy a second home there and began researching what they could purchase on the Internet.
"We earmarked around eight properties we liked the look of and last November went out for a week to view them," said Lynda. "One we saw was just right so we made an offer and everything moved very swiftly after that. The estate agent Sunray Property managed the purchase for us and actually made the process enjoyable. Before we flew home they had helped us to pay a deposit, open a Turkish bank account, get our Turkish tax ID and grant power of attorney to a local lawyer, who completed on our behalf the following month."
Kevan and Lynda paid £80,000 in sterling for their property, which came furnished and is located on a quiet road in the Metliner area of the town. They have three bedrooms, three bathrooms, a terrace, balconies and a swimming pool that they share with just one neighbour.
In the 11 months since buying, the couple have visited their property three times and expect the three adult children they have between them to make use of it too.
To reach their villa, Kevan and Lynda usually fly out of Luton to Dalaman, which is around 30 minutes' drive from Dalyan. They've also had success renting out their property to holidaymakers. It seems not everyone has been put off visiting Turkey.