Richard Way meets a couple from Sussex who bought a home in Crete during the Grexit crisis.
As David and Jane Rusbridge sip sundowners on the terrace of their home in Crete, Athens and its problems must seem as distant as their lives back in the UK.
The couple completed on their house in the small town of Spili in April 2015, a time when Greece was struggling to stay in the Eurozone and its newly elected government was negotiating with Brussels to avoid a national bankruptcy. Threats of enforced austerity on the Greek nation were also making headlines.
However, for the Rusbridges, who live near Chichester under the South Downs in Sussex, much of Crete's appeal lies in its authentic, rustic lifestyle, one that has changed little over the centuries and appears largely unaffected by the national crisis.
"We've been coming here for twice a year for 15 years," said Jane, a published author. "And thought it unlikely the economic situation would stop us buying. We've bought the house to enjoy living here whenever we can, not as a financial investment.
"Most Cretan families own land with olive trees and vines, and keep kitchen gardens for vegetables, and many also have apple, pear, walnut or pomegranate trees. Our neighbours, who are in their 80s, keep chickens, rabbits, goats and sheep. People here collect wild food produce from the mountain. Because this strong traditional connection with the land continues, the situation here is much better than in Athens - or so we've heard."
There was one moment during the purchase process when David took a precautionary measure to protect their money.
"Around March before we completed, I had the funds for the property purchase waiting in our Greek bank account," said David, who runs a business near Chichester. "Just in case things did take a turn for the worse, I transferred the euros temporarily to an account I have in Spain, until the day we needed the money in Crete."
Completion safely done, David and Jane now own a traditional stone house set into the hillside, just 100 metres from Spili's pretty main square. Renovated in 2010 and oozing traditional Cretan character, it comes with lots of outdoor living space, including a courtyard area with fruit trees, small hidden garden and terraces, some with views of the village and hills.
Typical of the area, the house's living space and kitchen are on the first floor, with two bedrooms and a bathroom beneath on the ground floor. Interestingly, their internet connection is "faster than at home in Sussex"!
Off the courtyard, a stone stable has been converted into a one-bedroom annexe, ideal for guests. There is also a workshop and wood storage area. The Rusbridges plan to spend a total of two to three months a year at their Greek home, and expect it to get lots of use from the five children they have between them.
The purchase wasn't entirely planned, as the couple came across the property by chance. "We spotted the house while visiting Crete for a friend's christening," continued David. "After talking about it over a few drinks, we contacted the estate agent, Maggie at Crete Property Consultants, who was very good and arranged a visit for us. We loved the property but thought it was a bit expensive.
"Over the following months we managed to negotiate the price down, settling on €195,000 in November 2014. Meanwhile, we did view seven or eight other similar properties just to compare. We found the buying process relatively straight-forward and employed a Greek lawyer fluent in English who came to the notary's office with us on the day of completion. We also used a local accountant to oversee our tax obligations, which is advisable in Greece."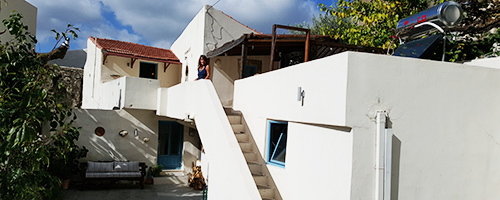 There was never any doubt about Spili, a small town 25 minutes from Rethymnon in the foothills of Mount Vorizi, being the couple's perfect location.
"We've known the town since we've been coming to Crete, passing through it on our way to the unspoilt beaches of the south coast, where we used to stay in places like Akoumia, Triopetra, Agia Paraskevi, Ligres or Agia Fotini. It's not just the scenery - we find the people there very warm and welcoming."
Spili is also known for its natural spring water, which flows year-round out of a fountain in the main square and is said to be the purest water in Crete. The square, with its shady trees and cafes, is a popular place to meet.
Another attraction is the area's affordability. "Things are pricier in the towns and more touristy areas on Crete's north coast," said Jane. "However, in Spili and the more remote tavernas on the south coast a generous main course dish will cost just €5-€8, although certain types of fish might be more expensive. A meal for two with half a litre of wine will usually cost €15-€25, and this will include a raki with fruit or a home-made dessert usually on the house. We eat out a lot!"
Surrounded by unspoilt natural scenery and with very affordable, locally produced food to feast on, it's little wonder the Rusbridges weren't put off buying in Crete. After all, even austerity won't stop the sun shining and the fruit and vegetables growing there!