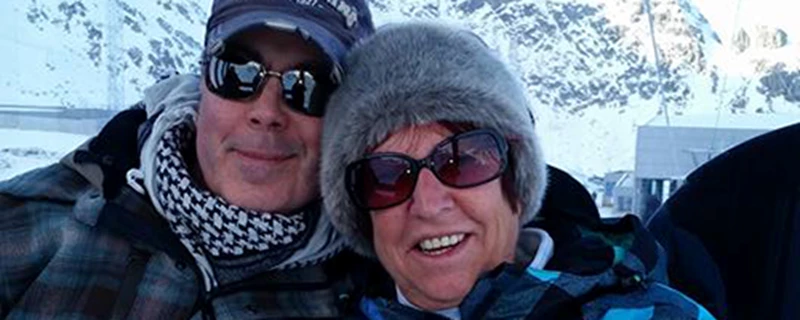 The perennially cold British winters persuaded Colchester couple, Karen and Mike Joiner, to part with their life savings to buy a Spanish villa. Here Mike tells us their story...
Can you tell us a bit about yourselves?
My name is Mike and my wife is Karen, we're both in our 50's and from Colchester in Essex, where we have lived for many years.
I work as a Customer Service Director for a technology company and Karen is an administrator for a large food services and facilities management company.
Why did you decide to buy abroad?
It's quite simple really, we had really grown tired of the cold, wet and dreary winters that the UK had to offer. There seemed to be little appeal in spending our ever nearer retirement shivering in the English drizzle.
Once we had settled on buying abroad with the view to permanent retirement there, Spain became the logical choice. We had both been a fan of the Spanish lifestyle (it's so laid back compared to how we live in Britain) and obviously the warm weather didn't harm its case!
Also it made sense for us practically, Karen speaks Spanish and any part of Spain is no more than a couple of hours by plane, making trips to and from the property for us and friends very convenient.
What resources did you use to get your search underway?
We started by attended the A Place in the Sun Live exhibition at the Birmingham NEC in 2014, it was an informative day with a lot of helpful information on hand. The A Place in the Sun magazine also came in handy providing us with lots of inspiration as well as advice.
Another key resource was the internet, we used Aplaceinthesun.com and a few other sites to check out the areas, types of property and rough prices.
What kind of property were you looking for?
We were happy to look for either a villa or a bungalow - as this would allow for potentially less physical mobility as the years go on. I suppose the only thing we felt was out of the question was an apartment, because we didn't think that we would be able to find one big enough to live in permanently.
We were actually pleasantly surprised with how much we could get with our budget (around £100,000) once we started to view the properties set up by the agent. But this didn't massively alter our initial wish-list - easy access via an airport was important for weekend escapes but also the usual things like how safe it was to lock-up and leave, local amenities and proximity of a beach!
What did you buy?
We bought a three-bed villa for around £90,000 in an urbanisation of about 3000 villas called Pinar de Campoverde, near Alicante. Within Pinar de Campoverde our villa is situated within a 30 villa gated community.
The community has a shared pool, property maintenance, security etc. plus it's only 15 minutes to the nearest beach and local village which has some nice bars, restaurants and shops.
It's perfect for us because we're able to integrate with the local community as, and when, we want, - slipping seamlessly from the local Spanish life or resorting to the odd English pub if we feel a bit homesick.
How did you find the buying process?
The buying process was much easier than we had expected but that was largely down to the help and guidance we had from our agent and lawyers who did everything needed to make the process straight forward and easy for us to follow. They even sorted out opening a Spanish bank account and setting up household utilities.
From putting the offer in it was only around six weeks later that we were picking up the keys to our new home.
How do you plan to spend time in your new Spanish home?
Well for the next couple of years it will just be a holiday home for us (we don't want to rent it out) but we plan to move over and live in it full time in 2 years, 4 months, 17 days, 6 hours, 25 minutes - not that we're looking forward to it or anything!
When we're staying there a lot of our time will be put aside for simply enjoying life, relaxing with good food, nice wine and great people. It's a great position to be in and we know we're very fortunate, the least we can do is take full advantage.
What tips do you have for other potential buyers?
Be clear about what area you're interested and why - this narrows down your search and helps the agent to find the right type of properties for you
Find a good estate agent in the area you want and a solicitor to help take some of the stress away especially if you are working and cannot keep going backward and forward to complete the various actions
In most countries it is still a buyers' market but you do need to be realistic in what you want and time-scales it takes to get it