Peter and Diane Bates bought their Spanish park home in 2014 after appearing on an episode of A Place in the Sun. Here Diane talks to us about their journey to owning a holiday home on the Costa del Sol...
Tell us a bit about yourselves?
We have been married for 41 years and have three grown up children and five grandchildren. We both grew up in Leeds but for the last 25 years have called Grantham, Lincolnshire our home.
I'm a reception manager at a GP's surgery while Pete is a retired prison officer.
Why Spain?
Spain has always been the place we wanted to move to, mainly for its warm climate.
We had considered a move back in 2007, and actually came very close to buying a property. Fortunately our plans changed because otherwise we would have been caught up in the crash.
Despite this, our desire to find a Spanish home never really left us and we carried on dreaming about it over the next few years.
Why did you decide on a park home?
We knew that we didn't want to risk going for bricks and mortar, and as we had always been lifelong caravanners we decided a park home would suit us perfectly. It also fitted in with our budget of £35,000 which is obviously important.
Although a park home might not be everyone's cup of tea, we are delighted with our Spanish home. It suits all our needs, and we are only a minutes' walk from the beach and the port of Cabopino where there are lots of wonderful bars and restaurants. On site we have two swimming pools, a small supermarket, bar and restaurant.
You appeared on A Place in the Sun back in 2015, how did you find the experience?
Well it all happened by chance really.
We attended A Place in the Sun Live at Olympia London in 2014 because we wanted to pick up some tips and see if there were any stands for park homes.
Whilst there we found out you could audition to appear on the TV show - we were curious so decided to have a look. We said we were looking in Spain, which was probably the hundredth time he had heard it that day, but then we mentioned that we were looking for a park home. That seemed to perk up their interest!
After the interview we were then screen tested, which was quite nerve wracking but good fun. We then enjoyed the rest of exhibition and listened to the talks by the presenters. We didn't imagine we would hear any more so were amazed when only couple of days later we got a call from the production team asking if they could come and film us at home!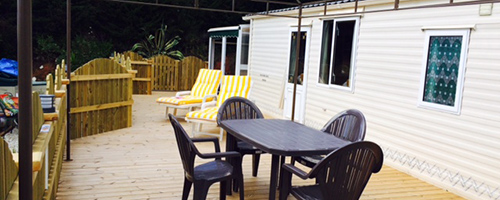 After that things moved along quickly, and before we knew it we were being flown out to Spain and met by the lovely in-country team who looked after us all week. We really enjoyed the whole thing, but couldn't believe how long it takes to film, anyone who thinks the presenters lead an easy life are totally mistaken.
As soon as we visited the second property we knew it was the one for us - we had never expected to find something with a sea view. We both immediately felt this was the right place.
We actually ended up putting in an offer during filming but it was turned down. Fortunately our second one (£23,500) was accepted at which point I burst into floods of tears.
It was a fantastic experience and the A Place in the Sun team were so helpful, if you're serious about looking for a property abroad I really recommend auditioning for the show.
When our episode was shown I found it a real shock to see myself on TV. I think we had to see it at least three times before we could stop watching it through our fingers!
So now you have your dream home in Spain, how do you use it?
At the moment we are using our property as a holiday home, and try to get out there as often as possible, usually every 2 to 3 months. However, I retire from the NHS mid-2016 and so we are hoping to make a permanent move around September/October of that year.
We do rent our property very lightly but only to people who have been personally recommended to us. We will stop renting once I am retired so we can go over whenever we want to until we move there permanently.
Our three grown up children all have families and like to come over when they can, so I will have to fit my stays in around their holidays!
What's it like to have your own place in the sun?
To start with it was a bit strange but we have been out to our property so many times now that it feels like home. It is a lovely feeling to curl up on your own sofa then realise it is actually in Spain, or to lie in the sun on your own sun-beds in your own Spanish garden.
We have lovely neighbours who have introduced us to some lovely restaurants in the villages where you can get a three course meal for as little as €6 per head, quite often including wine or beer. So in terms of lifestyle it's pretty near perfect!