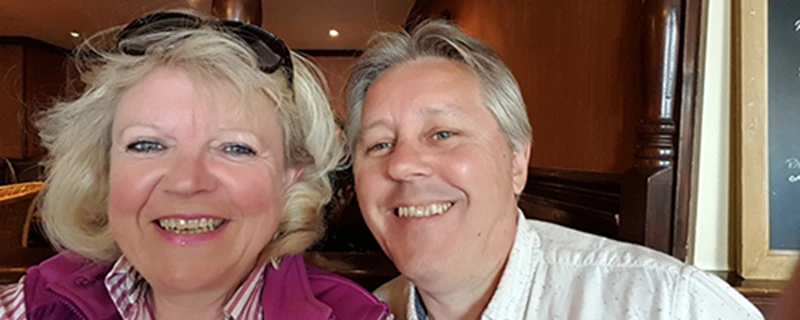 Avid A Place in the Sun viewers, Wendy and Steve Lilygreen fell in love with Turkey during a holiday in 2006. A couple of weeks later they were back in Turkey completing the purchase of an apartment, but their Turkish adventure doesn't end there...
So can you talk us through what inspired you to buy in Turkey?
It all started with a week long holiday to Hisaronou in Turkey in 2006, when we just fell in love with the Turkish culture, history and people. I also noticed how much you got for your money when it came to property so Steve and I thought, why not?
I had some money through inheritance and we decided that a holiday home was the perfect way to spend it. So, as soon as we were back in the UK, I began scouring the internet for properties in Turkey.
Though with a budget of £80,000 we knew that we would have to do a lot of looking around to find the right property for us.
Why did you settle on the area of Kalkan?
It just seemed to tick all the boxes, we spent weeks researching different areas and properties but kept hitting problems like the area was too busy, too remote, too many mosquitoes and so on.
Anyway, I eventually hit on Kalkan - a pretty little town on Turkey's Mediterranean coast. Property prices were slightly more expensive than elsewhere but the surrounding area looked amazing. In July 2006 (only a month or so after our holiday) we were back in Turkey house hunting.
What did you buy?
After quite a few viewings we found a brand new three bed duplex that came furnished for around £80,000 (see photo below).
It had everything we wanted, a small garden area, a pool with lots of space, three nice sized bedrooms and fantastic sea views. Deciding to buy it wasn't a very hard decision for us to make!
Everything was completed by March 2007 and that's when we discovered just what 'furnished' really meant. We had to spend a lot of money on a fridge, washing machine, cutlery, towels etc. - although fun, it is definitely an additional cost potential buyers should bear in mind.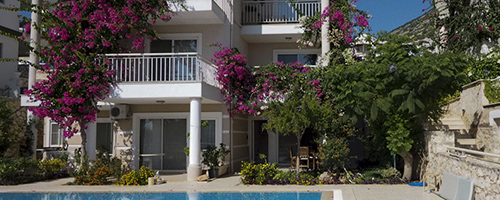 But your story doesn't end there, does it?
No, it doesn't!
We had some wonderful holidays in our apartment but in late 2008 a property agent friend invited us to view some villas they were selling.
Perhaps unsurprisingly, we completely fell in love with one of the properties he showed us - this time it was a four bedroom, semi-detached villa with a private pool and incredible sea views.
We put in an offer and completed the purchase of our second Turkish property for £165,000. And for the second time, we threw ourselves into furnishing a Turkish property. Some furniture we bought second hand off our friend, the beds and wardrobes were all made for us as that's the way they do things in Turkey.
Over the years we have made a number of improvements, adding seating and pergola to the roof terrace, window security grills, Wi-Fi, built in safes, new doors, redecorating. We've found that it's the small things like this that really help a property in the lettings market.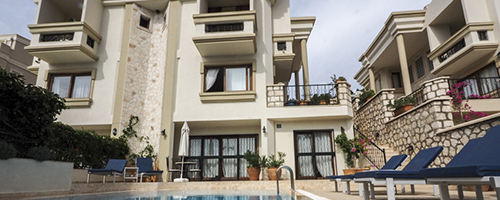 So you own two properties in Turkey plus your house in Monmouthshire? How do you plan to use them?
Yes, we never expected things to turn out like this!
We use both properties as a holiday home for us but we also rent them out too. Our rental return has been good but recently Turkey has received a bit of negative press which caused a small dip in bookings.
But all good things must come to an end, and as much as we have enjoyed every second of time spent in Turkey and have no regrets, we are now looking to sell both the villa and apartment.
I suffer from arthritis and find the British winters quite difficult to deal with so a winter sun property is important but we don't want to leave our dogs behind! So we are now looking in Spain, as that way we would be able to drive down from the UK with our dogs.
What was life like in Turkey?
We enjoyed every moment we had in Turkey, it's just a fantastic country.
Many happy hours were spent out walking, taking photos, going on boat trips, exploring the Lycian and Roman ruins and not to mention the numerous evenings out in local restaurants and cafes!
The people were so welcoming and friendly which really helped us to see Kalkan as a home from home.
Buying property overseas can often be daunting, how did you find the buying process?
I have to admit that when we bought our first property we hadn't really prepared for the legal side of things. We had to set up a Turkish bank account, get a tax number as well as pay a deposit. Fortunately for us, the agents were great, they took us everywhere we needed to go and helped us every step of the way.
Though, I will say that paying the deposit with a credit card was not a very good idea (use a currency transfer specialist instead), we had to do it in three lots and the card company charged a lot for each one.
Any tips for future buyers?
Make sure you know the area where you want to buy
A good resale is often better value than a new build - some local agents will not agree as they make more commission from a new build
Turkey is commission based - if your agent recommends a carpenter the carpenter will then work out a commission deal which will be added to your costs
Bear in mind on-going and future costs such as listing your property on a rental site, maintenance and of course furniture
An independent, English speaking lawyer is a must