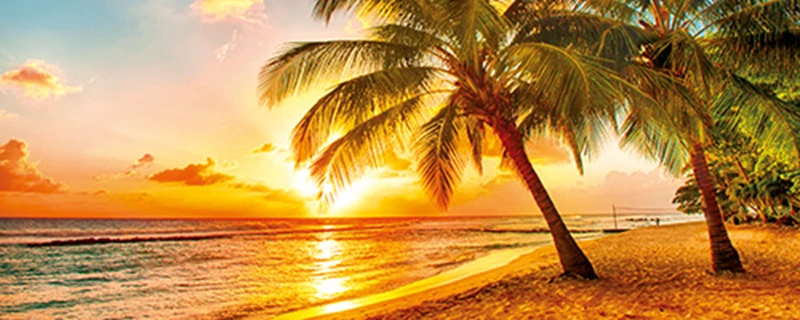 Barbados is a firm favourite with tourists and property buyers looking for fabulous beaches, great nightlife and a relaxed, family-friendly vibe.
The island is also popular with celebrities who like to hang out at its glamorous hotels and restaurants. Footballers Wayne Rooney and Gary Lineker both own here. And locally born pop singer, Rihanna, recently bought an apartment in the luxury Sandy Lane resort, where prices can easily exceed £10 million.
The Brits have always had a good relationship with Barbados and are by far the biggest proportion of property buyers. This is partly because it's a safe and stable location but also because it's easy for us to live there. English is the official language, the legal system is based on ours, they even drive on the left.
The weather is another reason we love it. Temperatures rarely drop below 23 degrees and climb to around 30 during the drier, peak season of December to March.
Getting to Barbados from the UK is easier than ever too. British Airways flies from Gatwick 12 times a week, with Virgin Atlantic offering daily flights from Gatwick and, in peak season, twice-weekly departures from Manchester.
Properties in Barbados are bouncing back
Post the 2008-crash, property values on Barbados dropped significantly but they are now starting to creep back up. Making now a good time to bag a bargain.
"The market is improving but, in some areas, prices are 20 to 25 per cent below what they were five years ago," says Darren Milne, owner of UK-based agency Caribbean Dreams. "You can easily find quality property in attractive resorts for less than £500,000."
Barbados has no restrictions on foreign ownership but you need permission from the Central Bank of Barbados, which is usually just a formality. UK nationals can stay for up to six months without a visa, though you will need to apply for an extension or residency if you wish to stay longer.
There is a separate system for retired property owners, who can apply for a Special Entry Permit (SEP) to remain indefinitely.
The buying process takes up to three months and you should budget for around two per cent of the purchase price to cover legal fees, plus up to five per cent agency fees. A ten per cent deposit may be required when the sale is agreed, which will be forfeited should you pull out.
There is no capital gains tax or inheritance tax on Barbados.
Which coast to choose?
The north and eastern sides of the island face the Atlantic, so are more rugged with strong tides and much of the landscape is protected. This means the area is undeveloped and less populated.
"Property tends to be locally-owned, traditional-style houses that rarely come up for sale," says Milne. "It's really for those who want to avoid the tourist resorts."
Most hotel and residential development is on the south and west coasts, where you'll also find the highest level of infrastructure and facilities. This is the Caribbean side, where wide beaches shelve into calm waters that are good for swimming and water sports.
The island's main highway connects Grantley Adams international airport with the nearby capital Bridgetown in around 10 minutes, then runs up the west coast to the popular resort areas of Mullins, Holetown and Speightstown.
Prices on the west coast, home to high-end developments such as Sandy Lane and Royal Westmoreland, have soared over the past few years and it's not uncommon to find palatial residences costing tens of millions. That doesn't mean your dream bolthole is out of reach. Unlikely as it seems, it's possible to buy on or within a few metres of the beach, for under £200,000.
For the best deals you may need to venture off-plan, though be sure to choose a developer with a good track record. The local offices of Chesterton International and Altman, an affiliate of Savills, are listing several new schemes at budget prices.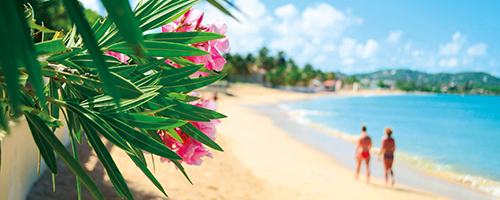 In the residential area of Fitts Village, just north of Bridgetown, for example, new development Zinnia is selling from $245,000 (£157,878) for a one-bedroom. While Mullins Grove, another recently launched project opposite Mullins Beach, is priced from $249,999 (£161,400).
Also off-plan and good value is The Sands, near Worthing, due for completion next year and currently selling from $224,000 (£143,200) for a studio to $496,000 (£319,622) for a three-bed apartment. The former hotel is being redeveloped as a managed resort and will offer a rental programme.
More expensive but also right on the beach is Ocean Two, near Christchurch, from $400,440 (£256,000) for a one-bed apartment.
Key destinations include St Lawrence Gap, south of Bridgetown, where there is a profusion of nightlife, shops and restaurants. Holetown is also popular for its upmarket amenities, such as Limegrove shopping mall, which is stuffed with designer boutiques, and is within easy reach of some of the best restaurants and bars on the island.
Kieran Kelly, director of Chesterton Barbados says there is more choice than ever in the £150,000 to £500,000 price range, though beachfront is still rare. "It used to be difficult to buy in that bracket but now we're seeing more demand and developers have begun to gear their product to sell at the right price," he says.
Kelly adds that lower-priced coastal units with good, managed facilities also offer some of the best rental options. "A development such as The Sands, could bring gross yields of seven to ten per cent."
For the best value and location, Milne recommends St Lawrence Gap. "It's seen a lot of redevelopment and offers a great selection of facilities for families," he says. "There are lovely beaches with safe swimming and good access to golf. It's also handy for the airport and the west coast, both only 20 minutes away."
Low-cost doesn't have to mean basic either, it's perfectly possible to find high-specification homes, particularly in the £350,000 to £500,000 band. Milne is currently marketing apartments in White Sand Villas, right on the beach at St Lawrence Gap, from $495,000 (£317,000) for one bedroom to $870,000 (£550,000) for three beds, some with private pools.
The new Private Residences at The Crane, a popular resort on the south coast, offer sleek, well-designed two and three-bed units in gated grounds with a high-level of services that cost from $720,000 (£460,500).
Head to the hills
Beachfront might be best but owning inland on Barbados has benefits. The hilly landscape often provides fabulous views across the island and ocean, plus you get the cooling tradewinds.
The main perk, though, is that you can find much better value. "You will definitely get more for your money inland," says Kelly. "Property on the beach sells at a premium, the same homes inland can cost three to four times less."
The 39-acre estate of Vuemont, ten-minutes' drive from Speightstown, offers two- to three-bedroom apartments and villas priced from around $222,500 (£141,000). A few miles away, Westmoreland Hills is a high-spec project, priced from $695,000 (£445,000) for a two-bedroom townhouse.
Even the celebrity haunt of swanky Royal Westmoreland, a 750-acre, luxury golf resort, needn't be out of reach. It currently has properties in the Royal Apartments from $395,000 (£252,795) for one bedroom, and ownership includes access to the championship golf course, sports and spa facilities.
Share the cost
If you can't stretch to the cost of a full property or only plan to holiday here once or twice a year, fractional ownership may be worth considering. This gives you legal title to a share of a property, so you get a number of weeks' use every year in perpetuity but also share any capital appreciation and can sell your deed on.
Several established resorts offer well-priced fractional products, including Royal Westmoreland and The Crane. Prices can be from as little as $10,000 (£6,400) for a week's share of a one-bed unit.