Choosing Central Florida as your winter sun destination is a no-brainer; picking a property to buy there might take a little longer, thanks to the growing choice of new projects.
In a land where not so long ago foreign investors were queuing to snap up foreclosures, the cranes and boards promoting new homes are back.
Most are in the 'Golden Triangle', an area which fans northwards from Haines City as far as Highway 192 and the edge of Orlando and Disney, taking in the popular buying spots of Davenport, Kissimmee and ChampionsGate.
Crucially, short-term rentals are allowed here, and being bisected by Interstate 4 gives fast access to Orlando city, the airport, and the theme parks.
"This area still has large, undeveloped areas of land and for the first time since the crash in 2007-2008, we are seeing loads of new construction," said Todd Berger at Berger Realty & Investments. "Nearly every major US builder and most small regional builders have new communities going into this area."
New Properties More Popular than Old
Indicative of the climate, the Feltrim Group already has its next project underway, namely gated community Balmoral at Water's Edge, just off Highway 27 in Haines City.
Disney is 25 minutes away and Legoland 15 minutes, while Posner shopping mall and the acclaimed Southern Dunes golf course are both less than 10 minutes.
"It's a great location and the 113-acre site comes with three natural lakes," said Mr Kenny. "We launched in May 2015 and by July had had offers for all 24 townhomes. We're now selling furnished single family homes with a pool from $285,000 for a three-bed, but other models up to eight-beds will be available too, with prices reaching $750,000. There'll be on-site property management to handle rentals."
Amenities available to owners of the 250 units at Balmoral will include a water park, park areas, a clubhouse, gym, Spa, restaurant and fishing/boating in the lakes.
Highlighting the appetite for new-build, Jerry Barker at The Jerry Barker Group, who specialises in villas within 20 minutes of Disney, says new or pre-construction homes currently account for more than 65 per cent of his sales, with typical British clients spending $420,000-$450,000 on a five-plus bedroom home with pool, including costs and furniture package.
"When clients compare prices of resale villas with new-build, they often stretch to afford the latter option.One couple I met at A Place in the Sun Live have just bought a six-bedroom villa with a pool off-plan at the new Windsor at Westside community for $435,000, including costs and furniture. They chose this over a $420,000 resale villa at the older sister resort Windsor Hills. Their new home will be completed by Christmas."
For comparison, townhomes at Windsor at Westside start at around $300,000, while resale ones at Windsor Hills are around $200,000. Mr Barker picks out Storey Lake as another new resort selling pre-construction destined to do well, thanks to its location five minutes from Disney.
Otherwise, for resales Mr Barker tips townhomes at the Encantada community as good value right now, starting at around $155,000 for two-bedrooms. For a villa, Solana Bay resort has four-bedroom resales from $205,000 and for a bargain resale condo, Tuscana in ChampionsGate has two-beds from $118,000.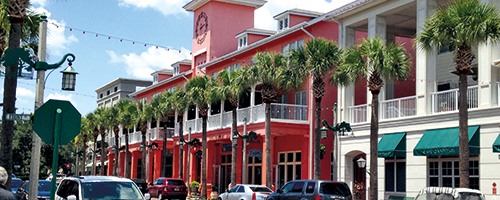 Investment and Lifestyle
A noticeable shift in Central Florida's property market has been the rise of investors, not only from the UK but also from China, Brazil, Venezuela and Canadians. Many are buying for long-term rentals, as well as the short-term market
"We've definitely seen an uplift in British and foreign buyers in 2015," said An Flamand, owner at Orlando Vacation Realty based in Four Corners. "The big difference to a few years ago is that most of our clients today are investors and prepared to move fast as they know now is a good time to purchase.
I have clients ringing up and making offers on properties already under offer. This week one British investor bought a $490,000 seven-bedroom home at Emerald Island, Kissimmee, over the phone. The numbers worked for him, so he went for it."
Most of Ms Flamand's clients purchase single storey family homes, either resale or new, which they rent out for typical returns of 5-6 per cent per annum.
"Investors are put off by condos with high home-owners association fees, which can be as much as $500-$600 a month, depending on the facilities within the community," she says. "Typical spend for a resale single family home is $250,000 to $300,000, furnished and with a pool.
Meanwhile, as well as a revamp of Downtown Disney, a number of ongoing infrastructure projects reflect Orlando's growing status as an economic as much as tourist hub, and could open up more long-term rental opportunities.
"A new $1.5billion terminal is under construction at Orlando Airport, the Interstate 4 is being expanded and a new light railway, the Sunrail, will link Orlando with surrounding areas, including Poinciana in Polk County, where a station is due to open in 2016," said Mr Kenny at the Feltrim Group.
Disney will always pull in the punters, but with Florida forecast to become the third most populated US State by 2016 and Orlando's 2.3 million population growing at a rate of 2.2 per cent a year (2014), there's no doubt a new edge to Central Florida's property market is developing.

Helen Commerford moved from Essex to Florida seven years ago. She owns a house at The Oaks golf community in Kissimmee and works as a waitress at the Market Street Café in Celebration, a master-planned community built by Disney, before they sold it.
Needless to say, she loves life in Florida...

Sarasota - the Gulf Coast Hot Spot
Breath-taking beaches, a lively cultural scene and buoyant local economy - modern-day Sarasota caters as much for working families as sun-seeking retirees and holidaymakers. The lights of Disney are nowhere to be seen, but right now there's plenty to excite property-buyers in the area.
Less than two hours south-west of Orlando and a short commute from Tampa, Sarasota is concentrated between its Gulf of Mexico coastline - the sunsets are glorious - and the Interstate 75. However, urban development east of the highway is increasing.
To the north, the city - and county - of Sarasota fuses seamlessly with the city of Bradenton and county of Manatee.
"We see British retirees who had a place in Orlando when the children were young, but prefer to be by the sea in Sarasota once the family have grown up," said Pat Tan, an expat realtor at Sarasota-based Your Global Agents.
"It's a very desirable place to spend time or live, hence half of our UK buyers are investors tapping into the buy-to-let market, the other half being lifestyle buyers, moving here or buying second homes."
The Florida Keys and Beach Homes
A string of linked islands, or keys, run the length of the city's coastline, joined to the mainland at various points and home to some of Florida's most desirable coastal addresses - Jerry Springer has a home here.
In the keys, properties facing back towards the mainland tend to be single family homes or villas, often with a private mooring, while on the ocean side, condominium blocks fringe the white sandy beaches.
At the heart of the keys and joined to downturn Sarasota is St Armand's Key, made famous by the circus magnate John Ringling, who created the 'Circle' - a roundabout with a park at its centre and chic cafes and boutiques round the outside. Condominiums here start from around $400,000, houses from $650,000.
"St Armand's is one of the city's most popular tourist spots but the larger Siesta is our most popular key in terms of sales to Brits," continued Pat Tan. "The beach is a huge draw. And compared to the more residential and manicured Longboat Key, with its smart condo blocks, multi-million-dollar villas and smart gated golf community, Siesta is cheaper and has a more relaxed holiday feel."
On Siesta, typical two-bedroom condos sell from $350,000 to around $550,000, depending on location, and single family homes, or villas, from $450,000 to $750,000.

Buying in Florida for investment? Here are some pointers to bear in mind:
1. New-build is especially good value right now, as developers who bought either very cheap land or unfinished developments where the builder defaulted during the downturn are able to pass on their savings.
2. 10-year guarantees, the option to customise your property, modern 'green' building materials and potential capital appreciation all add to the attraction of new-build.
3. If buying resale, check the state of the roof and air conditioning system - the two most expensive repair costs in Florida. You may also want to check for termite damage.
4. Always check a property's rental zoning status, as well as any rules administered by the community.
5. Properties with low running costs are better for you and your tenants, especially with long lets. Look for low homeowners association (HOA) fees and be aware that some communities also charge Community Development District (CDD) fees.
6. Check how well maintained a community, or subdivision, is. Those where the HOA is responsible for the upkeep of all gardens/lawns tend to look better.
7. Think outside the Disney short-term rental box - Florida has a strong residential buy-to-let market. Look for areas with growing economic activity or new transport upgrades, such as Poinciana where a light railway station is planned.
8. Most realty firms in Florida also offer a property management service. Be selective about the one you use.