British expats Liz and Peter Maidment have lived in France since 1985, and decided to build their own solar-powered home in the laid-back region of Languedoc-Roussillon.

After renovating two old houses in France, Liz and Peter Maidment decided they wanted to build their own, highly individual home from scratch, something that would be perfectly integrated into the landscape and that would make the most of the brilliant sunshine of the Languedoc.
So what is the story behind their "grand design"? Well, the roots of their bohemian design can be traced to a CND meeting in the quintessentially suburban south-west London suburb of Twickenham.
Both Peter's and Liz's respective marriages had come to an end when they met there. Peter, now 74, was working as an architect, and had a son and a daughter, while Liz, now 71, was a textile artist with two sons.
After getting together and cohabiting for a while, it was Peter who "dragged" Liz over to France, with the original intention of touring Europe. This never happened, as they already had a base in France. Two years previously, while still in the UK, they had bought a half-ruined stone cottage in the village of Saint-Marcel-de-Careiret, in the Gard département of Languedoc-Roussillon.
They moved there full-time in 1985, lived in it for five years, then sold it to buy, with another couple, a large stone house with two big lofts to renovate in Saint Gervais, not far away. The property included a 3,000m2 vineyard, where the Maidments worked before passing each harvest to the local wine cooperative - common practice for small wine-growers.
In addition to both working as vendangeurs (grape-pickers), Peter worked part-time for 12 years as an architect in Valence, while other sources of income included selling T-shirts designed by Peter.
In 1994, the Maidments sold their half of the Saint Gervais house to buy land to build their own home, and started work on Peter's design the following year. Luckily, they were able to carry on living in their half, as the buyers didn't want to move in immediately. The plot sits among the wooded and vine-covered hills along the valley of the Cèze River, also in the Gard département. It belongs to the medieval fortified village of Cornillon.
"After discovering this area in 1984," says Liz, "we had no wish to move elsewhere, because it is so attractive. It is pleasantly hilly, the river is beautiful in all seasons, the vineyards produce some good wines and the locals are welcoming. Although it is touristy in summer, it is not overrun like the Riviera."
Building their Home in France
For the construction of their home, Peter's contacts built up around Valence were useful, and they had no trouble ordering the wood panels to his exact specifications. "Plus, it helps that you get a lot more help in DIY stores in France than in Britain, where assistants are only told to sell," says Peter.
The external walls of their home were put up within three months, with some help from Liz's younger son, who was by then living in Chamonix. However, the couple did almost everything themselves, using only an electrician, a specialist to connect the solar panels and another to connect the water well.
"We decided to self-build, because I had hands-on experience, and we are both creative and practical," says Peter. "We used wood not only because it's 'green', but because it was the only way on our budget - though we didn't use any reclaimed materials." Adapted to the terraced plot, the house consists of two parts linked by an enclosed corridor and an open veranda.
In one part is a large lounge and Liz's studio; in the other, the kitchen, Peter's office, a shower room, three bedrooms and a bathroom. All with solar-powered underfloor heating and radiators. Liz admits that Peter is the more Modernist of the two and was especially keen to design his own house, but she happily went along with it.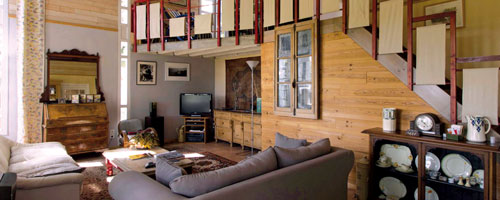 In sterling equivalents, the price of the 2,600m2 plot in 1994 was £22,000 and the 180m2 house cost £53,800 to build - making a total of £75,800 for a bespoke three-bed house. Peter and Liz donated half the land last year as a way to transfer some of their assets to their children.
In an interesting twist, Peter's daughter and Liz's eldest boy took a shine to each other and got together 25 years ago - and while Liz and Peter did not have children together, they now share two grandchildren! Today, standing on a plot of 1,300m2, the property is worth approximately £313,000 (€380,000).
In 2004, it was placed among the top five buildings of the ninth Habitat Solaire Habitat d'Aujourd'hui (a competition organised by France's Renewable Energy Observatory to promote and develop solar energy in homes).
What Next?
Now that their renovating and self-building days are over, the Maidments can fully enjoy their bespoke home and the relaxed life of the Languedoc.
"I'm still happy to do bits of architectural work, but I'm not running after it. I read more than ever, I'm discovering gardening and I'm into computers," says Peter. Meanwhile, Liz has made a name for herself in embroidery, holding courses locally and abroad.
Since 2006, she has been going to Australia every couple of years for week-long workshops. Some years, she held resident courses at home - Peter would do the cooking - but now she only gives one or two-day courses locally.
They also rent out their house during the summer while they are travelling elsewhere - this year they are planning a month in Paris and they always spend time back in the UK with family.
Liz and Peter agree that the French health service is far superior to the NHS, and they love the fact that there are more individual shops than in the UK, with "real" markets and fresh produce throughout the year.
Looking back on such a busy, varied and atypical life, Peter and Liz undeniably deserve to enjoy life at their own pace in this sweet and genuine corner of France.
Tips for Self-Building in France
Sounds obvious, but do an internet search with the keywords "self-build in France". Equally, know your French language.
Make sure you know all the rules and regulations - stricter now than they were twenty years ago.
There is no separate planning authority. The local town hall will provide all the necessary information.
Make friends with the mayor's secretary, who will speak to the DDE (Direction départementale de l'équipement) about any problems.
Contact the département's CAUE (Conseil en architecture, urbanisme et environnement) architects, who give advice free of charge and make recommendations on ecological practices.
You can now get insurance for straw buildings.