After island hopping for two months Andrea Watson reports on the outlook for the Greek holiday homes market.
One thing that rang out loud and clear on my Odyssey around the Greek islands this summer was that property prices have stopped falling and 'vultures' are not welcome.
From Cyprus through Crete, Santorini, Kea, Athens and the Peloponnese, everywhere I heard the same story, however bad the economy, Greeks will not dump their most valued asset, their property.
Prices are still 30 per cent or more below their peak, and Spyros Mantzos of agent A Property in Greece says, "Sellers are not cutting prices as few have mortgages (which haven't been available for a few years) and they do not need to sell."
This has not stopped dozens of British bargain-hunters turning up this year on the assumption there may be some desperate sellers.
It's safest to buy on islands that are long-standing popular tourist destinations that have escaped the worst of the crisis: Ionian favorites like Corfu, Paxos and Kefalonia, the Cycladic islands of Paros, Santorini and Mykonos - or Crete, the largest market for the British.
New higher VAT will up the cost of living but the fine-tuning of the latest bailout is yet to be worked out. Each island is fighting for the unlikely chance of exemptions: in general the figure of 23 per cent is expected to be imposed.
So is the country safe? Well, the infrastructure is still in excellent order. Airports and roads are very good and relatively car free. Ferries, buses and trains run on time, WiFi is almost universal and there's no problem getting cash from ATMs.
Tourism, hit by adverse publicity in 2011-12, is back up 20 per cent, there's a shortage of good villas in the right places and sterling is strong.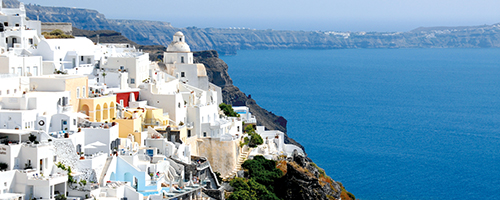 Crete
The largest Greek island has a strong tourist industry and agricultural market. Coastal resorts were lively and the infrastructure in good working order this summer. Traders said that things were picking up and on the fringes of Chania where I stayed in the Panorama Hotel, new restaurants and clubs were opening, though the interior of Crete was less buzzy.
"Property is the safest asset- we've seen banks closing and stock falling but if you do your homework and put money in a good location and follow the legal procedures you will see gains in the long run," said Haris Menelaou of Leptos Estates which has villas at Aphrodite 2 and Fournado, near Kissamos, priced from €250,000.
Snobby Homes, whose clients are exclusively 55+ retirees, has two-bed villas from around €150,000 in Sirili, western Crete. As a UK company building to order, VAT at 23 per cent is not applicable. Prices include all fees and are paid in sterling.
Maggie Waldon of Crete Property Consultants with some great resale properties such as village houses from as little as €40,000 said that enquiries were up, with investors on the hunt for buy-to-let properties too.
Corfu
With its Venetian and Greek heritage, World Heritage main town, crystal clear coves and olive covered hills, Corfu remains a top choice for English buyers who are flocking back, in spite of the crisis, or indeed because of it.
The north east, where high-rolling dynasties such as the Agnellis and Rothschilds have villas, remains expensive so head for the less developed north west where you can find a two-bedroom villa close to the sea for under €200,000.
Spyros Mantzos, of A Property in Greece has been astonished at the upturn in enquiries from the UK. "Prices fell over 5 years after 2007 but since beginning of this year sales have gone through roof," he said. "I thought the press would put people off but it seems that people think they will get a bargain now."
Kefalonia
Also known as Captain Corelli's island after the bestselling novel and film version, the largest of the Ionian islands has a magical landscape of olive and vine-covered hills and sandy beaches lapped by turquoise waters.
Local agent Paul Hitchen of Vinieris Property said that with the strength of sterling, he expected enquiries to increase considerably.
"We have properties to suit all budgets and requirements, and because there is no mass development in Kefalonia, prices have stayed pretty static since the crisis." He added that "some negotiating was possible" due to the exchange rate and some people wanting to repatriate.
Kea
This lesser known Cycladic island, a two hour ferry-hop from Athens, has a varied landscape, with olive and vines covering the herb-scented hillsides and is a possible place to hunt for bargains; I heard of a small townhouse priced at €6,000 in the historic town of Hora overlooking the Aegean.
Here also Christos Liodakis of Kea Villas has a small complex of charming two-bed villas surrounding a pool priced at €200,000 for 100 sqm and fully furnished in cool contemporary style.
"There are a lot of foreigners looking for what we call 'dead bodies' but prices won't fall more," he said.
Santorini
The Cycladic island popular with honeymooners has never had it so good. It's now on the Asian 'bucket list' and the Chinese are in love with the crescent-shaped island with its dramatic cliffs iced with white townhouses falling to the dark-blue waters of the Caldera.
Business was thriving in the shops overflowing with designer goods and the chic cafes packed with people. I was told that cliffside rooms with views can (still) cost €1,000 a night.
Leptos Estates have a small collection of link detached villas at Monolithos from €430,000 including taxes. They quote possible rental yields of 5-7 per cent due to high demand.