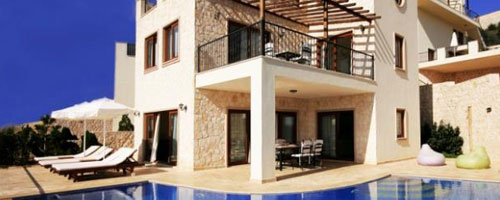 With Europe's Mediterranean countries in dire economic straits, where can Brits go to escape "Austerity Britain" and find their place in the sun? Turkey, that's where, says Chris Baker, the owner of a second home in the resort of Didim.
Over the past decade, Turkey's value-for-money has drawn British holidaymakers in their thousands. Now, worried about making ends meet in the UK, increasing numbers of pensioners are making that holiday permanent.
It's easy to see why. Although property can reach UK prices in the hotspot areas of famous resorts like Bodrum, Alanya and Antalya, in Didim and its surrounding area on Turkey's Aegean coast, you can still get a luxury two-bed apartment for £30-40k; or a four-bed detached villa for £120k.
The cost of living is equally attractive for property hunters; £160 comfortably covers an entire month's shopping for an average couple, with electricity at under £20 a month and council tax as little as £30 a year!

Marian Blohm retired to Mavisehir Bay in 2008 after buying a four-bed villa for £55,000.
"I wondered what my Turkish neighbours would make of me, being a single woman, but I needn't have worried; they're lovely people," she says.
"I used to miss my central heating in winter, but, if I'd stayed in Preston, it would have been too expensive to run. Now I've got a wood burner which heats the whole house, and at a fraction of the cost in the UK."
Linda and Joe Dudley, on the other hand, are currently renting a prime-location duplex by Altinkum's second beach for just 460 lira (£220) a month.
"We bought a holiday apartment four years ago, but it wasn't suitable for our pets when we retired, so we sold that and rented this for the garden, while we find exactly what we want."
Despite their lack of Turkish, Linda and Joe have no communication problems. "Where we are, everybody speaks English. Further into town it can be harder, but it's never a problem; the Turkish people are so friendly."
Pam and Richard Johnson, originally from Southampton, agree. "We carry a phrase book around, that helps a lot, though in the banks and restaurants everyone speaks English, even the checkout girls at the supermarket."
Pam and Richard spend half the year in their penthouse apartment, enjoying all the benefits of a gated complex with pools, restaurant, Turkish bath and gym.
"Life in the UK was so stressful. Here it's exactly the opposite. It forces you to slow down, to adjust to retirement; the people do that; they're fantastic. And there's nothing you can't get, if you shop around."
Along the coast in Akbuk, residents Peter and Josie Penfold are living the dream in their four-bed, four-bath mini-mansion, with swimming pool, rose garden and panoramic sea views. It cost just £120k.
"We weren't impressed with Spain and we knew Turkey because our daughter has a villa in Kalkan. The only thing we miss is our family, but, with budget airlines now on stream, we and they can pop back and forth more or less at will."
Practical Retirement Advice for Turkey
Beware unlicensed estate agents, suggest Pam and Richard Johnson.
"Seek recommendations and check out web forums to try to ensure that the one you choose is bonafide and reputable."
There are no survey requirements; if the property is re-sale, you buy as seen, so get an independent survey done.New-build and off-plan sales normally come with a ten- year structural guarantee, according to Ramazan Koseoglu of Prestige Construction Ltd.
"It is standard practice in Turkey for both parties to use the same lawyer, who acts as an arbitrator. However, as that lawyer will almost certainly be working with the constructor/seller on a regular basis, independent legal representation is strongly advised."
A resident's visa is needed to live in Turkey. Marian Blohm has a renewable one-year visa, although longer terms are available. "You can't import your belongings or get a telephone/internet landline without a resident's visa."
Peter and Josie Penfold imported their furniture, but wished they hadn't. "With the duty charged together with removal costs, we would have been better off disposing of it in the UK and buying new here."
Bringing pets to Turkey is no problem. The Dudleys imported theirs through DEFRA. It cost £325 per cat, plus injections and chip, door to door.
Transferring your UK pension is easy too. It can be paid directly into your Turkish bank account and is not subject to tax. Alternatively you can simply draw it from your UK account using your bank card. Savings rates in Turkey are currently 7%+, well over double anything UK banks have to offer.
The Dolmus (public minibus) is the ex-pats' favoured method of transport. Only the Penfolds currently have a car: costing about the same as in the UK.
Healthcare is an obvious issue, although even private treatment can be remarkably affordable. An emergency home visit by a private doctor, complete with ambulance, driver, nurse, portable ECG and full examination, costs 200TL (approx. £70).
Linda and Joe's daughter had an iron railing extracted from her leg - total cost, including hospitalisation, X-ray, anaesthetic, stitching and tetanus shot, again around £70.
A visit to the local general hospital for a heart check-up, including ECG, blood tests etc costs just under £6 (£38 for tourists), paid on admittance.
With all your favourite soaps and football available on Sky TV, Turkey really can be a sunny home from home. Would any of those interviewed go back to the UK? The answer was a unanimous and resounding, "not on your life!"