Kathy Goodwin, 62, wanted a change of scene so she moved from Reading in Berkshire to a rural property near Olvera in Andalucia. The keen tango dancer bought the three-part home for £235k after meeting the agent at A Place in the Sun Live.
"I'd been travelling for a couple of years and decided to move to Spain quite suddenly after hearing a conversation about a £200k house in my hairdressers. I was impressed by what I might get for my money. I'd split up from my husband in 2012 and was seeking to buy my own property somewhere new.
"Preferring the idea of a home in the 'real' Spain than on the Costas, I nearly didn't go the Birmingham exhibition as I assumed many agents would be selling coastal homes. They were, but luckily I found Olvera and they offered all sorts of interesting properties. I was after a project!
"I had a look around Andalucia but was always drawn back to Olvera, which is around 40 minutes from Ronda and just under 90 minutes from Malaga and the coast.
"The property I found consists of three buildings - a three-bedroom main house with a spiral staircase leading up to a rooftop terrace; a two-bed guest annexe and a little two bedroom chalet. There's also a massive terrace, olive grove and 12,000 sq metres of land.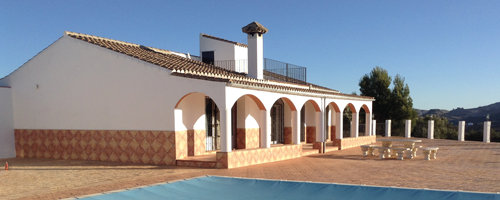 "It cost €300,000 (£235k) but I am spending some money upgrading the guest annexe so it is a nice place to stay. I'm not very good at DIY but I am using builders and my fluent Spanish is helping in this - a bit! I don't think I'd manage out here if I didn't speak Spanish well.
"It has amazing views of the mountains and I can often see vultures circling. It is wonderfully peaceful, but it can feel a bit cut off - and a long way from the coast. I have a dog to keep me company - it's a 20-minute walk into Olvera.
"I did actually get to know my neighbours in my cul de sac after my house was burgled. It was when I was driving all my stuff over - they stole the stereo, water heater amongst other things that the previous (English) owner left for me. So it turned out to be a way of introducing myself to the locals - all Spanish.
"I love tango but sadly there aren't any opportunities locally - I have to travel to Marbella or Malaga to dance. I recently went to a tango festival in Seville. I have joined the choir in the next town, I play squash and am also learning paddle (a cross between squash and tennis) so I am quite active. I'm looking forward to getting the place sorted so I can have people to stay."