In the second part of a mini series on our favourite Costa, Richard Way provides an essential overview to the various areas of Marbella to suit all budgets.
From aristos' hideaway to hang-out for oiled up The Only Way is Essex stars, Marbella is still very much the place to be seen dangling the keys to your place in the sun.
Sixty years after the celebrated Marbella Club began luring international nobility and Hollywood film stars to a sleepy corner of Spain, Marbella has mushroomed into a string of swish residential areas, some exclusive enough for the global jet set, others more affordable, but all close to a marina, beach and golf course.
Like all hot spots along the Spanish Costas, the Marbella district took a hit in the downturn, but its strong international appeal, particularly with Brits, means it is emerging ahead of the curve. Not surprising, given it includes Puerto Banus and the equally famous Golden Mile, and is deemed the crown jewels of not just the Costa del Sol's but Spain's foreign home market.
"Marbella is a property market unto itself, driven by overseas buyers," said Melanie Dolan Warwick at Dolan Estates, based on the Golden Mile. "Homes here remain highly sought after amongst the world's wealthy, so prices don't track those in other parts of Spain."
According to figures from the Spanish National Statistics Institute, the property market in the Malaga province outperformed the country as a whole in 2014, with sales there up by 14.6 per cent year-on-year.
Much of this growth would have been down to Marbella, which falls within Malaga and where prices are no longer falling in prime areas. This partial recovery is thanks to the glut of unsold properties left over from the crash being largely snapped up and very little new stock coming to market.
So where do you start your property hunt in Marbella? Barbara Wood of The Property Finders sheds lights on the most desirable areas: "Most people are familiar with the Golden Mile as prime five-star territory, but these days we talk as much about the Golden Triangle - formed by joining up Los Monteros and Guadalmina along the coast with Benahavis inland."
Outside this triangle, your money stretches further in one of the communities in eastern Marbella, including Elviria, El Rosario and Cabopino. We take a closer look.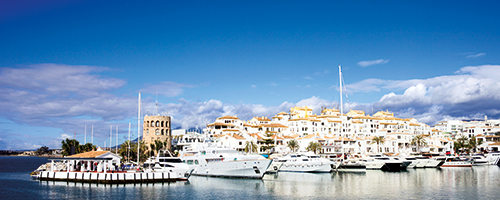 Puerto Banus
What's it like?
Puerto Banus is not just any marina complex - typical boats there belong to the world's mega-wealthy, including King Fahd of Saudi Arabia. Since being built in the early 1970s, in a traditional Mediterranean style, 'Banus' has been a playground for the world's rich and famous - and their inevitable onlookers.
Each year, an estimated five million visitors flock to the marina, most to experience the swanky bars, clubs or boutique shops that fan out from the waterfront. "Banus is as much an entertainment and shopping hub as a residential area," said Clive Saxby of estate agency Marbella Dream Living. "But there are those who do want to be as close as possible to the action."
What you get for your money?
Location, ie proximity to the marina and beach, is key in 'Banus'. The most sought after apartments in luxury complexes can easily start from around €1,500,000 - an example being the frontline Los Granados complex. But if you can do without a view and don't mind being a stroll away from the centre, prices fall as low as €250,000-€300,000 for a two-bedroom apartment on an established complex.
You may find what some agents describe as being in Puerto Banus is regarded as Nueva Andalucia or the Golden Mile by others."In Banus, like most of the Marbella district, a 10-minute stroll can mean a difference of a million or more euros," said Laura Richards of SpainBuyingGuide.com. "Of course, location and quality will reflect this."
click to search property in Puerto Banus
Nueva Andalucia
What's it like?
A firm favourite with British owners, Nueva Andalucia is essentially an inland, more residential extension of Puerto Banus. It is also known as 'Golf Valley', thanks to much of it built around three quality courses, namely Las Brisas, Aloha and Naranjos, all within five minutes of each other.
With a strong pound looking likely for the foreseeable future, British buyers should continue to be the drivers of sales in Nueva Andalucia. Its bars, restaurants and amenities are geared towards expats, who are treated to a weekly Saturday market at the Centro Plaza shopping mall. "If Puerto Banus is the playground of the Costa del Sol, then Nueva Andalucia is the lounge area," remarked Raquel Perez of Perez Legal Group, based in Marbella's old town. "The vibrancy of Puerto Banus is a ten-minute walk away but the noise and the crowds rarely venture this far inland."
What you get for your money
These days, property in Nueva Andalucia is predominantly resale - there's very little land that hasn't been developed there, including up as far as the AP-7 motorway, which marks the northern edge of Nueva Andalucia. As expected, properties overlooking a fairway are de rigueur here.
Melanie Dolan Warwick at Dolan Estates sheds more light: "There's every type of home to choose from, from apartment complexes and townhouses to luxury private villas, with prices to suit different budgets. For example, right now we're selling a nice townhouse there for €260,000."
Meanwhile, a typical 'Golf Valley' villa is available through Marbella Dream Living for €585,000. Recently renovated and with three bedrooms, it's on a gated community near Aloha Golf which offers 24/7 security and extensive facilities.
click to search property in nueva andalucia
Golden Mile
What's it like?
As exclusive as it gets, the Golden Mile is the four-mile stretch that runs between the eastern edge of Puerto Banus and western edge of Marbella town. Between the glitzy restaurants and palatial villas, famous landmarks include the original Marbella Club Hotel, the Puente Romano Hotel and Palace of King Fahd. Until more recently, most development was sandwiched between the sea and AP-7, maintaining the area's exclusivity.
More recently, communities have spread across the motorway. "Across the AP-7 and in the foothills, is the Sierra Blanca community, arguably Marbella's most exclusive address and on a par with La Zagaleta," said Clive Saxby of Marbella Dream Living. "Most properties there are multi-million-euro luxury villas, with mountain backdrops and stunning sea views."
What you get for your money
Sumptuous villas line the seafront here, but head inland and the price falls of recent years mean you can find more affordable options. "Frontline is everything on the Golden Mile and prices reflect this," said Melanie Dolan Warwick at Dolan Estates. "So prices in prime locations start from €400,000 reaching up into the multi million euros. However, being off the frontline brings prices down. We have two-bedroom apartments, suitable as holiday pads, for around €210,000, otherwise for something larger and more residential, you're looking at €300,000-plus."
click to search property in the golden mile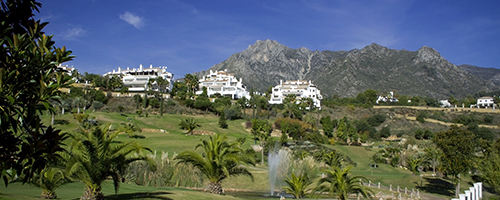 Marbella East
What's it like?
East of Marbella town are a selection of low-density residential areas connected by green zones, golf courses and sandy stretches of beach. Buyers will usually opt to be close to the beach or inland on the mountainside of the A-7 main road.
The most popular community with British buyers is Elviria, but others include Rio Real, Los Monteros, El Rosario, Las Chapas and Cabopino.
Elviria includes two golf courses - Santa Maria and Elviria Hills, and stretches as far inland as the AP-7 motorway. Its popular beachfront is home to the Nikki Beach and Beach House beach clubs, while owners further in the hills will be closer to the main commercial centre and other amenities. Apartments and townhouses make up most of the market in Elviria.
Meanwhile, Los Monteros is a predominantly luxury villa area, centred around the Los Monteros Hotel and stunning La Cabane Beach club. But things become more affordable again on the eastern edge of Marbella district, namely in Cabopino, with its cheerful marina and family friendly beach.
What you get for your money
In contrast to the highly sought after Golden Triangle, there is still downward pressure on prices in the less exclusive Marbella East area, which means reductions are still on the cards. Barbara Wood of The Property Finders said: "I am still seeing properties being slashed in price in the east of Marbella, for example in Calahonda, Mijas, Elviria and El Rosario, and this is not the case in prime areas on the western side."
Agency Engel and Volkers recently highlighted the three most sought after developments in Elviria. First is Elviria Hills, which includes a lake, nine-hole golf course, Michelin Star restaurant and nine pools.
Next is Hacienda Playa, a beach complex next to the famous Nikki Beach Club, with excellent access to amenities and where a three-bedroom corner apartment is available for €699,000. And thirdly, there is White Pearl Beach, a front-line beach complex with sea views, tropical gardens and a heated pool - there, discounted apartments are available from €199,000.
click to search property in marbella east
Naguelles - a hidden gem?
Increasingly popular with British buyers, predominantly expats who prefer more Spanish surroundings, is Nagueles. A kilometre inland across the A-7 motorway, it's next to the exclusive Sierra Blanca urbanisation, and while it shares its neighbour's elevated, tranquil location, its prices are considerably more affordable.
"I've just moved into a house there with my husband and four-year-old," said Melanie Dolan Warwick at Dolan Estates. "It's close to Puerto Banus and Marbella centre, and just 20 minutes' walk from the beach - uphill coming back, mind you. We also have a lovely park and are at the foot of the Sierra Blanca Mountains. We sell apartments in Nagueles from €200,000, or townhouses from €245,000, as well as villas."