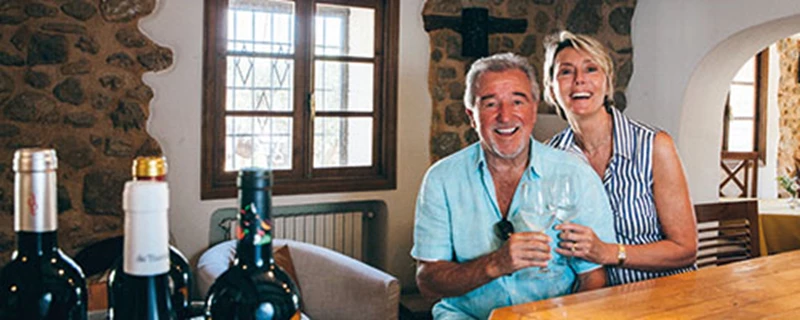 On the pitch Terry Venables would sneer at bookings, but these days the former England football manager accepts them with open arms - by phone, email or in person at reception!
Last October Terry (or 'El Tel') and wife Yvette opened their own boutique hotel, housed in a former hunting lodge and set within a 500-acre estate an hour inland from Alicante. The couple spent at least a year creating their perfect hideaway, which was being used as a rustic 18-room hostel when they bought it nearly 20 years ago.
"Back then we were looking for a place on the coast and someone suggested we take a look at it as they thought it could make a wonderful house," Terry told A Place in the Sun. "When we saw it, we thought it was lovely and in such a fantastic location we decided to go for it."
Terry and Yvette first fell for Spain during the mid-1980s, when Terry was manager of Barcelona. Since then, they've been making regular trips to the Costa Blanca and their faces have become especially familiar in the beach resort of Javea, where Yvette's mother has a villa.
However, a busy football career, including Terry's successful stint as England manager, combined with uncertainty over what to do with the hostel and unfavourable market conditions meant redevelopment plans for the hostel stalled.
"At the time, I was too busy with football to actually do anything with the property," continued Terry, who grew up in East London and before becoming a manager was the first player to represent England at all international levels. "And over the years the ideas changed as to what we would do with it. Then the crisis hit and the big scheme was not an option so we decided to turn it into a boutique hotel."
The 'big scheme' refers to Terry's short-lived master-plan for a huge sports resort at the site, which he put forward in 2010. Similar to internationally acclaimed La Manga in Murcia, it would have included football pitches, tennis courts, a golf course, hotel and private residences.
As it is, El Tel is more than satisfied with how things have turned out - La Escondida is an idyllic rural bolt-hole, a kilometre from the village of Penaguila and in a stunning location on the edge of the Font Roja National Park.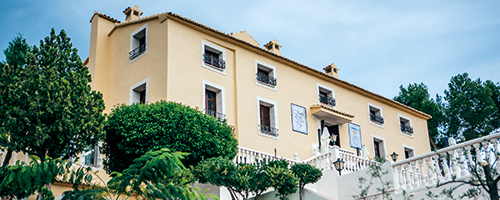 Deluxe double rooms there start from £140 per night, including breakfast. Local craftsmen were employed for the restoration, which included bringing back to life original beams, stone walls and floors. The whitewashed bedrooms have been furnished to reflect the natural tones of the countryside.
"We've turned it from 18 small rooms to 10 suites and built two cabins in the woods," continued El Tel, who is a big fan of tapas. "We have also added a large outdoor pool and completely refurbished our indoor pool and spa rooms. The main hotel is finished, but there are a few bits we need to add in the gardens, including a pergola for weddings and a sheltered area next to the pool. If the cabins are a success we hope to add a few more of these. They're a bit special as they are separate from the hotel and have wood burning stoves and their own gardens, so they give the feeling of really being in the country - very romantic!"
Terry and Yvette are especially proud of the restaurant they have created, which allows for al fresco dining on the terrace. The kitchen is headed by Michelin-star trained chef Darren Bunn, who they recruited along with his assistant from one of their favourite restaurants back on the coast. The menu includes simple tapas and Mediterranean dishes, using fruit, vegetables and herbs that are freshly picked from La Escondida's own garden.
It's often the case that celebrities invest in hotels around the world but hand over the management to someone else. Not the case with Mr and Mrs Venables.
"Yvette runs it," confirmed Terry, who speaks and understands Spanish well. "I am obviously involved to a huge extent too, but she is the one who deals with the managerial side. We used to spend a lot of the year at my mother-in-law's place in Javea, but now we have the hotel we're here most of the time and a few weeks there. We also spend time in London."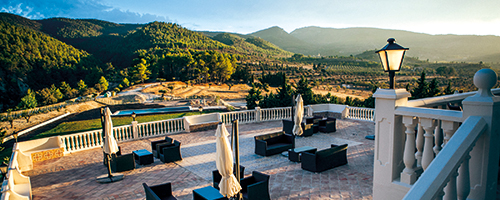 For guests at La Escondida who tire of the pool and Spa, the hotel's rural location means walking, fishing, mountain-biking, horse-riding and even shooting can all be arranged - part of the New Year celebrations there included falconry. The luckier ones out for a ramble might spot a wild boar, deer, eagle or even the rare Iberian lynx.
Golfers are only a short drive from a selection of courses, but don't expect to see Terry on the fairway: "I never had time for golf - four hours is a long time out of a day. I enjoy other pastimes. I really enjoyed writing when I was younger and now I like to walk, read and relax when I am away from the hotel."
Looking to the future, might Terry be interested in opening another hotel, perhaps in Barcelona, an area he knows well from his three-year spell there, or Australia, another national team he has managed? "One hotel is enough," he said. "I had a wonderful time in Barcelona but am very happy now in the peace of the countryside." That's a red card for that idea then, and who can blame him.