Malcolm and Annette Jones, from Horsham in West Sussex, bought a three-bed apartment in Tavira last summer for €195,000 (£154k). Here Malcolm, 60, a retired HR director reveals how they ended up there.
Why did you decide to buy in Portugal?
"We'd been looking to buy somewhere in the sun since 2010. We had intended to buy in Spain, especially in Moraria on the Cost Blanca, but a nasty incident with burglars in our rented villa forced a change of tack."
"We had a friend who'd retired to a home near Albufeira on the Algarve so we soon identified Portugal as our goal. We found it more culturally intact than the Spanish Costas and quieter too."
"With a budget of £200,000 - we aimed to downsize in the UK to free up some equity - we started looking around Silves which was nice but my wife and daughter (Kate aged 17) wanted to be near the coast."
"Seeking a place with character close to the beaches, we found Tavira, a lovely little town with a Roman bridge across the river and pretty little squares. There were no discos or nightclubs, and it wasn't too crowded."
What type of property were you looking for?
"We could have bought a sizable house for £200,000 ideal for permanent living but we were seeking an easy to maintain, secure lock up and leave property."
"A pool and garden can be a hassle to look after and expensive too so we looked for a small complex within walking distance from the restaurants and shops of Tavira."
Did you find a property?
"We ended up buying a three-bed apartment six or seven minutes from the centre in a block of just eight units in the old part of town. It stood out because of the truly superb finishing - we did view about 50 options in total. It cost €195,000 (£154k) but with furniture and buying costs it all added up to around £200,000."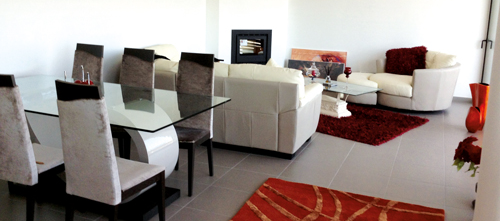 "It is very well laid out with the bedrooms on the shady east side and a wonderful balcony that runs along the kitchen and lounge on the west side. We have Finnish and Portuguese neighbours, which is nice."
Why Tavira?
"Tavira is well positioned, just 25-30 minutes from the airport and only 15-20 minutes to the Spanish border which makes a great little day out. Ikea is in Seville - somewhere I try to keep my wife away from! The railway that runs along the length of the Algarve is also great - to the airport or over the border to the medieval town of Ayamonte."
"It's a very easy place to visit for the weekend - we love it so much so we go quite often, and restaurants can be very affordable. We are even learning Portuguese too!"
Find more properties around Tavira>>>

(This article was first published in A Place in the Sun magazine - Issue 120)