It was the No. 1 Turkish province for overseas buyers in 2014. Richard Way takes a tour of the area and finds out why...
Sweeping beaches, world-class golf, ancient ruins and colourful cities - it's easy to see why Antalya attracted more foreign property-buyers in 2014 than any other province in Turkey (according to Turkish government figures). Tourist numbers were up 3.5 per cent too, thanks largely to the city of Antalya, regarded as Turkey's largest coastal resort and recently ranked the world's third most visited city.
"Antalya has the second busiest airport in Turkey, with the number of international arrivals constantly rising," said Julian Walker, director of agent Spot Blue International Property.
"It not only serves the city, but it's also the gateway to the popular Mediterranean resorts of Belek, Side and Alanya to the east." Access for Northern Europeans is improving too, as Gazipasa Airport, 30 minutes east of Alanya, offers increasing flights from Scandinavia, Germany, Belgium as well as the Middle East, although direct services from the UK are yet to be launched. "We completed an expansion of the airport terminal last year, tripling our capacity to 1.5 million passengers," said Murat Sen, vice president of TAV Gazipasa-Alanya Airport. "And we expect to finalise the extension of the runway by May this year."
Whatever your taste in property, somewhere along this exciting stretch of coastline should tick the right boxes. We take a closer look at the different - and contrasting - resorts.
Antalya
A thriving metropolis with a population of 1.5 million, Antalya combines the vibrancy of an international city with the fun of the beach, so suits young couples or single people more than families. "The city is built along a very long stretch of sand - Konyaalti Beach to the west and Lara to the east, so it's a bit like a small-scale Miami," said Cameron Deggin, director of PropertyTurkey.com. "It also has investment potential. Antalya is one of Turkey's wealthiest cities with a constant stream of professionals looking for luxury accommodation, pushing up prices as well as rental prospects."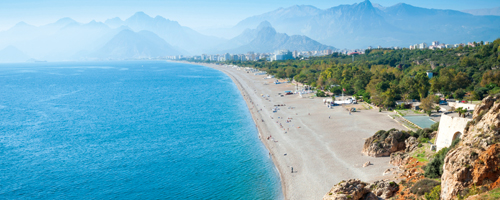 Exciting news for the Konyaalti area - a favourite with foreign owners, are plans for a chic marina development, known as the Bogacay Project and funded by the Turkish Government. "It is without doubt the most prestigious project to be undertaken in Antalya," continued Deggin. "Konyaalti is already Antalya's most up-market area and with this project it is likely to elevate itself even further. From an investment viewpoint my money would be on here for sure." Apartments are the bulk of the market in Antalya, typically on complexes of five to six storeys and with all mod cons. Prices range from as low as £60,000 to £500,000 for large beachfront pads. For a quality apartment just a 10-minute walk to the beach and a five-minute drive to the city centre, expect to pay £100,000-£150,000.
Belek
Half an hour drive east from Antalya Airport is Turkey's golfing centre Belek, which boasts a 10-kilometre stretch of beachfront, fringed by four and five star hotels. The dozen or so championship golf courses run the length of the coastline, and behind the fairways privately owned residences stretch inland in neat rows. "Belek is a young resort, constructed more or less from scratch that has grown as golf tourism has taken off," said Walker at Spot Blue International Property.
"Most properties here are apartments on small low-rise complexes or villas, reached via the main road that runs between the hubs of Belek and Kadriye, and typically 20 minutes' walk from the beach. There is a strong year-round rental market there, thanks to the golf." Budget £150,000-£250,000 for a three to four-bedroom detached villa, or £100,000 for a quality two-bedroom apartment.
Side
Centred around its pretty fishing harbour and peninsula, and incorporating some of Turkey's best preserved Roman ruins, Side is a friendly family oriented resort that is especially popular with Britons, including retired expats. Treasured as a historical site means development is controlled and low-rise. As well as Side, the nearby villages of Ilica, Kumkoy, Colakli and Evrenseki, are also popular with foreign owners.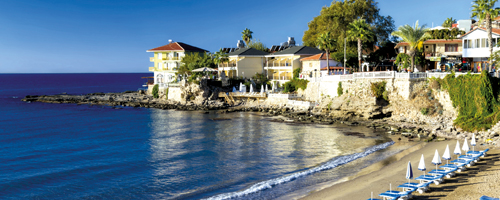 "Two and three bedroom apartments in small, well-equipped family complexes are typical there," said Deggin at PropertyTurkey.com. Prices range from £70,000 to £180,000 and homes tend to be around 20 per cent larger than comparable apartments in most other Turkish resorts and build quality there is particularly good too. Detached villas with private pools are around the £250,000 mark."
Alanya
Contrasting with Side, high-rise apartment blocks fringe the beaches that run for tens of kilometres either side of the city of Alanya, which fans out and up the surrounding hills from its historic centre, complete with ancient castle and harbour. Like Antalya, Alanya is a busy working city so is not seasonal and would suit buyers seeking a year-round destination.

Especially popular with Scandinavians and Germans, and increasingly Brits, the area of Mahmutlar, east of Alanya city, is a key buying area. Here, towering beachside complexes make up the bulk of the market. "Most purchases are two-bedroom apartments in the price bracket of €50,000 to €80,000," said Tom Richard, director at Ripo Homes. "But they can be found from €35,000 (£25,721). Prices in Alanya, particularly in the Mahmutlar area, are generally lower than Side, Belek and Antalya."
Next to Mahmutlar is Kargicak, a tropical area overlooking the beach where hillside homes come with sea views. For more options, follow the beach west from Alanya city to Konakli, with its beachfront hotels and residential complexes, or Avsallar, both offering a laid-back beach lifestyle with an authentic Turkish edge.
If access to Alanya's centre is a priority, consider the hillside area of Oba on the edge of the city - property there usually comes with stunning skyline and sea views.
Richard Way
(This article was first published in A Place in the Sun Magazine Spring 2015 issue 121)