History, harbour views and investment potential, the three main reasons to consider Malta.

Many property hunters head to Malta for the rich history as much as the climate, beaches or low taxes. It is an island that offers something for everyone in terms of housing - whether you seek a secluded farmhouse, ancient 'house of character' or slick contemporary apartment (all three popular options for overseas buyers) it has them all. But an increasing number of buyers are seeking properties in the heart of north Malta's ancient cities - not just in Valletta where we featured a British purchaser in our last issue - but also in the so-called Three Cities.
There are three inlets of the Grand Harbour opposite Valletta on Malta's north coast and between these can be found the three cities of Cospicua, Senglea and Vittoriosa (also known as Birgu).
This is the cradle of Maltese history, with the harbour in use since Phoenician times and also the first home of the Knights of St John. Whilst an area popular with tourists or yachties (there's a stunning Camper & Nicholson world-class Grand Harbour Marina at Vittoriosa that has been extended) this corner of Malta has generally remained below the radar of property-hunters and investors - until recently. According to Nick Bilocca of Frank Salt estate agency, there's been a sudden growth in interest in this area from both locals and overseas buyers because of its potential.
"The Maltese have not really appreciated the value of the area but in the past couple of years they have begun to see that is offers a lot," he says. "Prices are going up: we sold a townhouse in Senglea for €130,000 that sold six months later for €180,000." There's been improvements made by the government to these waterfront areas [the extension of the marina, new promenades and a new residential development] and even though there are great sea views, the properties are relatively affordable when compared with St Julians/Sliema. Eighty per cent of the stock is historic - townhouses and palaces oozing with character."
Although not technically one of the Three Cities, the neighbouring area of Kalkara is riding this spike of interest. "The SmartCity development being built in Kalkara is the Med's own Silicon Valley and helping to boost the area," he says, referring to the technology park cum media city that is being built on an old industrial site and is due to be completed in 2021. Kalkara has a beach, but lacks the character of the Three Cities.
Vittoriosa: winner so far
Of the three areas, Vittoriosa is seen as the most exclusive by the Maltese and is the most developed and thus expensive, according to Bilocca. "It's got more high-class restaurants and cafes - in a stretch that is extending into Senglea and improving the waterfront there too."
Containing many architectural treasures - it was the first home of the Knights of St John in 1530 and contains their palatial inns of residence, or auberges - the tip of the promontory boasts the Fort St Angelo, one of the island's oldest fortifications. It's here where a waterfront residential complex, the St Angelo Mansions, was built as part of the regeneration of the area, and it's become a sought-after spot for rentals, investors and also lifestyle buyers.
One of these is Pauline Milliner from Poole in Dorset, who with her husband Robert, purchased a three-bedroom apartment there in August 2014. It's where they hope to retire to in the future but a family holiday home in the meantime. "We've always found the lack of language barrier so refreshing in Malta [English is widely spoken] as well as the history and the culture," says Pauline, 52.
With a budget of £500,000 they knew they couldn't afford seafront (without lots of refurbishment) in Sliema/St Julians area, and actually preferred the history of the Three Cities."Coming from Poole, we loved the idea of living on the harbour - at home we aren't - and being able to watch the fishing boats, cruise liners or super yachts ebb and flow. We can even fish off the quayside near our apartment."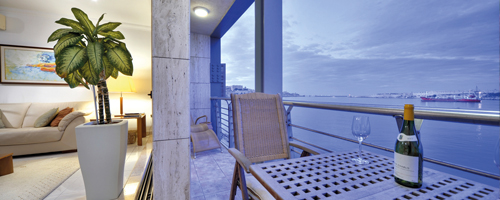 There are two-bedroom maisonettes for sale at St Angelo's Mansions for €230,000 but most of the available offerings are three-bed apartments available for €350,000 to €400,000, ones with the best views around €500,000 plus, although there's a top-floor property with four bedrooms and verandahs for over €1 million (franksalt.com.mt). A parking space usually comes with the properties, which are finished to a high-spec and served by a lift.
Next up, Senglea
As mentioned above, supply is drying up in Vittoriosa, prices rising, and this effect is beginning to extend into its sister city next-door - Senglea. "What was happening in Vittoriosa five years ago is now happening in Senglea," says Bilocca. This little city sits on a narrow promontory across the creek and enjoys great harbour views across to Valletta.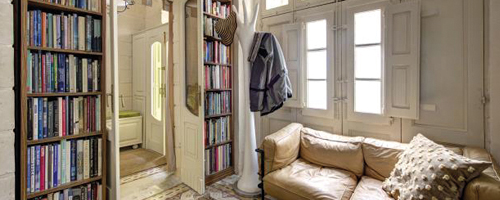 A typical apartment in reasonable nick but slightly dated costs around €200,000 (£146k). In one of its popular streets, there's a three-bedroom townhouse available for €122,000 (£89k). In good structural condition, it needs upgrading and would be a good investment project. It currently offers two generous bedrooms and a roof terrace offering superb views of the Grand Harbour Marina and Vittoriosa waterfront.
To give you an idea of the scope for adding value, there's a three-bedroom townhouse that has been beautifully restored available for €825,000 (£604k) through Perry (perry.com.mt).
Cospicua: its time will come
The largest but most affordable of the three Cities, it's also still known as Bormla, the moniker it enjoyed before being renamed by the Knights of St John after the Great Seige of 1565.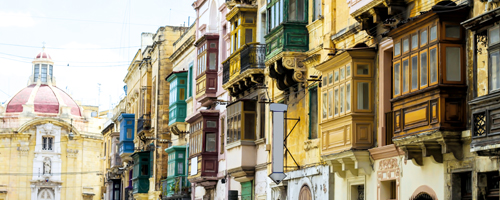 Most of the shoreline is old dockyard, an area being restored and developed into a marina and there's a newly refurbished waterfront promenade. It's here (or similarly in Senglea) that you can buy a seafront townhouse within walking distance of restaurants and the Grand Harbour Marina, for around €350,000-400,000.
With 300 to 400m2 of living space and a small garden, these are large properties with so much potential. Frank Salt have one on offer with plenty of original features, and a garden.
(This article was first published in A Place in the Sun Magazine Spring 2015 issue 121)