Which area? How to search? How to buy? Everything you need to know about property hunting in Florida
The State of Florida

Why buy a holiday, retirement or permanent abode in Florida? For many, it's a no-brainer. The Sunshine State's only eight hours away, and has a blissfully warm Caribbean climate, first world economy and infrastructure. For those keen to rent their homes some or all of the time.
Florida (which means 'flowery' in Spanish) attracted a record number of tourists in 2013 - a whopping 94.7 million in a year. Also, property that would be considered luxurious by British standards is hugely abundant and highly affordable.
So, why wouldn't you choose Florida - particularly now when you can pick up a three-bed villa for as little as £100,000, and with prices in many parts of the state still below the pre-economic crisis peak even though the recovery is in full swing.
After all, clever purchasers know that all the reasons why everyone wanted to be there in the first place (superb climate, beaches, theme parks, golf courses and plenty of green space) still remain. And with hugely moderated prices, there are great opportunities on offer in this popular southeastern region of the United States of America.
Climate

Florida's not called the Sunshine State for nothing. The sun shines gloriously all year round, and in the southern sector of the state the temperature rarely drops beneath 15 degrees Celsius in winter and hits 30 degrees during the summer. The climate's described as 'humid subtropical' and becomes a great deal more tropical in the Keys. Snow's virtually unheard of, although thunderstorms can be frequent, particularly in the spring and autumn. Also, keep in mind that hurricanes can be a menace, and the weather can shift from one thing to another quickly.
Proximity to the UK

A key reason for buying a home in Florida is that there are a great number of flights jetting out there from the UK every day of the year. Orlando's ranked as one of the 30 busiest airports in the world, handling over 30 million passengers annually and with a good choice of airlines, such as British Airways, Virgin and Continental. Miami handles over 33 million passengers, and is a hub for flights to the Caribbean. During holiday seasons, you can add many charter flights from around Britain - many going to smaller Orlando Sanford airport, 18 miles northeast of Orlando. Flight times are approximately eight to nine-and-a-half hours and return flights are from about £350. For trips to the USA under 90 days, British citizens need only a full machine-readable passport. Visas currently are not required, although this could change in the future.
Infrastructure

Florida has slick super-highways, shopping malls galore, top-notch communications and telecoms services, and sophisticated health facilities. It's important to note, however, that proper medical insurance, which can be expensive, is highly advisable. Some companies, including Mainstream Insurance, have special medical insurance plans designed specifically for newly arrived Brits. Education is good in the state of Florida, with locals typically sending their children to the local state schools.
Value for money

You get a lot of bang for your buck in Florida, especially with the current strong pound to the weaker American dollar. And with governor Rick Scott having recently claimed [September 2014] that he's turned the state around in his four years of office - lowering unemployment, upping employment creation and improving economic growth and progress in education - you can see many of the Floridian population of 19.5 million and outsiders wanting to put their money there.
Toleration of foreigners
Because of its diverse historical ethnic mix and large number of foreign visitors to the theme parks, Florida's used to a wide variety of people within its borders. To give one example, Jacksonville alone has a cultural cornucopia of native Timucuan Indians, French Huguenots, Spaniards, and African and Hispanic Americans. And of course, Florida remains massively popular with Britons. It's estimated about 400,000 Brits live in the Sunshine State.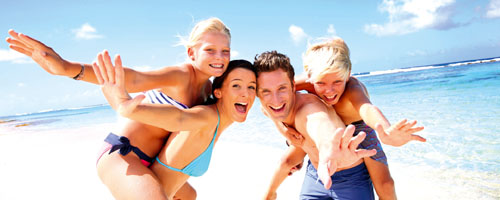 Popular areas of Florida

Contrary to popular opinion Florida's not just about tangerine-tanned tourists and that infamous mouse with the big ears. Even though a large chunk of central Florida's dedicated to the tourist trade, there are also alligator-filled mangrove swamps in the Everglades contrasting with Miami's uber-groovy South Beach, where bikini-clad babes rollerblade in front of Art Deco buildings.

In Florida, you're never very far from a body of water of some sort, from the Atlantic, Gulf and Gold coasts, to the Keys, various lakes and canal-like inter-coastal waterways. Many buyers like the idea of a home by the water, although normally you would pay more to be near the ocean or to get a glimpse of the briny.

Those who venture away from the water, big cities and tourist hangouts will undoubtedly pay less for property. But you need to factor in the idea that it could be harder to let these homes out for high sums if you're keen on obtaining some kind of rentals income.

Fundamental locations in this large state covering 53,625 square miles include: Orlando, Miami, Sarasota, Naples, Jacksonville and Amelia Island.
Orlando

Most British buyers flock to central Florida near Orlando, close to the theme parks of Walt Disney World, SeaWorld Orlando, Disney-MGM and Universal Studios, and the Epcot Centre. Few people actually buy in the city of Orlando itself, preferring to live in one of the housing estates outside Orlando that make up one of the world's largest holiday communities.

Year-round sun, plentiful flights and a massive amount to do catapults Orlando into the number one spot for British property buyers. Many like the mix of holiday home and investment, using their overseas purchase for vacations, and renting it out the rest of the time to cover running costs. Just beware of optimistic rental yield promises when it comes to short-term rentals in the Disney area - breaking even might be a realistic goal rather than a regular income.
Many of the short sales and forecloses of the downturn years have been snapped up, yet there are still great deals to be had in Florida. The trick is to check out the location and state of the property, and to be in a position to move quickly on the best homes that you're likely to be battling for with other interested buyers. In desirable areas where any surplus inventory has dried up, such as Winter Garden, bidding wars have long returned.
Also, it's worth noting that Orlando's not just about outlying communities near theme parks. Over recent years, the historic downtown area's been spruced up, with small boutique shops, cafes and restaurants within walking distance of rejuvenated historic and new homes. Prices are generally higher than in a less characterful housing estate outside the city, but they're still reasonable.

Even in the luxury development of Champions Gate - well-positioned near Disney and zoned for short-term rentals - you can buy a five-bedroom, five-bath pool home for £250,000. That's a lot of bang for your buck.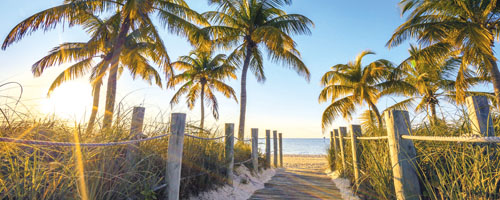 EAST COAST
Daytona, Flagler, the Space Coast

The nearest beaches to the popular Orlando area described above are to be found on the East Coast - around Daytona, Flagler Beach and also the so-called Space Coast around Cape Canaveral Space Station. Property not too far from the beach can be very affordable in all these area, when compared with the Miami area further south; or some of the Gulf coast hotspots.

In the world-famous but very well connected Daytona Beach area you can get a new two-bed, two-bath condo with water views for $195,900 (£115k).

Flagler Beach a little further north has been voted one of the "Best Small Town of America" and is more expensive - the median price of a property is $216,200 (£133k), over double that of Daytona Beach (source: zillow.com, August 2014).

The main hotspot of the Space Coast (Brevard County) is the six-mile long barrier island of Cocoa Beach where you can buy an ocean-front condo for around $399,000 (£240k) or a one-bed condo a few blocks inland for less than $100,000 (£60k). The other barrier islands are a little more expensive.
St Augustine and Jacksonville


It's hard to fathom why the largest city in Florida and largest by area in the US has remained the Sunshine State's best-kept secret. However, Jacksonville in North Florida, about 25 miles south of the Georgian border and 340 miles north of Miami, is being discovered by British buyers keen to invest, relocate or simply enjoy their overseas holiday homes.

Property bargain hunters are realising the potential of affluent Jacksonville, one of the fastest growing American regions with a major deep-sea port, US navy bases, banking, insurance, healthcare, education and logistics sectors. A typical model is to invest in a home that can be let full-time to skilled workers in the area, or to use it for about six weeks of the year and rent it out the rest of the time. Here in the north-east there are established neighbour hoods with fewer rental risks attached, as tourism isn't the main revenue stream.

Although there have been foreclosures and price drops, Jacksonville wasn't as hard hit as southern and central Florida where there's a great deal more surplus property. Jacksonville's property sales have been booming, going up 10 per cent in the year to August 2014 (zillow.com).

Not surprisingly, you'll probably have to pay that bit more to be on the Atlantic, St Johns River, or an intercoastal waterway. You'll get a smaller home for your money, but you can't go wrong in terms of retaining value and being able to sell on the property easily to others.

St Augustine, America's Oldest City, manages to charm visitors from around the world for its historic feel, its superb golf courses (like Sawgrass) and 42 miles of beaches. It's a workable city of great restaurants, good schools, independent shops, art galleries - and another of the "Ten Best Small Towns" [of America]. There you might buy a four-bed golf fronted property for $300,000 (£181k) or a two-bed oceanfront condo for $325,000 (£196k).
Neptune, Atlantic and Ponte Vedra

Beaches are great beach communities with restaurants and shops on cobbled roads, and property from $250,000 (£158,000) upwards.

Amelia Island is another lovely seaport community. One of the main attractions is the combination of Floridian palm trees and shimmering beaches with four seasons normally associated with Blighty. There's a little bit of everything here on this small island measuring only two-and-a-half by 13 miles, from history (pre-Civil War Fort Clinch), the inter-coastal river, theatres, restaurants, golf, fishing, and most of all, a good sense of community.

There's also a sprinkling of 'foreigners', including the British that love the small town vibe of this older resort. Amelia Island generally attracts the kind of folk that don't want to eat sausage and mash on the beach, preferring the annual shrimp festival. 'Regular' families come here alongside celebrities such as Oprah Winfrey and John Grisham. You can get a traditional three-bed clapperboard house for $200,000 (£120k) or a two-bed, tow-bath condo with sea views for around double that.
Miami, Fort Lauderdale
The Miami area - including West Palma Beach, Boca Raton and Fort Lauderdale - is a very different market to the north-east coast, and ever popular. Miami tourism for 2013 broke all records, with 14.2 million visitors, and the city continues to reinvent itself as an artistic and cultural centre. The recovery of the Miami property market - the epicentre of the US property crash - has surprised everyone, but now the "Latin American capital" is at the forefront of the recovery. Prices of prime property fell 60 per cent but are now back to their peak levels. Private-equity firms hovered up all those discounted condos and condo rents are up 40 per cent since 2009, so don't expect a bargain. Expect to pay $300,000 (£185k) plus for a two-bed condo in Miami Beach, although you'll pay slightly less for one on the intracoastal in nearby Fort Lauderdale. Boca Raton is a quiet, laid-back city, Fort Lauderdale more of a holiday resort, whilst Miami is a buzzy metropolis named by one local author as the "Insane City".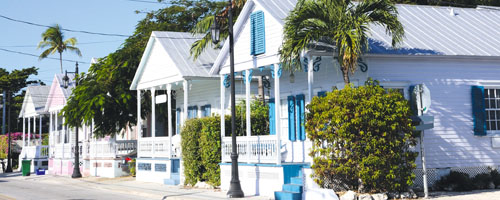 WEST/GULF COAST
Naples, Fort Myers, Sanibel

Naples, with its sun-drenched white sandy beaches on the Gulf of Mexico, great shopping, restaurants and golf courses, is popular with retirees and families. Once a small fishing village, Naples boasts the calmest seas and best 'sandboxes' (beaches) in these parts, and comes with good shops, restaurants, golf courses, boating and fishing. It's also close to the untamed wilderness of the Everglades, which is ideal for days out.

Appearing in any number of top 10 lists (such as the 10 best undervalued places to live, the 10 best American beaches ranked in National Geographic Travel magazine, and the top 10 healthiest hometowns in the USA), it's also one of the wealthiest cities in the US with the 6th highest per capita income in America.

So this is not an area famed for its affordability, although you can better value at nearby Bonita Springs, Fort Myers and Cape Coral. That said, you'll have plenty of choice in Naples if you are shopping for a condo with $100k; but expect to pay $500,000 plus for a three-bed villa in a sought-after community.

The 50-mile stretch of white-sand beaches and 100 coastal and barrier islands draws people to the Fort Myers & Sanibel area, and the region is also brimming with historical sites and culture - for examples the art galleries and craft shops of downtown Fort Myers. Meanwhile Captiva island is a hotspot for celebrity visitors such as Cindy Crawford and offers trophy homes to accommodate them. Expect to pay around $335,000 (£207k) for a Gulf-front one-bed condo In Sanibel, or for a similar amount you can get a three-bed villa in Fort Myers.
Sarasota

We have the Scots to thank for the Gulf town of Sarasota, 50 miles south of Tampa. Scottish families set sail in the mid-1800s to this once sleepy fishing village in search of fresh air, citrus groves and affordable housing. Scottish lawyer John Hamilton Gillespie built America's first golf course and the DeSoto Hotel here, as well as becoming Sarasota's first mayor.

Today, Britons still head out to art-meets nature Sarasota County, (population: 386,147) with the US number one beach, Siesta Key, as rated by 'Dr Beach' coastal scientist Stephen Leatherman, and cultural pursuits a plenty (opera, ballet, theatres and a symphony orchestra for starters) not normally associated with the Sunshine State. Émigrés will also be pleased to hear that Pine View is in the top 10 of American high schools.

There's something for everyone in Sarasota, from private and 40 'pay as you play' public golf courses, to beaches, walking trails and lectures from the likes of Tony Blair, Bill Clinton and Maya Angelou. Equally, there's housing to suit most every wallet. Although prices dropped by 40-50 per cent in the recession, the market's recovered. An interesting community is the vibrant downtown sector, where you can pick up a good two-bed, two-bath condo with balcony and shared amenities for about $500,000 (£310k). But most people go for one of the many high-quality lifestyle communities, such as Lakewood Ranch or Palmer Ranch where you can get a three-bed home for around $250,000 (£155k).
Tampa, Clearwater

Tampa is only 1.5 hours south-west of Orlando, and the business hub of the Gulf Coast. So if you like urban vibrancy or a location that is great for year-round business rentals, then maybe you should consider the Tampa Bay area. For a more laid-back holiday ambience, try Clearwater, a suburb from which you can commute into the city. In Tampa you can get a four-bed home in a good gated community for around $400,000 (£247k); or a two-bed condo at Clearwater for around $250,000 (£155k).
The Floridian property market

The real estate market in Florida has turned round after several years of getting hammered, and every month the recovery gets stronger.

Closed sales are up 14.6 per cent and the median price for a single family home statewide has increased 5.2 per cent from 2013 so it now stands at around $185,000 (£112k).

As far as the cities, prices in Miami rose 14.9 per cent in 2013, closely followed by those in Tampa (14.1 per cent), according to the S&P/Case-Shiller index. To put this into context, these rises were less than those averages in Las Vegas, San Francisco. Los Angeles, Atlanta, San Diego and Detroit - but above the rest of America's top 20 largest cities.

Orlando's overall median price has now recorded year-to-year gains for 37 consecutive months and has risen 48 per cent since July 2011. But the speed of the price market is perhaps dropping off a little.

Indeed, whilst Orlando home values have gone up 10.8 per cent over the past year, Zillow.com predicts they will (only) rise 4.9 per cent within the next year.

The Orlando Regional Realtor Association (ORRA) report that Orlando home sales dropped more than 17 per cent in July 2014 from its July 2013 sales rate. Yet prices rose nearly 9 per cent in the same year-over-year comparison.

The overall median price for the month is $171,000 (£105k), an 8.92 per cent increase over July 2013 and a 1.49 per cent increase over June 2014.

Foreclosures in the Orlando metropolitan area are also down 3.6 per cent in a year - another positive sign that all the excess stock is being hoovered up.
Types of property

Houses in Florida are generous in size, usually one or two-storeys, and they come in a number of styles ranging from colonial to Spanish Mission. If you're buying a detached house, you normally get a pool - and the good news is you don't have to heat it with the high temperatures in the Sunshine State. Other typical features in a Floridian home include air-conditioning, galleried, open living areas, and large walk-in wardrobes. Many homes are in gated communities, which is useful in security terms - especially if you are only there some of the time.

Condominiums, essentially apartments clustered in one or more buildings - are popular in Florida. High-rise living, sometimes in Art Deco buildings, is more the norm in Miami. There are some older homes, but new build architecture is the choice for most homebuyers.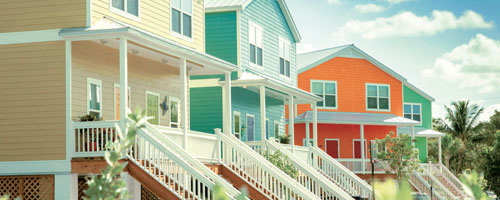 Finding property in Florida

When hunting for a home in Florida, keep in mind that guaranteed rentals might not be what they seem. What happens if there's a drop in visitors going to a particular location that would scupper the supposed guarantee from the developer? And don't forget you are probably paying more for the property in the first place (this is how the developer covers generous guaranteed rentals payouts).

Also, Americans are good at decking out show houses in a glamorous fashion. Ask what comes as a standard and how much extras cost. You could end up paying another 30 per cent for goodies that aren't included in the basic price. Also, be careful you don't buy a home you hope to let out in an area that is not zoned for short-term rentals. An unscrupulous or lax realtor might not point out this important fact, so make sure your solicitor carries out a rigorous check.
Estate agents


Unlike Europe, a buyer works with only one estate agent, or 'realtor'. The realtor's job is to provide you will full information and guidance on all properties for sale gleaned from the Multiple Listing Service (MLS). In America, realtors have access to all information on homes on the market, and they don't just sell homes they've listed themselves.

Some brokers (or realtors) don't list homes at all. They are known as 'buyers' brokers' and they are like a property finder in the UK, helping a purchaser locate a home. And, the seller pays the listing and selling brokers (the commission is split between them).
The buying process

America's a comparatively safe place to buy property and is probably more akin with buying back home in the UK than in some of the emerging Eastern European markets. Nonetheless, do not be seduced by the sun and exotic cocktails in hot spots (literally) like Florida. Doing your homework before you buy applies to the USA, like anywhere else.
1. First, find a state approved well-qualified and licensed real estate agent (realtor).

In America, there are agents who represent the seller and agents who represent the buyer. You want a buyer's realtor with a good deal of knowledge and experience of dealing with British purchasers. Ask the realtor if he knows about the rentals market if you plan to let out your new home (an agent handling mainly American owner/occupiers will not have this level of expertise). Also, do not fall into the hands of a seller's agent. Traditionally, the buyer doesn't pay anything to an agent, but the seller does. The commission is split between the seller's and buyer's agents, but if you sign up with a seller's agent by mistake, he will try to hold onto all the commission without giving you the buying advice you require.
2. The good news is you do not have to trawl round several agents' offices to see what properties are for sale, like in the UK.

With the American Multiple Listing System (MLS) available to all realtors, virtually every property is listed on one large central database. Rather conveniently, you can access all the property stock for sale from just one agent's office and view it by price, location and other criteria.
3. Think about the sort of property you want to buy and how easy it will be to sell on.

You might be keen to own a home in a quiet development not close to shops or a good school. This might suit you as a holiday homeowner, but when it comes to re-selling, it is unlikely to appeal to American families who want such amenities on their doorstep. Ideally, your home should appeal to as wide a market as possible. Equally, it you want to let out your property, keep in mind Americans and Britons have different tastes - Americans favour apartments or condominiums, while the British prefer houses. Make sure you purchase the right sort of property for the main lettings market.
4. Once you have found a property, the buyer and seller will both sign a contract that sets out the conditions of the sale.

This should include property title checks and inspections. Remember, that typically a house survey in America isn't as rigorous as one carried out by a chartered surveyor in Britain. You might have little recourse if a boiler breaks down, for instance, which you believe the surveyor should have informed you about. In some instances, it might be worth paying extra for a more detailed survey.
5. A 10 per cent deposit is paid when contracts are signed.

It is general practice for the purchaser to buy the property in the state it is in and you cannot complain about any defects once the deal is closed. So, it's important you check for any flaws or defects before the contract is finalized, and definitely before the final closing date on the
transaction. The buyer will lose the deposit if he backs out of the deal, unless the property fails to meet the conditions of sale in the contract.
6. In the US, the closing date is established when both parties sign the contract.

This is the time when all the duties and obligations under the contract are satisfied. This includes the obligation of the vendor to make sure the title to the piece of real estate is 'clean.' Also, the buyer has to get all his financing in order. Generally, the closing date is 30 days from the signing of the contract. However, this can vary, and both parties must agree the final closing date.
7. The buyer and seller appoint a settlement company to complete the transaction.

The buyer pays the balance owing and both parties sign all the final documents. A buyer would be wise to take out title insurance before the closing date, which will protect him should a situation crop up where the title to the underlying real estate ends up being clouded. A clouded title is one where another person or entity ends up having an interest in the property that for some reason was undiscovered. Mistakes can occur and liens held against the property, so it is sensible to protect yourself against any expenses or loss you could experience if there is a problem with the title.
8. The transfer of ownership is registered with the local authority after completion.

Generally, the local authority assesses property taxes on your purchase. This property tax (about 1-1.5 per cent of the purchase price annually) is included in the closing costs. If you are buying on a development, add in homeowner association dues. Americans do not always use a solicitor (or lawyer) when buying a house, but it is recommended you hire someone to oversee the paperwork and represent your interests. For the sake of a few hundred pounds, it will give you peace of mind. You might even give your solicitor power of attorney to act on your behalf and speed up the process, particularly if you are thousands of miles away in the UK.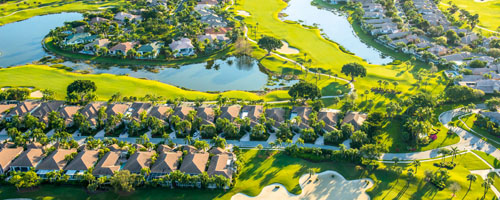 Taxes

As a foreign buyer, it's vital you understand the tax implications of owning a second home in Florida. Foreign purchasers, just like US citizens, will be subject to various state and county taxes at the time of purchase, annual taxes based on the value of the property, and on any value gains made when the property's sold.

Foreign investment in the Real Property Tax Act of 1980 (FIRPTA) requires that an amount equal to 10 per cent of the selling price is withheld from a foreign seller of real estate. This is held to cover potential taxes on the profit, but the 10 per cent withheld can be far higher than the actual amount of tax due. The foreign seller then needs to file for a tax refund to collect the excess amount of tax withheld. A foreign purchaser is wise to talk to a tax attorney or accountant prior to selling a property.

Foreign buyers are also eligible to defer the tax of gains when they sell an investment property held over for one year, and then purchase another within a specific timeframe. This permits profit from the property sold to be deferred from taxes until a future date when the new property's eventually sold. Specific rules need to be followed, but there are specialist tax and accounting companies that can help you coordinate these exchanges.

If you rent your property out you will need to file a federal US income tax return. You'll have to declare your rental income, but you can deduct expenses such as maintenance, utilities and mortgage interest. Since Florida doesn't have state income tax, only the federal government will tax income from the property.
Healthcare

Florida has a number of excellent hospitals and health centres, but free healthcare is not usually available. You will need to take out medical insurance, which can be expensive, unless you have an employer who will cover it for you. Emergency treatment is available at certain hospitals, even if you can't pay for it. But if you want to be reassured you'll get good care, insurance is essential.
Schools and education

The good news is that the state school system in Florida is fairly decent. So, you don't have to worry unnecessarily about forking out a fortune to pay private school fees. However, just like in the UK quality can vary, so you need to check out the local schools and determine which one will be best for your children. University fees can be high, although there are generally more bursaries and scholarships than are found in the UK. Again, you need to do your research, find out what is available and how you go about applying for any financial help.
Visas
Most people can visit the USA for up to 90 days without a visa under the Visa Waiver Program. For longer stays or split residence, a B-2 visa is still a tourist visa, but it allows you stay in America for up to six months. This would suit a retiree, who wants to spend half his time in the UK and half in Florida. You can spend more time if you break up your visits, but you must not abuse the system, or your visa will be revoked.
If you're working in Florida, you can apply for an L or H visa. Normally, your employer will go through the process of getting the right visa for you.
Getting a visa that will allow you to operate a business in Florida is more complicated. Assuming you meet the criteria for this process, there is still no guarantee you will be successful. The most common visa for setting up a business is the E-2 investor visa. There's a great deal of documentation to be completed, employ a specialist who can help with the application process. You'll have to prove you have funds to create a US business that will support you and your dependents, and that you will create employment for locals.
Liz Rowlinson

Search for Florida properties here >>

(This article was first published in A Place in the Sun Magazine - Autumn 2014 issue 119)