Despite becoming a Mum to Rocco over a year ago and with baby number two due in just two months, I spent a very busy 2014 travelling with A Place in the Sun, with the majority of my episodes being filmed in Spain, and a couple in the Caribbean. Rocco has now visited France, Spain, Austria, Cyprus and Antigua, and hopefully baby number two will be just as well travelled in their first year!
Filming in Spain is always a pleasure for me. It feels like home from home, particularly because as many of the regular readers of A Place in the Sun magazine will know, we own a family house in San Pedro near to Puerto Banus on the Costa del Sol, but also because I have spent so much time there over the last three years filming.
During the later part of 2014 I spent a great deal of time investigating property along the east coast, from the Costa del Sol in the south passing through the Costa Tropical, Costa Almeria, Costa Calida and halfway up the coast to the Costa Blanca. Given that this distance covers 600km and is a six-hour drive, it was fascinating to see how the regions compared not only from a landscape point of view but also property prices really differ substantially.
As you drive north along the coast from the Costa del Sol through the Costa Tropical, the landscape remains green and lush but becomes less mountainous. The Costa Almeria is full of greenhouses (where they grow vegetables to export) and its arid climate is similar to that of the Costa Calida (the coastal stretch of Murcia) - quite flat and desert-like.
As you get closer to the Costa Blanca the landscape becomes lush and green again. Those with bigger budgets might be better suited looking on the Costa del Sol and on the Costa Blanca (around Javier and Denia), and those with a more modest budget - say, around £80,000 - might be surprised just how much you can get for your money on the Costas in between. Fancy your own little piece of Spanish sunshine? Investing in Murcia could make for a seriously wise long-term investment when the planned infrastructure improvements go ahead.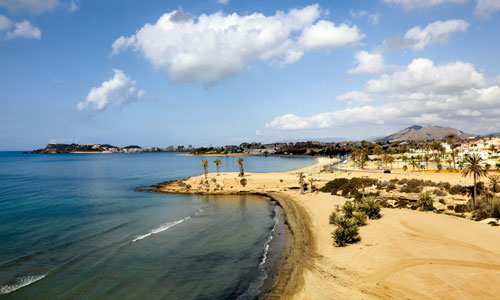 The Mar Menor
I joined single lady Janice Gibson and her best friend Jackie Hall in Janice's search to find a 'new permanent home' on the Mar Menor in Murcia for a budget of £65,000. I have to admit I knew very little about this area prior to my visit, other than it is home to the well-known, exclusive and upmarket La Manga resort complete with its luxurious villas and apartments bordering some fantastic golf courses, several tennis courts, designer shops and classy restaurants.
Property price-wise I knew it was comparable to the likes of Marbella. Bearing that in mind I wasn't sure how realistic Janice's budget was and just what she was expecting to find in the area. After a little research I discovered that the Mar Menor is in fact a salty lagoon, in the south-east of Murcia, separated from the Mediterranean Sea by La Manga, a stretch of sand 22km in length. This lagoon is surrounded by pretty fishing villages, many of which have evolved into popular holiday resorts, and over 15 Blue Flag beaches.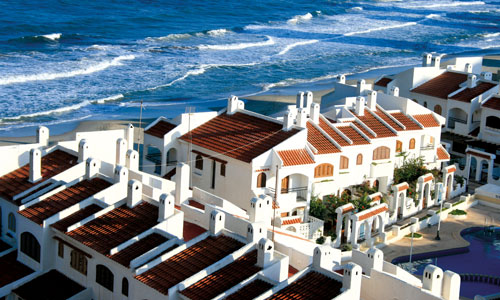 Property on La Manga Club might be pricy, but outside of this resort you can get some seriously good property bargains for your pound - and your pound goes a lot further than it did a year ago - about £16,000 on a €200,000 property to be precise (between March 2014 and March 2015).
We showed Janice and Jackie a ground-floor two-bedroom apartment in Los Alcazares that was within ten minutes walking distance to the beach and town centre - on the western shore of the Mar Menor. The fast expanding town is a popular spot for windsurfing, kite surfing and sailing.
The beaches around the Mar Menor are fantastic and although the former fishing village of Alcazares is a seasonal resort where almost everything closes down during the winter season, I was surprised to see such a well-located property priced at £83,000 and, I might like to add, was informed by the agent the owners would be happy to accept an offer in the region of £75,000.
However, the property that really caught my eye - and clearly Janice's too - was a three-bed semi-detached villa with a lovely garden and off-street parking just 20 minutes drive from Alcazares in an urbanisation on the edge of the Spanish town of Sucina. Sucina tends to be a little cheaper than Los Alcazares, with apartments from around €45,000 (£33,447).
Although lots of the properties on this particular urbanisation (like many of its kind) looked identical, Janice felt the villa we showed her offered her all the Spanish character she desired and despite being slightly further from the beach, the area had a better 'year round' feel where she would fit in. Priced at £70k, I was happy to be able to seal the deal for Janice for a fully-furnished property bang on budget at £65,000. I couldn't have hoped for a better outcome for such a lovely lady.
Mazarron
If you head south of the Mar Menor, you arrive at the Costa Calida and the part of it known as the Gult of Mazarron. The bay of Mazarron is sheltered by the last foothills of the Sierra de la Almenara and offers over 35km of beaches, unspoiled coves and rocky sea beds ideal for scuba diving.
Just 25 minutes drive from Sucina, I visited Mazarron Country Club, a residential development ten minutes from the Blue Flag beaches of this stunning bit of coastline. Mazarron town is 3km from the country club and offers a choice of good restaurants, bars and a few shops plus an open market in the plaza every Saturday morning. The historic Spanish port city of Cartagena is a further 30 minutes away that has everything you could possibly need.
I thought looking at a property on the Mazarron Country Club might be an ideal spot for London based city worker Narinder and his Mum Surinder who were hoping to find a substantial size holiday home for their large family with a modest budget of £70,000. The resort boasts a large outdoor swimming pool, tennis courts and a restaurant/bar. It also had a residents' association who look after the interests of owners and there are plenty of golf courses attracting year-round visitors.
Although we couldn't find anything suitable for Narinder and his Mum on this particular urbanisation, it was great to see the kind of properties on offer. A one-bed bungalow started from £45,000, there were two-bed bungalows available for just £55k and for just £95,000 you could purchase a two-bed detached villa with a private pool. There was also a selection of bank repossessions with 70 per cent finance available.
Accessibility and investment in the area
So how exactly do you get to this part of Spain and how easy is it? San Javier Airport is based just 27km south east of Murcia on the Costa Calida. It is currently possible to travel from the UK to the region with a choice of three low-cost airlines. These include Easyjet with regular flights from London-Gatwick and Bristol, Ryanair, with regular flights from London-Stansted and seasonal flights operating from Birmingham, Bournemouth, Dublin and East Midlands and finally, Jet2 has regular flights from Leeds/Bradford, Manchester and Newcastle, and seasonal flights from Belfast, East Midlands, Edinburgh and Glasgow.
Whilst San Javier has been operating as an airport for many years, there have been plans to build a commercial facility on the newly acquired site at Corvera for some time. In 2007 the project to Corvera International Airport was finally approved and planning and construction work was able to commence. There were reports that the airport would open in August 2014 but as of yet, it has not happened. As an alternative and for other flight options, Alicante's El Altet airport is just 80km away.
The regional authorities estimate that, when fully operational, Corvera International Airport will cater for as many as 3 million passengers every year. But when exactly will it open? This seems to be a question that currently no one can answer.
In addition to this, the Polaris World Golf resorts (six golf courses designed in the region by well-known golfers), have led to significant improvements to the infrastructure leading to and from the airport. There are big differences in popularity, quality and pricing between these resorts, so do your research: which is the best located and/or has the best turnover of property?
When the increased airlift and the theme park finally do happen though, if you have a budget of around £80,000, or below and you would like your own little slice of Spanish sunshine, perhaps investing in Murcia could make for a seriously wise investment.