It's no longer just Americans dipping their toes into the Turks & Caicos property market. More and more people are hoping to invest in a piece of paradise, reports Katie Gutteridge.

Until recently, the Turks and Caicos Islands (TCI) was a place only visited by privileged Americans visiting from New York or Miami, keen to dip their toes in the calm coral-filled aquamarine Caribbean waters - and maybe take advantage of its tax-haven status.

It's easy to see the allure: the sun is nearly always shining, the average temperature is 83⁰F and there are miles of award-winning powder-sand beaches on the doorstep. Not to mention the third largest coral reef system in the world, making it a premiere water sports destination.

But its appeal is broadening, with the expansion of its main international airport on Providenciales - providing direct flights from more destinations, including New York and Toronto - TCI welcomed over one million visitors last year, a figure increasing year on year. British Airways flies weekly from London on a nine-hour flight via Nassau, costing from around £700 return.

According to the official government website, (turksandcaicostourism.com) for the first quarter of 2014 alone tourism figures have jumped 41 per cent compared with the same period in 2013, with arrivals from the United Kingdom and France increasing by 17 per cent and 86 per cent respectively. Stop-over arrivals from Italy have also more than doubled.

Holiday-home purchase is of course the final stage of tourism and the same website mentioned above cites that TCI boasts 'one of the fastest growing economies in the Caribbean'. Investment opportunities there haven't been so good for a decade.

Close to The Bahamas and only a 1.5 hour flight from Miami, the main island of Providenciales (Provo), has one of the lowest crime rates in the Caribbean. Whether you're an investor looking for a rental return, a self-builder wanting a project, or a sun-worshipper after a permanent place to hang your hammock, there are plenty of opportunities to choose from.

Although a British Overseas Territory, TCI is still managed by local authorities, who have just increased the visitor allowance from 30 days to up to 90 days upon arrival, with extended stays possible if you buy there. Although made up of 40 cays and islands, just eight are inhabited, including rustic North and Middle Caicos. These two islands are growing in popularity due to their more authentic Caribbean charm and tiny combined population of less than 2,000. Both are within easy reach on the fast twice daily ferry from Provo.

Cays of all kinds
Of all the outer islands, Pine Cay and Parrot Cay are the most desirable and notoriously luxurious. With just a handful of homeowners, including Bruce Willis, these small and very private islands provoke peace and exclusivity by prohibiting cars and making Pine Cay a members-only island - you'll have to pass the particular requirements of the home association in order to qualify to live here.

Right now the cheapest price for a slice of paradise is $1,250,000 for a three bedroom home with 1.8 acres of land and 300ft of prime Pine Cay beach frontage. 'Sandcastle' is available through Regency-Christie's International (theturksandcaicos.com) and includes a separate two-bedroom guest house.

Life on Provo is centred on the seven-mile, multi-award-winning Grace Bay beach. With its prized tropical fish in swimming distance and protected turtle species choosing to lay their eggs here, it's no wonder almost all the hotels are located here.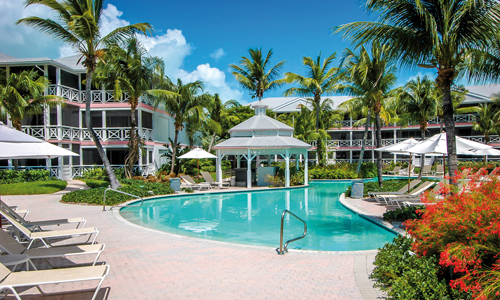 A studio apartment at the Ocean Club Resort (above) costs $187,000 (www.turksandcaicosproperty.com).

Anne and Geoff Johnson from Oxford, England, bought there in 2009 and now enjoy spending up to half the year in their two-bedroom beachfront apartment on Grace Bay beach for which they paid $750,000 (£463k). They rent it out for between $4-7,000 per week, low/ high season.
"The demand to rent our apartment has been staggering. I chose to manage the bookings myself but never expected to be this busy with enquiries!" says Anne, 52, who only started renting it nine months ago and has had 90 per cent occupancy rates when not using it. "We've had a variety of nationalities, including Americans, Canadians, Italians and Germans," adds Geoff, 53, who enjoys the laid-back attitude and the stress-free lifestyle that is easily enjoyed on the islands.

"The apartment is paying for itself. Even better, I'm told the value is ever-increasing, not that I can ever envision wanting to sell!"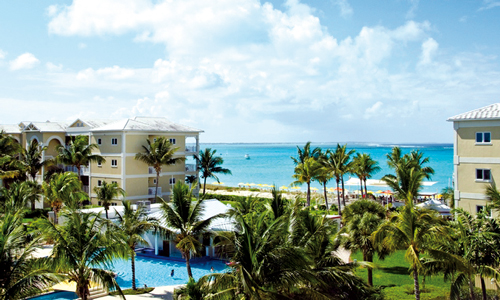 One-bed apartment at the Alexandra Resort at Grace Bay Beach costs $395,000 (www.turksandcaicosproperty.com).
Graham Canham, of Coldwell Banker Real Estate Agents TCI (coldwellbankertci.com), has seen new levels of interest from foreign buyers, who have a typical budget of $500,000-$1 million and are usually looking for a condo-hotel or a waterfront home a short walk to the beach.

"I would say around 20 per cent of buyers are Canadian and 5 per cent European, with the rest American, but I've also started receiving interest from South American buyers. As more people holiday here, I'm sure the demographic is going to continue to increase. Buyers have returned here in the past two years. I've never been so busy."

He says that typically, buyers like to know how the rentals of their property will work.

"They ask 'Can it be rented and for how much?'. Grace Bay Beach hotel-condos lead the way, both in terms of desirability and rent-ability. But the nearby area of Leeward Beach which has houses both on the beach and behind is also quite popular."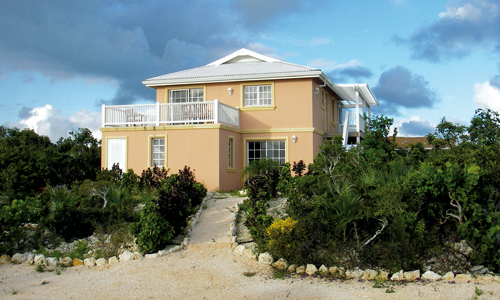 Three-bed house in Discovery Bay for $385,000 (coldwellbankertci.com).
The reason these idyllic Islands are investment heaven is TCI's continuing strength as a holiday destination - detailed above - as Graham explains: "The demand in short-term rental returns have dramatically improved island wide as a product of the continued increase in tourist arrivals. The traditional 'busy season' is extending further and further into the summer. The condo-hotels still dominate, however more tourists are opting to rent a villa for their week here. If you want beachfront, plan to book 10-12 months in advance!"

Provo houses have a definite style about them that are well suited to island living. A large portion of the houses on the open market today were built within the past decade, of a concrete construction, making them low maintenance and cool to live in. Many boast wooden cathedral ceilings and wrap-around verandas to maximise the effects of open-plan living and stunning sea views. The trend for a lot of home owners here is to buy a two storey house, using the second storey as their home and converting the bottom storey into two self-contained apartments for either long or short term lets.
The main attraction for overseas buyers is always the spectacular views, which come at a premium. However, you can still find properties for less than £250k.
(This article was previously published in A Place in the Sun Magazine.)