Martin and Pauline Ferris have found their recipe for happiness. They've found a way to work as little as possible but earn enough for the sort of lifestyle they crave.
Many people dream about finding a way to move abroad and support a lifestyle that involves plenty of relaxation, a good dose of exotic travel, and to escape the "nine-to-five" routine of daily life in the UK.

Not everyone who attempts it manages to pull it off either.

But Martin and Pauline Ferris certainly have, and have swapped the hard slog of running a restaurant in Birmingham (Martin) for a life split between an income-earning property in Normandy and a second home on the Greek island of Paros. When not running a cookery school - 'when and as they feel like it' - in their idyllic watermill in rural Normandy they escape to the sun every winter for the laid-back island life of the Cyclades, where they are renovating a small retreat, to which they hope to retire in a few years. They sometimes take off for India, the Far East, or wherever else they fancy.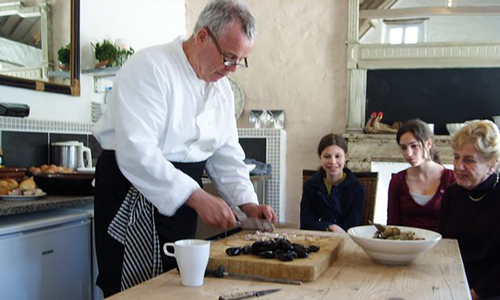 But it wasn't all so rosy, as Martin reports, recalling the moment 36 years ago when he decided to seek a fresh start abroad. "I'd been managing a bistro style restaurant next to the most violent pub in central Birmingham for two years and had just about had enough of the tax man, the VAT man, the bank..." says the 66-year-old Waldorf trained chef who was apparently once one of the world's fastest crepe-makers. "So my accountant suggested I have a spell abroad for tax reasons. I took his advice and headed to France.

"I'd never been before but I had a dream of buying a chateau from which I'd host themed weekends. So I bought a seven bedroom property in Blainville-sur-Mer in the Manche department of Basse-Normandie for £60,000. Accompanied by four cottages, it needed a lot of work, but I renovated it myself [this was before he met Pauline] and also started running cookery courses (after a failed attempt at running it as a venue for glamour photography shoots)."

But life perked up when he met Pauline on a trip back to Birmingham 23 years ago, and together they ran a chambre d'hote as well as the cookery school. But they sought a new project and soon sold their home - at a not insubstantial profit - to a Parisian for a £650,000.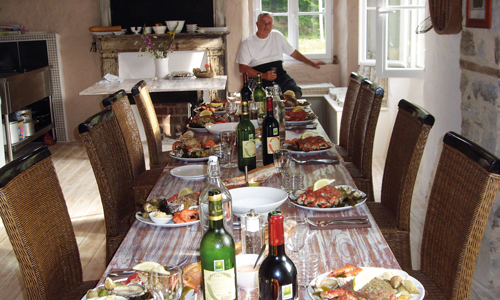 "Ten years ago we bought another ruin - a lovely watermill set in 15 acres in Courcy, in the Calvados commune - for €250,000 and spent €350,000 renovating it," continues Martin. "We actually started up a little restaurant but after six weeks of being a packed house every night we closed it as we didn't want to work so hard! We instead turned it into a gite and started up the cookery school again. The cookery school is fun but is hard work when we run one. It runs over five days and we have to be on hand 24/7 for our clients [who pay £795 for the course]. Pauline once had to teach a Japanese lady to ride a bicycle over the five days! You have to enjoy meeting people.

"Most of our customers are English, and many are single women. I send them out to the local market to hunt for ingredients and then I have to produce something, Ready, Steady Cook style. Once a group brought back a can of Coke, a Mars Bar and a pumpkin. That was a challenge."

Typical Normandy dishes learnt by the students - who have an exam at the end of the course - include tarte tatin, moules mariniere, Poulet Valley d'Auge (cider, Calvados, chicken and mushrooms) and Martin's much-loved Gateau Paysanne. Apples of course feature large in Normandy cuisine, as does Calvados on its hometurf.

When not cooking in the kitchen of the Petit Moulin, guests can head to the Brittany coast 15 minutes drive away, or Mont Saint Michel, the Bayeux Tapestries or the invasion beaches. The property is an hour's drive from Cherbourg, and must be reached by car from there.

"I created a design for my life which involved owning seven homes - as my pension plan - and having to work as little as possible so we really get to enjoy life," says Martin. "I sold by seven rental properties in Birmingham to buy the properties here but we earn £7,000 a pop from a cookery course, and earn €35,000 a year from running our three gites." Some of which goes toward funding their winters in Greece, where they hope to end up in two or three years.

"Although there are no real downsides to life in France, we do find the Greeks are a lot more fun than the French," says Martin, who clearly has had a great deal of fun running the cookery courses if his many stories are anything to go by. Find out more at: www.french-cooking-school.co.uk.
Search for properties in Basse-Normandie>>>
(This article was first published in A Place in the Sun Magazine.)