Seeking a home in the Spain to eventually retire to, Ian Wills and Ruth Bowman from Bristol honed down their search at the NEC show. Within three months they had bought a two-bed apartment in Los Montisinos for £58,000. Here Ruth, 52, a jewellery shop manager, explains.


"We'd reached the time in our lives when we had the money and desire to buy a home in Spain and we began looking on the internet. We actually preferred Portugal but with a budget of £50,000, we couldn't afford to get much there, and we didn't want to overstretch ourselves by borrowing money to buy," says Ruth, who has a 17-year-old son.

"We began focusing on the southern Costa Blanca and sought a traditional Spanish environment, nowhere too touristy. At the Birmingham show we signed up with various agents, talked to lots of useful people including currency brokers, and attended the buying advice sessions. Informed is forewarned, as they say...it was a great day out and it helped move our search forward.

"We were invited on a viewing trip by Casas Espania (casasespania.com) and booked a three-day trip in December. After looking at around ten locations we didn't especially like - Villamartin, La Zenia, Quesada, San Luis - we happened to stop for a coffee in Los Montisinos and loved it straight away. The really helpful agent Helen showed us the one property for sale there and although it was a little over out budget at £58,000 we bought it.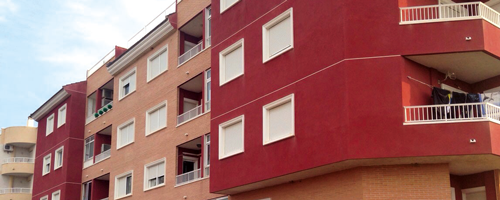 "It's a spacious two-bedroom apartment in a small complex that has a lovely pool on the roof. Our apartment has a courtyard garden and a veranda at the front. It's in a lovely village about 15-20 mins inland of the coast - the beach at Guardamar is our favourite. The property was valued at €110,000 at market peak.

"On Boxing Day last year we completed on the property so it was all very fast and very easy. As cash buyers we were in a good position and we used a lawyer for the purchase. We were shocked how straightforward it has all been and asked ourselves why we hadn't done this years ago, but the answer was of course that we hadn't been in a position to.



"But it was definitely the right time to buy in Spain and would say to others not to be scared, to just go for it. We have been visiting every month - and don't intend to rent it out - but the plan is to move out full-time when we stop working [Ian is an engineer, aged 55]. Just take advantage of all the advice on offer and talk to other people who have already made the move - it really helps to point you in the right direction."

Search for property on the Costa Blanca>>>

(This article was first published in A Place in the Sun Magazine.)