Mick and Lorraine McCue from Manchester bought a two-bed apartment in the Costa del Sol resort of Benalmadena as a holiday home in October 2013. They paid around £100k for the property purchase, including the refurb. Here Mick, 49, an accountant, tells their story...

"It had been a dream for many years to buy a holiday home in Spain but we finally decided about 12 months ago. I had initially considered waiting_for retirement, but bearing in mind the market is favouring buyers, my_children (19 and 20) were at or starting university so will have long summer holidays, my_wife, a teaching assistant, gets school holidays...so why wait?

"Spain was the only country I considered seriously for weather and short flights. My shortlist included Salou, Tenerife and Costa Del Sol (Torremolinos, Benalmadena or Fuengirola). _We had been visiting these since the 1970s so we knew we had enjoyed spending time in these places. In the end transport narrowed us down to the Costa Del Sol, and most of the apartment research was done online - we looked at thousands.
"We wanted to speak to estate agents as well as legal experts and currency experts so we headed to A Place in the Sun Live! at the NEC last autumn. We viewed a dozen before finding our place - with the help of Your Dream Home (www.yourdreamhome.es).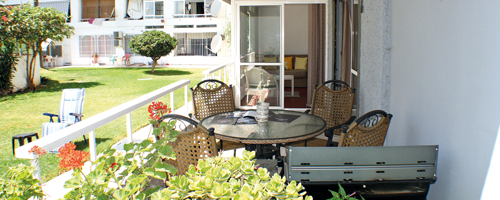 "Searching for the right one was quite difficult. Even though we narrowed our search down, the areas are so large and populated, even if you find a property which appears to match your requirements, I very rarely had an idea of the approximate location, never mind an exact location. Our budget was £60,000 and we ended up buying one for around £78,000 that is located close to the beach in Benalmadena ,close to local amenities and just yards from hotels we had stayed in previously. It is ground floor with garden access. We love Benalmadena as it offers something for everyone.

"Buying was so simple. My input to the process was signing a couple of forms and transferring the money - we paid cash. From agreeing to buy to completion was about seven weeks. The property is about 20 years old and whilst we could have moved straight in, it did need some modernising. We replaced the bathroom and kitchen, created a breakfast bar and plastered all the walls and replaced light fittings, wardrobes and doors. The after sales service from the agent in terms of support with furnishing, arranging builders and local knowledge made the whole process so easy.

"We have spent a lot of time in the apartment already - about 12 weeks of the year. I had a six-week sabbatical from work in 2014 and we go in the school holidays. We try to spend as much time there as possible. Once retired I hope to spend large chunks of the year in Spain."
Search for properties in Benalmadena>>>
(This article was first published in A Place in the Sun Magazine.)