Unfairly dubbed "Lanza-grotty" this volcanic island, the most easterly of the Canaries, has transformed itself over the last 15 years. It was the location of the first show of our second ever series of A Place in the Sun Home or Away back in 2005, and I was not expecting much.
Given its reputation for having been "spoilt" by Brits Behaving Badly I was almost dreading it, but what I actually found was something strangely beautiful and other worldly, with wonderful weather, breathtaking scenery like nothing you've seen before on Earth! And welcoming locals who were at pains to off er you a glass of the local Malvasia wine.
I have returned to Lanzarote many times since then and each time it surprises me; each time there is something new to discover. Whether it's the spectacular Valley of 1,000 Palms, created over many generations by the charming tradition of planting palm trees upon the birth of a baby, (in fact there are reported to be over 7,000 palms in the valley) or a completely hidden gem of a restaurant we found this time in the old capital Teguise, called Hesperides (on C/ Leon y Castillo 3), serving amazingly imaginative organic fusion tapas.
This year I have been travelling with my baby daughter, Joy; she is of course very well travelled for a one-year-old having also accompanied me to France, Portugal, mainland Spain as well as all over the UK too, but what I have certainly learned the is that babies don't travel light! Her suitcase was the heaviest of everyone's on the five-day shoot, along with buggy, car seat, travel cot ...It dawned on me as we landed that this was not Joy's first visit to Lanzarote; the last time I visited I'd been pregnant with her so it felt quite nostalgic for me being back with her, by now a real little character.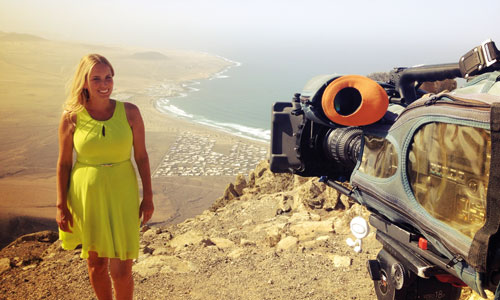 Last time (in 2013) we had stayed in the very popular south of the island, and our house-hunters had bought a fantastic one-bed apartment overlooking the beach in Puerto del Carmen for £55k, but this time our house-hunters wanted to be off the tourist track and so we were concentrating our search in the North.
But how things have changed over the almost 11 years that I've been making A Place in the Sun. We used to arrive at a location on a Friday evening, and go and explore the restaurants, bars and night-life. Those days are over, for me at least. Whilst the crew were having a fun-filled Friday night out, I was putting Joy to bed so I cannot report on any bad behaviour! Saturday is a day off, but on Sunday I met with the house-hunters for the first time. What a chatty pair David (56) and Jane Turnball (55) from Belfast were... of course a great attribute to have when taking part in a TV show! They are fans of the "Godfather" of Lanzarote, artist Cesar Manrique [1919-1992], they want a renovation project in the "real" Lanzarote away from the tourists, and they have a maximum of £80k to spend. Not too difficult a challenge, then? But then on Monday morning it was all go and my iron broke, so I had to go to work with a wrinkled dress, but since the bright shade of lime green actually hurt your eyes, hopefully no-one will look too closely!

Low-down on the Lanzarote market
I began the week talking to agent Peter Colegate from Gateway Estates (gateway-estates.es) who really shed some light on the Lanzarote property market.
One of the most important things I learned from him was that despite the fact that it is illegal to rent out a Canarian home to holiday makers without a tourist licence, if the property is over 50 years old, there is a chance you could apply for "Casa Rural" status.
Traditional properties may be granted a tourist licence if they pass this rigorous inspection process. He also informed me that the tourist licence situation is reviewed every four years, and the rules frequently shift and change: house hunters be aware of this! One statistic really showed just how much the market has turned a corner: he'd had more sales in the first quarter of 2014 than he'd had during the whole 12 months of 2013 - and British buyers were up by 50 per cent. After getting the lowdown from Peter, I met with Jane and David in the small coastal village of Arrieta for our initial chat to establish precisely what they were looking for here on Lanzarote. The first bit of filming is always fun and a steep learning curve for our house-hunters. This is where they learn about sync, non-sync, noddies, wides and pick ups. Confused? These TV terms basically mean doing the same thing five times from all different camera angles!
Property one:
Punta Mujeres for £61,400
It was no to the first property in Punta Mujeres, where I thought I'd introduce them to some of the fun factors of this location, namely the natural volcanic pools where you can swim safely, sheltered from the crashing waves. Perfect for children, including their three-year-old granddaughter Holly (they have four children between them, aged 18 to 24). It turns out they come here every morning for a swim when they're in Lanzarote, then sit in the cafe opposite for breakfast.
So I'm not showing them anything new, but knowing they LOVE the location got me excited, because unbeknown to them, the property was less than one minute's walk away, a three-bed property, set one street back from the coast, for just £61,400! Jane was very excited about the potential, but David wasn't so keen. In fact by the time we'd finished looking around he said that the house was speaking to him, and it was not saying very nice things! In fact he felt claustrophobic and hemmed in by other houses. There were no expansive views, and although they loved visiting the village, they wouldn't want to live there.
The fact they didn't like it that many traditional fishing villages have houses clustered together posed a major problem for the second property we'd lined up to show them. In a nearby village, we'd found a lovely house just 20 metres from the beach, but with the realisation that it would not suit them, we had a mad last-minute panic, and found an alternative. You can never second-guess a house-hunter! So we're always prepared to change the properties if things don't go as expected.
Property two: Los Valles: £75,000
The second property was just outside the village of Los Valles in a hamlet called Las Nieves, or "The Snows"; not that it ever snows in Lanzarote, in fact it was over 30 degrees the whole time we were there. It was located at one of the highest points on Lanzarote and the views were absolutely spectacular.
As an introduction to the area we look them to a viewpoint or mirador, and just as we were about to begin filming, five coaches pulled up, bursting at the seams with tourists who were on Lanzarote for the day as part of a cruise. Not exactly the quiet, tranquil, isolated impression we'd had in mind! The house just up the road was formerly a storage shed for farm equipment. The Canarian family who owned it had converted it into a house and were in the process of registering it as such on the title deeds, the cost of which was included in the £75k asking price. It had two bedrooms, two bathrooms and three kitchens (well Jane and David had told me they loved to cook...)
It also had 5,000 square meters (1.23 acres) of fertile land prepared with picon, tiny black chips of volcanic lava, which helps to keep the soil moist. I worried that upkeep of this might put them off, but to my surprise they were brimming with ideas about what to do with the land - from co-operative projects with local farmers to making their own wine!
How am I going to beat this? But I love a challenge so the next brainwave was to take them to Haría, another of their favourite towns. Here they rhapsodised about all the wonderful times they'd spent, her shopping in the gorgeous craft market, him reading a book in a cafe. This was also the home of Cesar Manrique; his house is now a museum, and lo and behold, the property I wanted to show them was directly next door.
Property three: Haria, £87,000
From outside, there was not much to see but inside it was a higgledy-piggedly labyrinth. Th ere were three workable bedrooms and a conventional sitting room, then a unusual central room with a kitchen, dining room, bathroom and storage room all leading off it. Th ey loved the quirkiness of it, where other, less brave people might have been put off.
It was on the market for £87k and I think they were surprised by how much they liked it, not to mention its potential for exploring business opportunities as well as inspiration from the great man himself next door!
Property four: Teguise, £83,000
With two big projects vying for their attention, I felt like I needed to give them a simpler option: for £83k in Teguise, the old capital of Lanzarote, we lined up a home which had just been renovated. They weren't so sure about the town, having visited previously and found it full of tourists, but were pleasantly surprised. Even with the tourists, Teguise is a charming historical town, beautifully preserved with lots of lovely homes, as well as restaurants, bodegas, arts and craft s. Even the Baños Públicos [public toilets] were spotless!
The house required no work but they really wanted a project so the question now was how to combine the good points of all the properties we'd seen?
Property five: Haria, £59,500
We headed back to Haría for our final property that I felt was a perfect middle ground; some work to do but nothing urgent, unusual quirky interior layout, great views, and on the outskirts of town that they loved. It was both practical AND romantic! And what's more, the asking price was only £59,500k! They were astonished by how much space there was inside and the views were wonderful. Jane even shed a tear as she felt her long-held dream becoming reality. So did they choose the finca with land, the higgledy-piggeldy house next door to Cesar Manrique or the practical yet romantic Tardis? You'll have to watch to find out.
(Article first published in A Place in the Sun magazine Winter 2015)