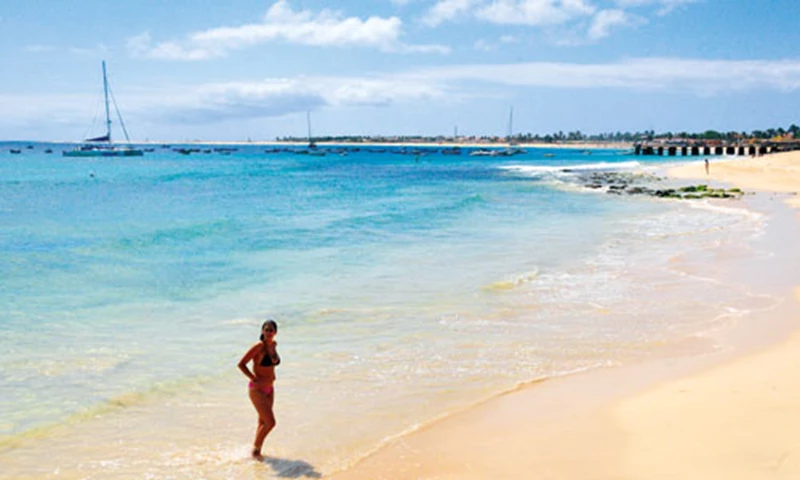 It was the exciting new winter sun destination that offered so much potential for affordable homes on pristine paradise isles of the Atlantic. But how has it survived the global downturn? Richard Way took a trip to find out.
Cape Verde is looking forward to a surge in tourist numbers and recognition as a maturing boutique beach destination, following the opening in November of arguably its most impressive resort to date.
Dunas Beach, which is managed by Melia Hotels International and has agreements with Thomson and First Choice, is the second resort built by The Resort Group to go operational on Sal island. On a stretch of beach on the edge of Santa Maria where the developer has plans to construct a lagoon, it boasts 1,250 units - a mix of hotel suites, apartments and villas - and an array of five-star leisure and entertainment facilities. It dwarfs The Resort Group's 327-unit Tortuga Beach Resort, which opened next-door in 2011.
Development on Cape Verde, an archipelago off West Africa, stuttered during the global slow-down, but the opening of Dunas Beach highlights a wider revival on Sal, the hub of Cape Verde's tourism market. The country now attracts more than €1 billion annually in foreign investment and is projected to welcome a million visitors for the first time in 2015. Sal's less developed neighbour, Boa Vista, is also becoming a focus for development.
Most owners at Dunas Beach - it is more than 90 per cent sold out - will never stay at their property, having bought as a rent-generating investment included in the resort's hotel scheme, typically as part of a personal pension (SIPP). Anticipated rental yield is 6-9 per cent, based on what is achieved at Tortuga Beach, which has annual occupancy rates of 70-80 per cent. And there is more to come.
"Our third resort on Sal, called Llana Beach Hotel, is due to open in 2016," said Charlie King, MD at The Resort Group. "We've sold around 70 per cent of the 601 hotel suites, all of which will be run as part of the hotel scheme, generating returns for the owners. And on Boa Vista we've sold around 30 per cent of our White Sands resort on Santa Monica beach, which will be the first of six projects, hopefully including a new marina if all goes to plan." Full ownership prices at Llana Beach range from €160,500 to €210,000, and at White Sands from €164,950 for a hotel suite or one-bed apartment to €429,950 for a three-bed villa. Sold off-plan, deposits are typically 45 per cent of the purchase price, and investors are paid an annual return during the construction period. At White Sands some units will be sold for personal use, and both resorts have fractional ownership options starting at £20,000. Meanwhile, in Santa Maria the Hilton Group has begun developing the site of its future resort while October 2013 saw the opening of the impressive Salinas Sea Resort nearby.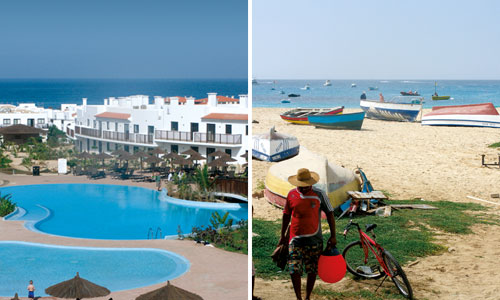 Recent infrastructure upgrades in the town include new roads, with further plans to redevelop the main square. Both Sal and Boa Vista, which has a new airport terminal, have direct flights from the UK operated by Thomson and Thomas Cook, a longer option being to fl y via Lisbon with Portuguese airline TAP.
"Stuff is certainly happening in Sal," said Adrian Lillywhite, who runs Cape Verde Property. "Prices are attractive, tourism is up and infrastructure is improving. Compared to a few years ago, there's more than just off -plan on offer here now so buyers can see what they're buying. The market is really pan European and not limited to Brits. For example, in one week in October, I sold to Spaniards, Dutch and Italians and had a Northern Irish couple viewing."
For second homeowners and expats, the immediate appeal of Sal and Boa Vista is year-round sunshine, a laid-back Afro Caribbean beach lifestyle and five-and-a-half hour flight time - short for a true winter sun destination. Then there are the world-class conditions for wind and kite surfers.
Like the Caribbean, tourism in Cape Verde is still driven by all-inclusive holidays, although there are self-contained resorts geared towards personal use - these include Vila Verde and Paradise Beach, both on the edge of Santa Maria. At Paradise Beach, a three-bed penthouse is currently available for €199,000 or frontline five-bed villa for €900,000. But Sal offers more than resort living and for those who prefer a 'local' experience, one of the growing number of small complexes within Santa Maria town should tick the right boxes - as they did for Sue Dixon.
"Popular complexes include Porto Antigo, Djadsal Moradias and Leme Bedje, all within a stone's throw from the beach and a short walk from the friendly local bars and restaurants of Santa Maria," said Adrian Lillywhite. "Given their location, apartments there are great value for money, and they're ideal lock-up-and-leave pads for second homeowners or retirees who like to spend a few months of the year in Sal.
"Buying costs for resale purchases are typically three per cent of the purchase price, including a 1.5 per cent property sales tax and independent legal fees, and since Cape Verde banks don't offer mortgages yet, foreigners need to be cash buyers."
One couple with a more permanent life in Santa Maria are Ciaran Molloy and wife Amy Keenan. For the past nine years they've run Tam Tam, one of few established expat bars in Santa Maria.
"We saw Cape Verde in an episode of A Place in the Sun back in 2004, came out and ended up buying Tam Tam in 2005," said Ciaran (pictured above). "We want a change now though and to hopefully start a family, so we're looking to sell the business. We'll stay on Sal for at least for a few years though - we have our friends here, a nice home and it's not a bad place to bring up a kid till it is time for school!"
(Article first published in A Place in the Sun magazine Winter 2015)