Liz Rowlinson rounds up some great little affordable homes in the best ski domains, many for less than £200k.
If you seek an affordable ski pad you need to look not at the big-name resorts but to those nearby that share access to a great ski area. Forget Switzerland, North America and even many Italian resorts if you want a good choice of new properties for less than £250,000 and look to the French and Austrian Alps this winter. Here we bring you a few ideas from each that will get you running to dust off those ski boots up in the loft ...
France
France is the most popular place for British skiers by some stretch. It's easiest to get to - by car, Eurostar or low-cost airline - and many of us have grown up going to Meribel, Chamonix or Courchevel. The French ski market is the world's largest, supported by an extensive and well-established domestic market, which accounts for 68 per cent of visits. That said, the French property market has been sluggish, and it's a great time to buy a ski home.
"We expect to see at worst prices stabilise and in our opinion grow this season," says Heather Byrne, Leggett's regional sales manager in the Alps - one of the company's 24 agents there. "We are very positive that this is going to be a very busy season."
Thrifty Three Valleys
In particular Leggett are seeing enormous interest in St Martin de Belleville, which represents such great value against its more famous neighbours Meribel and Courchevel.
"It is a small mountain village turned ski resort so not everyone's cup of tea but if you like it friendly and authentic with the full access to the Three Valleys skiing then this is the place for you," says Heather Byrne.
In this lovely village, Leggett is selling a superbly located two-bedroom 43m2 apartment right next door to the gondola, ski shop and ski school for €288,900 (£229k; see right). With a pull-out bed in the lounge too, it actually sleeps six, and offers a 6m2 terrace and a ski locker on the floor below.
Les Menuires (pictured right) is another little Three Valleys village at 1,850m with some great restaurants close by and a great way to buy into the largest ski area in the world. Skiingproperty.com is selling a ski-in, ski-out apartments there for €153,000 (£212k) - available on a leaseback ownership basis. "It offers returns of 3.6 to 5.2 per cent per annum, with eight weeks personal usage a year available to owners," says Julian Walker of the ski-property website.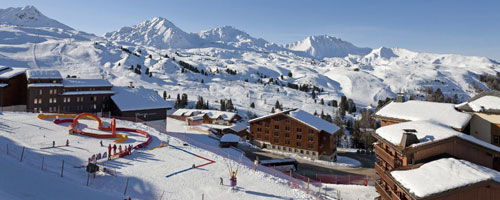 Popular Portes du Soleil & Paradiski
Or in Morzine - another "affordable" resort that has fast been growing in popularity because of the fact it is only an hour from Geneva and part of the might Portes du Soleil ski domain, Leggett is selling a 126m2 four-bed, two-bath chalet near there for €280,000 (£229k) - reduced from €295,000 (£233k). In a sunny location with mountain views, it's 20 mins from the skiing - a fraction of the price for a chalet in town. In fact Leggett also have one in the centre for €590,000 (£467k) - see frenchestateagents. com for more).
Mr Walker suggests that leaseback ownership remains popular with buyers in the Alps as a hassle-free investment with a lifestyle element. "Leaseback ownership is more akin to a financial product for someone who likes to ski, rather than being comparable with conventional freehold ownership," says Mr Walker. "French leaseback is highly developed, tried and tested, and is all down to the quality of the management company - so do your research on that."
Returns can be higher if you restrict your personal usage and in the vast Paradiski domain resort of Belle Plagne - a small, family-friendly town - skiingproperty.com offer leaseback apartments from €190,000 (£150k) with returns of 4.1 per cent (see above).
He also points to the potential for capital growth at Chatel, on the Swiss border. Only an hour 15 mins from Geneva, it's getting a new lift system which will connect Super Chatel to Linga and the rest of the Portes du Soleil ski domain - including Morzine (above) and Avoriaz. The resort is also gaining a new aqua centre that will heighten its year-round appeal. In Chatel Erna Low Property are offering new freehold apartments from only €110,000 (£87k) - due for completion in 2015. Studios of 22.74m2 are available, or one-bed apartments from €175,000 (£139k); two-bedders from €216,400 (£171k; see above; ernalowproperty.co.uk)
"There is a lot of investment going in there right now, and the whole village is booming," says Francois Marchand of Erna Low Property. "It's a small, pretty, Savoyard village only 1h 20 mins from Geneva and a year-round resort."
He adds that freehold has actually been gaining in popularity at the expense of leaseback for Erna Low - it's now 50/50 of each for UK buyers - because many property hunters want to spend more of their time in the Alps and have the flexibility that conventional ownership offers.
Leasebacks at Les Arcs
"It's been busy all year, with the weakening euro and prices are now going up in some resorts, such as Arc 1950 [in the Paradiski domain], where the distressed properties have now all disappeared," he adds. In the popular purpose-build resort of Arc 1950 where the British have a growing appetite for resale apartments that are sold partway through a leaseback contract, a one-bed property sells for around €165,000170,000 (£131k-135k).
"They are quite happy to take on a lease with, say, two years, left, and then if they don't wish to renew it, it can revert to classic freehold," says Mr Marchand.
A final suggestion is the traditional village of Tignes les Brevieres, near the other purpose-built Tignes resorts, but far prettier and easier to reach because it's lower, at 1,550 m. One-bed apartments are available for €199,000 (£157k) in a very popular little residence where "flexible" leaseback ownership is offered. "The British love this resort as it's an authentic, original village, not part of the party areas in the collective Tignes resort yet it has access to the same ski area [the huge Espace Killy that also includes Val D'Isere]," adds Mr Marchand.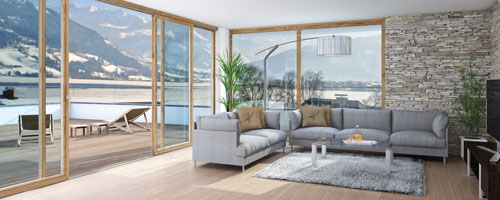 Austria
Discounting Eastern European alternatives, Austria, alongside France, offers the best affordable ski homes in the mainstream areas of Europe. It's also Europe's biggest international visitor recipient as far as ski holidays are concerned, with steady annual growth in skier visits of 2.25 per cent per annum. This number is almost that of market-leader, France, where there is a dominant domestic market.
It's easy to see why - many Austrian resorts are authentic, charming and friendly, not to mention lively and they tend to be much more properly dual-seasonal than many French resorts."Apart from the strong pound to euro and low Eurozone lending rates that are helping draw buyers to Austria, the great rates of returns are also a big factor," says Giles Gale of Mark Warner Property (markwarnerproperty.com).
"They tend to compete well with France or Switzerland because of the strong summer seasons in Austrian mountain resorts. In addition to 10-14 weeks of winter season occupancy, you can expect 6-8 in the summer too. Also with mortgages available of 60 per cent LTV, any purchase should be self financing i.e. your rental income will be more than your mortgage."
Mark Warner has just released a project in the lively and yet family-friendly resort of Saalbach, with studio apartments from a tempting €139,000 (£110k; above, right). "This is really entry-level for an Austrian ski property if you are hoping to rent it out (resale properties may not come with permission to rent: beware!)," says Mr Gale.
South-facing apartments at the Mountain Lodges Saalbach come with high-spec finish, under floor heating and a managed rentals programme. The Saalbach-Hinterglemm resort accesses 220km of pistes with a slick lift system - it's great for intermediates although the off-piste is limited - and is 1.5 hours from Salzburg.
Another fairly lively option is Kaprun, a short bus ride away from the well-known town of Zell am See. It's a pretty little old town and a snow-sure resort (with a glacier) that offers some great tree-lined beginner slopes and it's a handy hour and a bit from Salzburg.
Mark Warner Property is selling two- to four-bedroom apartments there from €259,000 (£205k; above left) - this scheme has just been released and is likely to sell fast - their (higher-priced) one in nearby Zell am See has just sold out.
If you do love the idea of owning a property in the popular lake-side town of "Zell" then Savills Alpine Homes are offering new one-bed apartments at the Eder Park Residences from €283,000 (£224k; above right) - with full rental and management service (alpinehomesintl.com).
The Tyrol region of Austria tends to be more expensive than the above Salzburger region (with more purchase restrictions) but in the popular resort of Mayrhofen, Savills Alpine Homes is also selling new luxury apartments near the ski lift for €325,850 (£258,257).
If you seek your very own little detached ski chalet you need to look for less well-known resorts, and in the pretty hamlet of Wald im Pinzgau - near the larger resort of Bramburg - you can get a three-bed new-build for €500,000 (£396k; pictured above, left - through Alpine Marketing, alpinemarketing.com).
Part of a collection of traditional styled 17 new chalets looking down on the historic village, these properties have ornate balconies, chunky roofs and are built to order. Wald has access to both the Kitzbuhel Alps and the Zillertal Ski areas - a total of 370km of skiing.
(Article first published in A Place in the Sun magazine Winter 2015)