There's been a swing away from rustic hideaways towards boltholes in the vibrant centros of historic Italian towns and cities.
The towns and cities of Italy are a favourite short-break holiday destination. Who hasn't daydreamed of a watery weekend in Venice or a couple of days strolling along Rome's Via Condotti, stopping for a cappuccino in an atmospheric cafe?
So why not extend that to an urban holiday home where you are only ever an easy stroll from the heartbeat of Italian culture and style.
British buyers used to choose the vines and olive groves of rural Italy to buy their holiday homes but low-cost airlines offering flights to more destinations change that. When a flight from London to Pisa or Perugia costs less than the train ticket to the airport a foreign city bolthole is not only an attractive option but a more realistic one too.
Advantages of city living include the opportunity to immerse yourself easily into Italian life with a good supply of people, restaurants and museums on the doorstep.
There should also be a good pool of potential renters if you want to earn some income and of course city homes can make ideal lock and leave properties, less stressful to leave empty than a remote home in the country.
However Italian cities were generally designed for life hundreds of years ago so the logistics of driving and parking can be testing. Few city centre homes have outside space and for all their beauty, Italian cities are often noisy and cramped places.
"Bought correctly city property is a good investment," says Linda Travella of Casa Travella (casatravella.com).
"A word of warning though: take knowledgeable, professional advice. All cities have good and bad areas and if you spot an apparent bargain online and buy cheaply in the wrong area you will never be able to sell."
The 'Gold Standard' trio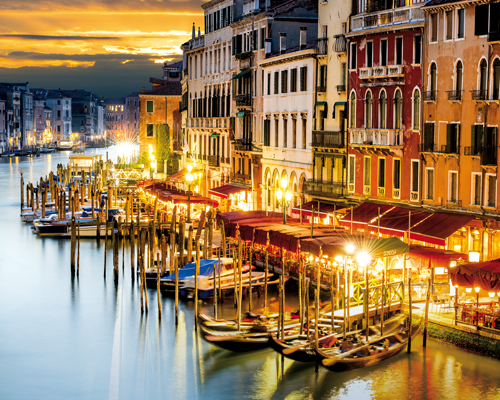 The holy trinity of Rome, Florence and Venice set the gold standard for Italy in terms of culture, desirability and property prices.
"Rome is the 2,000 year-old political, spiritual and cultural heart of Italy," says Andrea Plani of City Capital (invest-in-italy.it). "It is the sensuously alluring, romantic city of Fellini's Dolce Vita, rich in artistic treasures including masterpieces by Michelangelo, Raphael, da Vinci and Caravaggio. It can be phenomenally busy, teeming with tourists and snarled with insane traffic, but it is also the perfect place to while away a leisurely afternoon with a coffee at an outdoor café or enjoying an evening stroll along the Tiber."
The most popular areas for buyers are around Piazza Colonna, Via Giulia and Trastevere with square metre prices from €7,000 to €9,000. For value Andrea tips Testaccio where an 80 m2 two-bedroom apartment would cost €420,000.
"Testaccio has no famous tourist attractions but it has the best food market and feels totally Italian," says Andrea.
"You see old ladies stocking up in local delis, teenagers licking gelato on street corners and stylishly dressed Italians downing espresso at the bar."
In Venice too, head away from the tourist honey traps for value. While prices peak around the splendour of San Marco Square, walk 20 minutes towards the train station to Cannaregio to find a more local neighbourhood of intimate restaurants and bars, wider shopping streets and more affordable, although still fairly steep, prices.
Palazzo Vendramin is a fifteenth century canal-front palace in Cannaregio which has undergone three years of extensive renovations to create 13 fresh, contemporary apartments. Prices start from €640,000 through Savills (savills.com).
"Tuscan cities are among the most visited and remain highly-prized by foreign buyers," says Lynne Davie of Beauchamp Estates (beauchamp.it) Florence heads the list, a hit with older buyers interested in art and culture with an eye on the strong local rental market.
Good quality two-bedroom apartments in central Florence start from €750,000 but fall to €300,000 on the outskirts. "Consider buying in Fiesole and Poggia Imperial in the green hills around Florence," says Lynne. "Or look at nearby Bagno Ripoli which offers the best of both city and country with prices a third below those in Florence itself."
Second-tier towns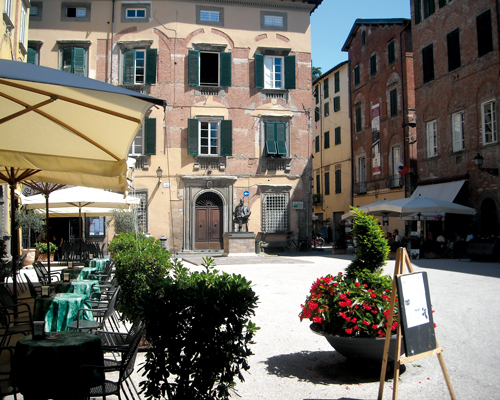 Italy has several second tier cities and towns that still pack a powerful cultural punch but with less budget-busting prices. Swap Florence for Lucca or instead of Rome head further south to Puglia and the Baroque city of Lecce.
Grosseto in the Maremma area of Tuscany and San Benedetto del Tronto on the borders of Le Marche and Abruzzo and a popular second home area for Romans are also worth considering.
Ease of access is important to the success of a city pad and Lucca, a beautiful walled city, is 30 minutes from Pisa airport. Prices start from €190,000 for one-bedroom apartments in a palazzo within the city walls through Casa Travella.
Linda Travella also recommends Como Town, one hour from Milan airport where €395,000 buys a newly renovated two bedroom on the second floor of a historic palace. This is a perfect base to explore Lake Como as well as making a strong rental investment.
Rupert Fawcett from Knight Frank (knightfrank.com) tips the port of Genoa on the curving coast between the Cote d'Azur and Tuscany.
"Genoa has a good infrastructure with flights, rail and road links," he comments. "It is a good base for Eastern Ligurian resorts like Portofino and Santa Margherita and also for the west and the beaches and marinas around Sanremo and Imperia."
Imperia itself, a thoroughly Italian living and working beachfront town, has a direct train line to Monte Carlo and the South of France, giving residents the best of two countries. Matteo Scandolera of Liguria Homes (liguriahomes.com) is selling a renovated two-bedroom apartment in the historic area of Porto Maurizio for €220,000.
Trieste close to Venice has average prices of €2,000 a square metre, 30 per cent below similar sized cities like Parma and Verona says Andrea Plani (invest-in-italy.it).
"Near Piazza Hortis a two-bedroom apartment is €250,000 and one with a seaview in Barcola is €300,000," says Andrea. "Trieste has a pedestrian centre, neoclassic, Art Nouveau and Baroque architecture as well as Roman ruins and its position on the Adriatic Sea makes it a gateway to Eastern Europe."
Bella island outposts
On Italy's main islands, Sardinia and Sicily, it has always been about standout beaches but cities offer some intriguing options.
Rather than the big three Sicilian cities of Palermo, Catania and Messina, look at Siracusa, Modica or Trapani suggests Ramsay Gilderdale of Modicasa Sicily (modicasa.com).
"The centro storico of larger cities are expensive, over €4,000 a square metre in Palermo for example, while cheaper properties tend to be in the concrete sprawl of the suburbs," he says.
"Instead choose smaller 'art' cities. In Ortigia, the Baroque area of Siracusa, a restored two-bedroom apartment is €1,500 a square metre and it's cheaper still in Modica, a UNESCO town."
Messina is chaotic and not especially attractive warns Gilderdale while Catania has a beautiful historic centre but dreary suburbs and the additional problem of Mount Etna directly overhead.
"The cities and towns in the centre of the island have cheap property but it takes half a day to get to the seaside and they can be high up making for cold winters," he adds.
In Sardinia British buyers starting buying homes around Alghero on the northwest coast when low cost flights began. Two-bedroom apartments there and in the market town of Bosa, one hour south, start from €250,000.
The delightful capital of Cagliari with a classy marina, international airport and lively city centre has prices from €350,000 for a well renovated home. "Cagliari has a buzzing culture and good shopping," says Rebecca Lewis Lalatta from England who has lived in the historic heart of Cagliari since 1995. "Sardinians are slow to tell the world what they have but we live a fantastic life," she adds. "I ride horses nearby and can go miles without seeing a soul. At night flamingos fly over my terrace and the sea and mountain views are beautiful. A high-end residential project is underway to renovate the most beautiful buildings in Castello the old town on the hill. Cagliari does not have an active rental market yet but I am sure when word gets out that more people will buy a second home here."
(Article first published in A Place in the Sun Magazine Autumn 2014)