Cathy Hawker continues to compare inland and seaside options in our four favourite regions of Italy.

Sardinia
The second largest island in the Mediterranean, Sardinia combines a mountainous, green interior and a dazzling aquamarine coastline with superb beaches. This is where coastal property has always been most prized while inland areas can lack sophistication. Ultra-glamorous Costa Smerelda and Porto Cervo have some of Europe's most pricey property but head north towards the Costa Paradiso to find value. A five-bedroom coastal home 18 miles from Porto Cervo costs €800,000 while closer to Porto Cervo it would be €1,800,000.
Costruttori Sardegna represent a consortium of 40 builders in Sardinia selling property from €40,000 to €5,000,000. "The most popular areas we cover are Costa Smerelda, Alghero and Villasimius but for value look at Sulcis, Ogliastra and Costa Paradiso," says Jessica Mura of Costruttori Sardegna. "In little-known Sulcis, a four-bedroom home in mint condition averages €130,000 to €170,000 in the hills and €160,000 to €300,000 right beside the coast.
Briton Rebecca Lewis has lived in the capital Cagliari since 1995 and believes this southern city by the sea is perfect for a second home. "Cagliari is ten minutes from the airport, has wonderful weather and is not a cultural backwater. A spectacular drive along the east coast to Villasimius and Costa Rei, or the west coast to Chia, means you can reach stunning beaches and countryside within one hour." Lewis is selling two-bedroom sea view apartments in Cagliari's historic centre for €630,000 and similar ones overlooking the marina in Porto Cervo from €4,600,000.
A turnkey villa in Villasimius starts from €800,000 while 20 minutes inland in pretty country villages like Olia Speciosa and Castiadas, homes cost €200,000 to €650,000. Thirty minutes inland in the hamlet of San Gregorio a pied-à-terre costs €150,000. Chia in the southwest has beautiful beaches and salt lakes filled with flamingos with coastal property from €800,000. There's also a nice new development that is just a little inland below. Further - 30 minutes - inland Lewis tips Teulada, a traditional Sardinian town with fabulous food and wine where townhouses start from €200,000.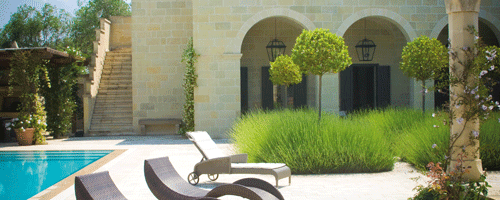 Puglia
If you are looking for something by the sea in a less well known area try Puglia, advises Linda Travella. "It is known for its white trulli, the conical stone homes set in olive groves but there are great coastal properties at affordable prices. Beware though, properties by the sea rarely have a pool and it oft en isn't easy to get permission for one," she says, adding the region is attracting more interest. Look at Campomarino di Maruggio - which has a lovely beach - where four-bedroom homes cost €370,000. In picture-postcard Ostuni a similar sized house 10 kilometres from the sea is €320,000 while one 100 metres from the sea is €370,000, all through Casa Travella.
Francesco Carlucci of Essentis Properties says many of Puglia's most exclusive properties are inland. "Coastal resorts can be crowded and the extraordinary heritage that people visit Italy for is mainly inland," he explains. "In Puglia the sea is rarely far away." He sells masserie, beautiful traditional farmhouses carved out of the local creamy stone by talented stonemasons. Built around a central courtyard with contemporary interiors, his properties sit in large grounds of at least five acres punctuated with olive groves and lemon trees. Prices start from €1,500,000. "Buyers often dream of a coastal property but generally opt to purchase one further inland when they see how much quieter it is," he concludes. "Many also find they mix with the local community easier in a rural property and that is something that buyers in Italy always want."
This article first appeared in the Summer 2014 issue of A Place in the Sun magazine.