Cyprus: what now for property hunters?
Britain's love affair with Aphrodite's Island has been a long and tumultuous one, and because my mother is Greek Cypriot, the country holds a very special place in my heart too.Visiting the island for the first time aged 10 (pictured here), I was immediately enchanted when we stayed for the whole summer in Lanarca when I was a bridesmaid at my cousin's wedding.
We enjoyed day trips to the birthplace of Aphrodite, building camps in the Troodos Mountains, drinking from the "fountain of love" and rose-flavoured ice cream; it was a magical adventure for me.
Jump forward a few years to 2007, and when filming A Place in the Sun TV series in Cyprus I found a warm welcome, wonderful food, and glorious weather, complemented by the familiarity of driving on the left, an English-speaking population and the same plug sockets as home!
I discovered that the Cypriot property purchasing system is based on our own, often meaning buying costs in Cyprus are relatively low when compared with many other European countries (Cypriot immovable property tax has recently been increased but it is still far lower than the UK council tax) and there is no inheritance tax.
So, despite the on-going political divide between North and South and the notorious difficulties obtaining title deeds of properties, international buyers flocked to Cyprus and fuelled property price rises.
According to the British High Commission in the capital Nicosia, there are around 70,000 British permanent residents, plus another 40,000 or so who have second homes there.
In March, of course, the bubble burst.
The banking system collapsed and in order to receive a bailout from the European Central Bank and International Monetary Fund, Cyprus needed to raise finance of its own.
The suggestion that all bank deposits would be subject to a levy led to protests but it was subsequently decided that all deposits below €100,000 would be safe, but any amounts above that would either be subject to a 40 per cent levy, or in the case of accounts at Laiki Bank, they would be lost.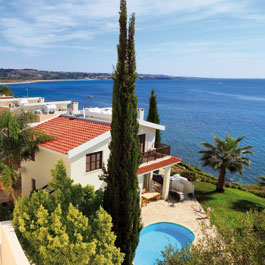 So what now for investors and expats?
I travelled there to report for BBC1's The One Show expecting riots and panic on the streets, but found people enjoying their holidays, and remarkably stoic locals.
One Cypriot man in Paphos said: "You can knock me down, but I'll get back up. Fifty years ago I was a boy in a village riding a donkey. Now I drive an expensive car but if push comes to shove, I still know how to ride a donkey".
The sentiments of the expats I spoke to were also rather surprising, considering the general uncertainty, but were generally along the lines of "We're not leaving - this is our home".
The British café owner due to complete on a property
Neil Hart, who owns a cafe in Paphos and has lived in Cyprus for 14 years, had been saving hard, to buy a property outright, and was due to complete the week before the banking system collapsed.
In a cruel twist of fate, he was at the bank, in the queue to draw a bankers draft but after a phone call to his solicitor, was told the vendors were not quite ready to complete so he should hold fire until the following week.
That weekend, the banks closed and he was unable to access the funds for his property purchase. When the banks re-opened €40,000 of his money was "frozen" and he still doesn't know whether he'll get it back, whether he'll be offered shares, or whether he will lose it altogether.
To add insult to injury, the British vendor of the property he had planned to buy took it off the market, because they were unable to return to the UK with the proceeds of the sale due to restrictions on taking money out of the country.
"It will set me back a few years, maybe even permanently, but I'll just have to start saving again," Neil commented.
"I wish I'd bought that house sooner as I'd feel happier with my money invested in property - it will be a long time before I trust the banks again."
A lucky London couple
In contrast, London couple Gina and Nick Georgiou, both of Greek Cypriot origin, were relatively fortunate.
Gina and her sister received a large inheritance when their father passed away in Cyprus and for the last 18 months have been building two luxury villas in Paralimni for their families.
More by luck than judgment, at the time the crisis struck, they had paid most of their contractors and had €107,000 remaining in Laiki Bank. When it closed down, they lost €7,000, but the rest was secure.
They plan to return to Cyprus this summer and retrieve the rest from their bank account, but Nick now believes that there has never been a better time to buy in Cyprus.
"People that need to sell at the moment are willing to negotiate, especially if you have cash. It's a buyers market."
Buyers in Cyprus will need time to re-gain confidence.
Antonis Pisharas from Aristo Developers, a well-established company in Cyprus (aristodevelopers.com), says: "The overseas property market in Cyprus is going through some challenging times.
"Cyprus should at this stage be considered a 'lifestyle' purchase and not so much an investment. Prices of homes have been falling and are likely to continue downwards due to the island's banking crisis.
"We are positive that the demand from overseas markets will increase due to further price reductions and bargains in certain locations in Cyprus. It's up to us to turn the economic crisis into an opportunity for potential buyers and investors."
He adds that Chinese buyers seeking residency permits through property purchase, cash buyers and demand from
new markets such as Egypt have increased sales in Paphos, Larnaca and Famagusta.
These are strange and uncertain times in Cyprus but one thing is for sure: even with the risk
of prices dropping further, most people feel their money is safer invested in bricks and mortar than in the banks. 
Life in the Cyprus: word on the street
THE HOLIDAY LET OWNER
Rowena Becker is the owner of a two-bed townhouse in the village of Anarita, near Paphos, and writer of 'Diary of a Home Owner' on blog.holidaylettings.co.uk
"We're into our second full year of renting our holiday home on the resort of Anarita Chorio and we're off to a fantastic start. I was concerned about the impact the economic crisis in Cyprus would have for us, but I'm pleased to say that so far I can't see this has put anyone off from visiting the Island.
"We're getting plenty of enquiries. We have the whole of August and two weeks in July already booked and, combined with repeat bookings, it's actually looking like 2013 will be a better year for us than last year. We're still not quite covering our costs but I'm confident that our rentals will improve year-on-year.
"The people of Cyprus are welcoming and friendly and Cyprus is looking to build on the tourism industry to make it even stronger and to help support the economy. Whatever the future holds we love our home and get great pleasure from the positive feedback we receive from our guests."
THE POTENTIAL BUYERS
Paul and Lynne Winfield moved from Dorset to a rented villa in Peyia in April, putting plans to buy in Cyprus on hold due to the banking crisis and ongoing title deeds fiasco.
"The Euro crisis hasn't affected us as we have retained our UK bank accounts and just use the hole-in-the-wall here when required. We plan to open a local bank account for paying bills, but don't intend to keep loads of cash out here.
Most locals seem to have got over the crisis, as only large investors were affected by the 'haircut'. While things just seem to carry on, the lack of employment would be an issue for anyone who came here needing to find work. Food is still cheaper here than in the UK and there are beneficial arrangements to declare UK pensions over here so that you pay less tax, with €19,000 being the starting threshold before tax starts, and there are loads of European banks to choose from."
THE RESORT MANAGER
Loucas Kitrou is the Real Estate Manager for the leading resort in Cyprus, Aphrodite Hills (aphroditehillsproperties.com)
"We are the biggest resort in Cyprus, with 50-51 per cent of our purchasers from the UK. Initially there was a lot of confusion about the lack of information amongst our owners/buyers but all our clients are OK with the situation. They are not in Cyprus for the economic situation but the lifestyle - sun, sea and facilities - and that has not changed.
The banking situation has now stabilised and things are slowly improving and internet banking transactions are almost 100 per cent. In the past month we have seen an increase in the people coming into our sales office -[properties from €280,000] and our rentals occupancy is at 65 per cent - 3-5 per cent down on last year."
THE PART-TIME RESIDENT
Nan Ensor is a semi-retired PR and lives between Kato Paphos and Glasgow with her retired husband.
"The mood here in Cyprus is not so bad. The Cypriots ARE hurting - they have had their state pensions cut by up to €200 a month and electrical bills are atronomical - we've had officially the highest price hike in Europe and my monthly bill is around €100 (for a two-bed apartment/ no air con). The cost of food has gone up too, with shops having to pay cash for supplies [due to banking controls on cheques]. But, unlike the Greeks, the Cypriots haven't rioted, they are calmly getting on with things. They have buried their heads in the sand for so long, but are determined their country will rise again. It helps that the Russians and increasing volumes of Chinese are investing in Cyprus."
THE SMALL DEVELOPER
Tony Martin is the CEO of Apollonico Development, a Nicosia based company that refurbishes historic homes
"We've cut our profit margins by 70 per cent, reducing the price of each property by €100k, to keep sales going but we are a different element to the beach-property market, where prices have really been slashed. If you are currently a cash buyer, you can negotiate hard and Cyprus really is a good place to come. It's a buyers' market and you will get bargains. You need to get your money out of the banks and invest in bricks and mortar! The banks are releasing their controls gradually: they don't want to turn down inward investment so they are looking at cases individually."